Durable, dependable and weatherproof shipping containers have been designed to transport even the heaviest of cargo in some of the most extreme conditions. This same protective design makes them well-suited for use as self storage containers, guaranteeing that whatever you store inside will remain safe and dry.
Because shipping containers are incredibly durable and come in various sizes, using them as outdoor self storage containers makes good sense for storage facilities. Not only are they used as self storage units, but you can also use them for housing, schools, and in other creative and exciting ways.
Self Storage Containers: 5 Reasons We Use Them as External Storage Units
1. Self Storage Containers are strong
If you're looking for durable and dependable storage, don't look any further than self storage containers! Constructed with stainless steel to guarantee they can survive anything from sweltering summer days to violent storms on the ocean, these massive steel boxes are created with strength in mind.
Plus, they come fitted with watertight rubber seals that protect their contents from wind and water when at sea. Self storage containers offer virtually unbeatable security and safety, making them an ideal choice for businesses or individuals seeking dependable, long-term storage solutions.
2. Easy To Transport
Self storage containers are perfect for storage providers as they can be easily moved if the business moves or if they need more space at another branch. For homeowners or businesses, they are an invaluable asset as you can pack them with whatever you like and move the container as is.
Shipping containers are the perfect choice for storage because of their extraordinary portability. You can have a container delivered to your residence or business and use it right away, whether that be for storing items, relocating premises, or anything else you may need.
3. Can Withstand Harsh Weather
Self storage containers are impervious to both weather and water, so you can trust that your items will remain safe and dry. Regardless of the severity of rain, snow or whatever Britain's climate throws at it, self storage shipping containers are the perfect choice for domestic and business storage solutions in the UK.
4. Protects Your Belongings From Rodents and Insects
Self storage containers are your best bet if you're looking for a secure place to store your goods and protect them from the weather, pests, rodents, or other invaders. After all, if you intend on storing furniture, electronics, seasonal stock or other items, it's essential that these items are kept safely tucked away from these pesky critters.
5. Self storage Containers Come In Various Sizes
These offer an ideal solution due to their flexibility, as they come in various shapes and sizes. If you need more room for bigger items, choose self storage shipping containers with side doors, or rent refrigerated ones if necessary. Insulated models are also available to ensure your goods remain protected from external factors such as extreme weather conditions.
Shipping containers are available in three distinctive sizes: 10ft, 20ft and 40ft. The most favoured pick amongst customers is the mid-sized 20-foot container, which can store an amount comparable to a two-bedroom flat.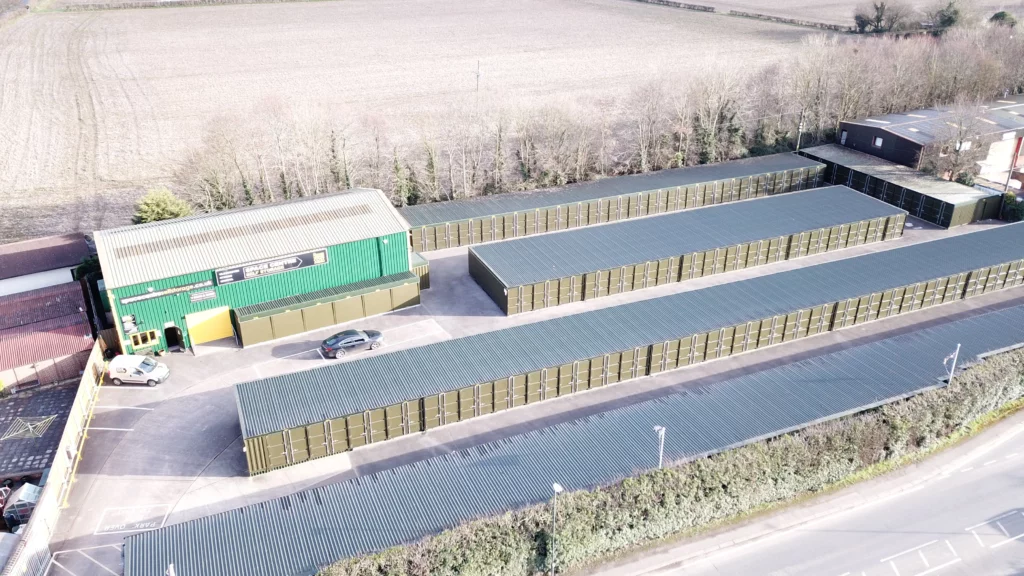 Other Creative Uses for Containers
Self storage containers might be known for their more traditional use of storing goods, but you can use them for many different kinds of creative building projects. Shipping containers can provide populations in developing countries with shelter and amenities. You can use shipping containers to create innovative new buildings or office spaces by repurposing them into unique structures.
Additionally, many entrepreneurs have begun using shipping containers to set up shops and stores for their business ventures. They also rent shipping containers to store excess stock, marketing collateral and surplus office equipment to save office space.
Because shipping containers are incredibly versatile and practical, they are a popular choice for all sorts of creative and innovative projects worldwide.
Here is a list of creative ideas for shipping containers:
Garden sheds
Swimming pools
Modern housing
£Pop-up businesses ventures
Schools
Playgrounds
Furniture
Please take a look at Good Logistics' blog for more information and inspiration:
10 Amazing and Innovative ways to use a Shipping Container
Renting Self Storage Containers at Space Centre
Although Space Centre can't provide you with a funky garden shed or pool, we can help you with self storage containers and lockers. If you are looking for clean, dry, secure, and reasonably priced self storage units to store your goods, look no further than Space Centre Self Storage.
At Space Centre Self Storage, we'll cover your stored items up to £3,000 with complimentary insurance. If you're looking for further peace of mind, our self storage insurance provider is always available, or you can get extra coverage from trusted companies like Insurastore, Surewise and Park Insurance.
For more information on self storage containers and which size is right for your needs, feel free to contact our friendly team at Space Centre! We are happy to help and answer any questions you may have