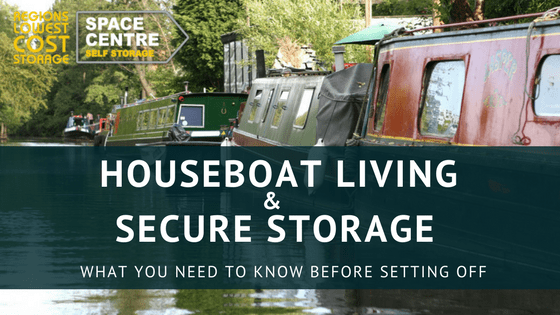 The Bristol Harbour Festival is only 2 weeks away and it's a big reason so many people get a hankering for a boating holiday. Starting on Friday 21 July, the festival is jam packed with live music and other performance arts, narrow boating, water sports, stalls and much more. It's an event not to be missed so here is some more information to entice you even more.
If long-term boat living is something you've considered, this post is just for you. The biggest concern for most would be secure storage for the stuff you can't take with. Boat living can essentially help you declutter as well. Just think about it – space is limited so you have to downscale and get rid of things you don't really need. So what does it take to live on a houseboat?
Houseboat Holiday – what you need to know
First and foremost, hire the right boat. It might sleep 6 people but will there be sufficient living space for everyone? You need to ask the right questions and without a doubt, view the boat beforehand.
Next up is what you need to pack. In the UK you are likely to encounter varying degrees of weather so be prepared for anything. Pack warm clothes, waterproof jackets, gloves and extra trousers. A good storage tip is to use soft bags which can be squashed and stored away when not in use.
Last but certainly not least is emergency equipment. When hiring a boat from a registered operator you should have all the necessities but always check before setting off. These include life jackets, first aid kits, torches and even fire extinguishers.
Here are a few frequently asked questions when hiring a boat for a short holiday. More information is available here.
How long can I hire a canal boat?
Is there a minimum age?
Do I need any boating experience?
What does the boat charge include?
Can we bring pets onboard?
Can we walk or cycle along the towpaths?
Where do we stop overnight?
Long-term boating holidays and Secure Storage
There is one very important question; what happens to your property and all your stuff? The simplest solution is to get a house sitter while you're away or leave valuables with a friend. Your home insurance also may not cover if it's left unattended for 30 consecutive days so be careful no matter what you decide.
It's hard to argue the point of saving money but secure storage is certainly affordable and the right choice considering the alternative. Replacing damaged or stolen goods will cost much more than that of a storage unit.
If you're renting your property until you return, don't forget to update your insurance policy to landlord insurance and also consider renting a secure storage unit. You can store anything from furniture, tools, toys, antiques to clothes and paintings. This is much safer than leaving it with someone or taking a chance in your garage or garden shed.
What about living on a Houseboat?
When you permanently change your address to a narrow boat on the canal, keeping your valuables in secure storage should be a top priority. Some may be too important to leave with just anyone or too sentimental to sell. Be ready to make a few tough decisions like what to put in storage, what to take on the boat and what you should sell.
One way or another, you can only take so much on the boat so it's important to declutter as much as possible. It's safe to assume then your kitchen sink and corner bath probably shouldn't be on the list. Here are some more handy tips and tricks on using space wisely.
Many storage facilities offer short and long-term secure storage. Here at Space Centre Self Storage, we don't tie you to a long-term contract and you are also free to change your unit size as you see fit. We have facilities in Bristol, Stroud and Gloucester with 24 hour CCTV and a manned security office.
If you need peace of mind when going away, consider a secure storage facility.