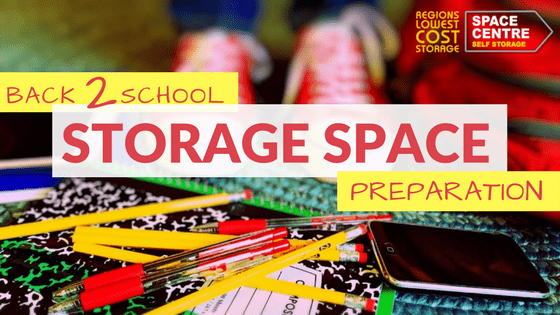 It's only a couple of weeks until the kids go back to school and chances are your house is a mess. A new school term brings about more books, bags, sport kits, musical instruments and uniforms. We all know how quickly things can pile up so instead of cluttering the floor, cupboards or under the bed; perhaps it's time to prepare storage space for all the school goodies.
Storage Space Clutter Culprits
Sports kits and equipment are probably the main clutter culprits of storage space especially if your child is really into their sports. Other back to school items to keep in mind are pencils, pens, markers, lunch boxes and seasonal clothing. Winter wear certainly adds to the clutter so make sure to neatly store unused jackets, scarves, gloves and boots for next season.
Before getting anything new, take a little time to clear out what's not needed from last semester. Organise everything and see what you really need. Also consider what new things you might be getting and be sure to make space for that as well. Try to involve your child in where and how to store their things. Encourage them to be organised and keep their own storage area neat and tidy. Primary school is not too bad but it can be far more challenging from secondary school onward.
Get Your Storage Space Organised
You need to be organised but where do you start? First things first and that is getting the existing storage space tidy. Doing this will save you space, time and money; you will also see how much space is needed and optimise any space with some creative thinking.
There really is no need to keep old clothes that no longer fit. Rather give it to a friend, sell it or donate to a charity shop. It's also important to give everything a place and make it easily accessible. This will help keep things off the floor, under the bed or shoved into a drawer.
Ask yourself these questions and be creative:
Is there storage space under the bed for extra boxes?
Do their bedside tables have dead space underneath?
What about an extra row of hooks behind the door?
Is there space for additional shelving or racks?
Everything should be kept close together while being stored out of sight. An organised homework area should be top priority where baskets, mason jars and boxes work really well.
Back To School Storage Solutions
There are a number of ways to neatly store stationery, clothes and other school items. Here are a few great organisation tips and tricks to simplify your life and maximise storage space.
Declutter one room at a time otherwise you will not get anything done.
For older children in secondary school and beyond, consider fixing a small shelf onto their bedroom wall.
Unless you really have to, avoid getting an extra bookcase as it takes up too much valuable space.
Make room in the loft if you need extra space for seasonal clothes or additional uniforms. Store clothes in sealed bags to keep dust-free and perhaps include hanging space as well. This ensures everything remains in good condition for next season.
Lunch boxes and bags need their own storage space. Take a look at these amazing storage ideas for food containers.
Use metal buckets for various school supplies and put them on a lazy susan for easy access.
Label boxes and baskets to keep everything in place and well organised.
Add a magnetic organiser to the mix and keep important school supplies on-hand.
If you've decluttered and find you simply have too much stuff, you could consider self storage. We have facilities in Bristol, Stroud and Gloucester with clean, secure and affordable units. Our experienced staff is always on hand and happy to assist in any way they can.
Let us know if you have any good storage ideas to create space around the home. Post your comments below or find us on Facebook and Twitter.