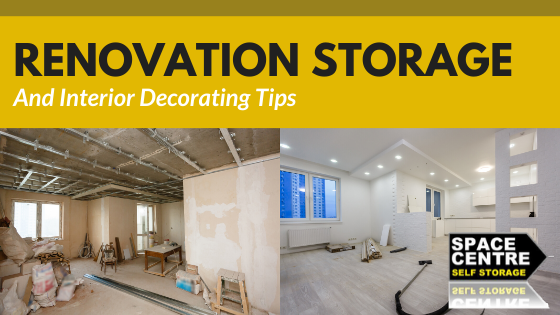 Are you renovating or decorating? It's not as simple as moving everything to the centre of the room, putting a sheet over it and getting on with things. Renovation storage plays a vital role as many people rent a storage unit whilst renovating or decorating. Not only does it help clear up the house but it can also avoid damage while keeping everything safe.
Renovating a house while living in it can be tricky but it is possible. Of course, that all depends on the extent of what is being done. If you are planning any home renovations whether you're adding a conservatory, a loft conversion or a simple makeover, you need to plan ahead. This basic guide contains some essential decorating tips and advice on how to maximise on renovation storage.
Home Improvements And Renovation Storage
Moving house is not only expensive but stressful as well. If you have the space to extend, within planning regulations of course, or can remodel the interior to make the space you need, you may not have to move at all. However, it's likely that any major home improvements will require additional renovation storage which means renting a temporary storage unit.
If you are using self storage, remember to pack and store everything properly to maximise the available space. At Space Centre Self Storage, we are flexible and don't tie anyone to long-term contracts. In our experience, most people who turn to renovation storage while doing home improvements generally face issues along the way. This means they often have to extend their storage by a few extra weeks so flexibility is essential.
Preparing For Renovations
Whether you're adding a new kitchen, spare room, bathroom or conservatory, major home renovations requires you to be prepared for anything. Before you do anything though, be sure you know the law as some projects may need approval. It all depends on the rules and regulations of your local council.
If your renovation project needs approval, you must submit a development application to your council. From there, they will publicly exhibit the application and make their decision. You can find the necessary application forms and additional information on the relevant council website.
With the legalities out of the way, here are some simple tips on keeping your home environment more organised while renovating.
Related: 'Household Storage Solutions For Home Improvements'
Clear The Rooms
Before starting on renovations, remove everything from the room or designated areas. If you don't, you'll struggle to find anything especially if it's in the kitchen. When possible, try and remove everything including furniture, clothing, decorations and other household goods. This will prevent dust from covering everything you own and help avoid accidental damage and theft.
Always start with one room at a time and when you know which room is first, it's time to clear the space. Instead of moving everything between rooms or the garage, rather invest in a secure and convenient self storage facility. It will keep your belongings dry, dust-free and safe, especially from damage that could occur during renovations.
Cover And Protect Anything You Can't Move
Sometimes you won't be able to remove a particular piece of furniture and in this case, cover it with clean plastic or cotton sheets. This will protect furniture from dust and debris, paint droplets and other construction damage. You also need to think about covering your floors and carpeted areas which you are not replacing.
Pack And Store Your Important Things Together
Once renovations start, it is almost impossible to find anything so you should try to put your important belongings together in one place. It should ideally be done early on and always away from the remodelling area. If the entryway is inaccessible during home renovations, find a safe spot for your cell phones, chargers, keys and other essentials.
Isolate The Renovation Area
By isolating the renovation area, you can keep the rest of your house clean. Make prior arrangements with the contractor to keep the mess and debris from spreading through the house. This includes fixing plastic sheeting over doors to seal off a room or heavier plastic tarps or flaps for extensive home renovations.
Keep Children And Pets Out Of The Way
Construction sites are dangerous for kids and they should not be around the renovation work. If they aren't at school or aftercare, make sure you keep them away from the builders or you can always send them to friends or family. Besides the real dangers of a worksite, they could also slow down some of the work.
Pets should also be taken into account and whether or not they will be safe in the garden or the house. Remember, loud noises, sounds and strangers can frighten animals and you should think about hiring a pet-sitter.
Don't Forget To Clean Daily
Just because renovations are ongoing doesn't mean you can relax and ignore the continuous task of cleaning. Ask the contractor about their daily cleaning schedule and don't be afraid to ask them to tidy up and sweep every day. This will greatly reduce the amount of debris and dirt that would otherwise cover every inch of your house.
Recommended: 'Prepare For Home Renovation In 6 Steps'
Simple Interior Decorating Tips
Before starting any decorating project, remember to make sure you have all the necessary tools and equipment. This can include various items such as scrapers, fillers, paint brushes, rollers and decorators tape. You will simply waste time and money going back and forth between the renovation site and the DIY store.
Don't guess how much paint or paper you need; measure the room properly and determine exactly how much of everything you need. Always aim to get a little more than you need as it's better to have extras just in case.
Safety During Renovations And Redecorating
Safety is paramount when doing renovations as there could be chemical strippers or thinners. If that's the case, make sure you use gloves, goggles and a mask. The same applies when sanding as grit can cause serious damage if it gets in your eye. Always use sharp tools very carefully and remember to retract the blades where applicable when not in use.
When you can't reach the top of the wall, don't be a hero and build a tower of books stacked on a wobbly chair. The inevitable will happen as you could fall and get badly injured. You are better just using a small step ladder or a longer ladder if necessary.
Recommended: 'The Hottest Home Design Trends For 2020'
Affordable Renovation Storage
Space Centre Self Storage has units of all sizes and we are happy to rent on a short-term basis. We offer FREE insurance up to £3000 without any upfront deposits. You are welcome to use our provider if you need additional cover or your own insurance company. All of our units are purpose-built for renovation storage, household storage, business storage and even student storage.
The storage facilities are conveniently located near major access roads in Bristol, Stroud and Gloucester. Our units are in secure compounds where each one is alarmed and fitted with CCTV and smoke detectors. We also provide you with your own high-quality padlock so only you have access to your unit. Get in touch with our friendly, experienced staff for more information or to reserve your storage unit.