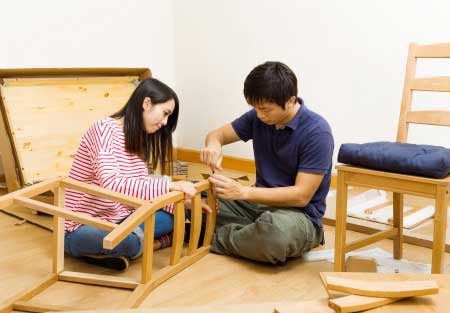 If you need to remove furniture whilst renovation work in being undertaken at your house, there are two options. You can try to squeeze your belongings in to the garage and run the risk of footballs, golf clubs, bikes, paint cans or even the car coming into contact with them. Or you can use safe, secure temporary storage at your local self storage company.
Temporary storage, at the right price, will give you peace of mind and ensure the safe keeping of those belongings that could be damaged if you attempt to store them somewhere at home. There are many thing to think about when choosing a self storage facility, particularly when storing furniture; climate control, security and access options to name but a few. Do your research.
If and when you've chosen the 'wise' option and arranged temporary storage at your local self storage centre, you should put aside some time to consider how you will pack, cover and transport your belongings to the self storage unit.
After all, there is little point in spending money on good, secure storage if you don't store and protect your belongings properly while they're in there.
Remember, fabrics are easily ripped or snagged and wood furniture dries out quite quickly. Also, fabrics fade when exposed to extremely hot or cold temperatures. Careful packaging preserves and protects your belongings.
Here are six of the best tips to help pack and store your belongings ready for temporary storage.
Fabric sofas and chairs
Cleaning and protecting your sofas and chairs will reduce the possibility of mould or mildew. Wipe the surface with an antibacterial cleaner and allow plenty of time for the cleaner to completely dry before putting your furniture into storage. You can also place blankets over the furniture to protect it during the move. This will also guard any surrounds against scratches or chipping.>
Disassemble furniture
Always disassemble wooden furniture where possible to reduce the likelihood of damage during storage. Remove table legs, headboards and all fixings. Make sure you store the screws in labelled, polythene bags. You can also remove the drawers from a dresser and store them separately if space permits.
Wrapping wooden furniture
Wooden furniture needs some thought and preparation before storing. Plastic wrap provides an extra layer of protection for your furniture. Wrap is especially recommended if you are putting valuable antique furniture into storage. A double layer is advised if the unit isn't climate-controlled.
Electronic equipment
If you have the original box and packaging, that's great; use this to help protect your electronic goods whilst in temporary storage. If not, wrap and cover things to protect screens etc.When storing multiple items, make sure you identify which wires and cables go with which item and clearly label them. This will make life much easier when it comes to putting everything back together. Keep electronics off the floor to safeguard against any potential damp.
Metal furnishings
Polishing any furnishings made from brass or silver etc. before they go into storage will help prevent oxidation in a non-climate-controlled storage unit. Wrap the items in plastic sheeting or shrink wrap to protect them from dust, heat and dry conditions.
Keep things off the floor
If you have any concerns about potential damp in a self storage unit, you could always place some pieces of wood on the floor and carefully place you boxes and / or furniture on the wood. This will keep the items raised. It will also help protect from any potential scratching on the feet, legs or base.
Have you had to store your furniture while work was being done on your property and have tips to share? Maybe you've had a storage disaster and can help people avoid the same pitfall?
Image Copyright: / 123RF Stock Photo