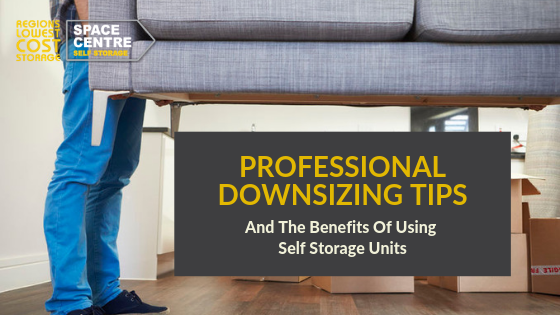 Downsizing, for whatever reason, can be a challenging process as there is so much to consider. What do you keep and throw away? What if you want to hold onto things that just won't fit in your new, smaller property? Besides planning ahead and being vigilant when clearing out, self storage units are extremely beneficial when it comes to downsizing. We take a look at a few downsizing tips along with best practices when using self storage units.
Why Do People Downsize?
While downsizing is mostly associated with retirement, there are several reasons why people do it. Downsizing can be a result of a crashing housing market, employment relocation or retrenchments and even when the kids finally move out. Many people downsize because they have to and not because they want to.
Financial uncertainty and fluctuating interest rates almost guarantees people to review their essential needs to identify any areas where they may be able to save money. A smaller property has lower mortgage repayments and costs less to heat, light and insure. Maintaining and cleaning a large property is often a strong motivating factor to find a smaller house or flat.
How To Downsize Your Home
Most of us have acquired far too much junk over the years and haven't seen (or used) most of it in years. A general rule is that the more space you have, the more things you'll find to fill it with!
The first thing you need to do is plan ahead and make time to properly sort through all of your stuff. We know how daunting it can be to try and get rid of a large number of items all at once. Fortunately, we have some easy tips to help you be more organised to save time, money and loads of effort.
Use The One-Year Rule
It's tempting to hang onto things you once loved or think you might need someday even though you no longer use it. Fact is, if you haven't used something in the last year, you are highly unlikely to use it in the next year. And if that's the case, you probably won't even use it at all.
Unless you have sensitive or personal documents, try to get rid of anything you haven't used in the last year. This means finally giving up on fitting into those college skinny jeans, the old arts and crafts projects, old children's shoes, toys and other apparel.
There are exceptions to the rule so if something serves a specific purpose, or is particularly valuable, be careful what you do with it. If you are unsure and you don't want to take it to the new house, put in self storage.
Plan Ahead And Consider Self Storage Units
One of the best tips is to plan ahead and downsize room by room focusing on the big items first. If you already have a new premises, it's easier to move beds, dressers and bedside tables first. This way you automatically clear much-needed space to tackle all the smaller stuff.
Better yet, even if your new property is not ready, you can rent self storage units at very reasonable rates short term or long term. Not only will the big, bulky items be out of the way but they will also be clean, dry and safe until you need them.
Related article: 'Household Storage And Selling Your Home'
Divide And Conquer The Clutter
We've mentioned this before but it remains an essential element to an organised downsizing effort. While it's not always possible, you can organise your stuff into piles long before you move or during the packing process. We refer to it as the 'five-pile downsizing system' which will greatly simplify packing and moving.
Give-away pile includes items that will go to friends and family
Donations pile is anything that you no longer want but could still be useful to Goodwill or The Salvation Army
Throw away pile is everything you don't want and mostly refer to goods with little to no value
The Keep pile should be managed carefully as there's no room for sentimentality over items you haven't seen or used in a long time.
For sale pile may be optional but it's certainly worth looking into as you could make some extra money
Organising Your Furniture
The first question you need to ask yourself is whether everything will fit into your new, smaller property. If it won't, perhaps now is the time to think about self storage units.
You need to accurately measure your new space and your furniture to see if it will fit. We're not just talking about fitting it inside but also whether you'll be able to get it through the doorways. Too often people forget to check this and even though the furniture fits inside, it can't get through the front door.
Chances are you will probably have to sell some of your furniture but some great advice is to focus on what you can't live without instead of what to get rid of. Think about it this way, what you would replace immediately if it went missing or got damaged?
Clear Out The Kitchen
If you are anything like us, you'd agree that your kitchen contains more useful items you use daily than any other room in the house. Maybe the television if you like spending a lot of time watching sport, Netflix or Amazon Prime. Fact is, not even the wardrobe with all your clothes and shoes get the same treatment than the kettle or grandma's cast iron pan.
Focus on what you really want to keep (and need) rather than what to throw out, sell or donate. Go through your kitchen and put together everything you can't imagine living without like your juicer, food processor, pans and fancy silverware. Here are some more helpful hints on how to pack glassware and crockery when moving.
Document Storage And Digitisation
With today's technology, you can digitize CDs, DVDs, cassettes, videos or pictures and important documents. You can save it to an external, portable hard drive, USB flash drive or use cloud storage solutions. Of course, you may still need to keep hard copies of tax documents, marriage and birth certificates, annuities and other sensate material.
Benefits Of Using Self Storage Units
Many home owners have chosen Space Centre Self Storage for all their short and long-term storage needs. We've been providing affordable, reliable and quality storage units since 1995 offering a wide range of internal or external units with rental contracts for short and longer stays. Here are a few of the many advantages when using our self storage facilities:
Clean, dry, well ventilated and well-lit storage units
Drive-up access
24 hour security (CCTV and alarms)
No deposit required
No long-term commitments
Free insurance
Flexible to change unit size at any time
Our prices are guaranteed to remain the same for at least 12 months if not longer once you move in. When you are ready to rent a self storage unit, get in touch with our facilities in Bristol, Gloucester, Stroud and soon, Stonehouse as well.