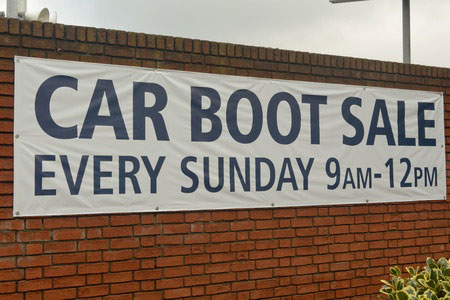 You wouldn't really tell by the weather, but believe it or not, Spring has sprung and we're on our way to Summer! Car boot signs have started appearing and seasonal fair adverts and posters are making their way into various publications.
You may be a seasoned booter so already know the ropes or maybe you are organising your first seasonal or antiques fair. Whichever it is, it's important that you prepare carefully for the big day and it's vital that you keep your goods safe and damp-free.
Here are our tips to help you get the best from your day. More experienced booters may find it a useful checklist for their first outing in a while. Take into account the following to ensure that the items you are selling are kept in excellent condition until you hand them over and that you get the best returns from your efforts.
1. Research the event
Different types of sale will attract different crowds so make sure you take your goods to an appropriate event. There's no point trying to sell high-end antiques at a bric-a-brac sale.
2. Take a decent float
When people start buying you will need to have a good float for change purposes. Ideally your goods will be priced in full pounds so you won't need to scrabble around with pennies, but you will need plenty of change in case people turn up with large notes.
3. Ensure safe transit
It's important that you pack your items carefully in boxes so that they can't be crushed. Use packing paper or bubble wrap for fragile goods. You will also need to pack your car or van with heavy items at the bottom and more delicate items on top, ensuring they cannot slide around when the vehicle is in motion. Check tyre pressures if you're transporting heavy goods and make sure you drive carefully, allowing for longer stopping distances. Make sure that you have a clear view before you start driving, moving any obstructions if there are any.
4. Set up carefully
Make sure your items are displayed clearly, preferably with prices clearly marked. You may wish to keep high-value goods at the centre of your stall, table or car boot so that they cannot be easily swiped or damaged. Don't overload your stall and remember to place heavy items at the bottom of any pile to avoid crushing delicate items. If they're large and heavy, the floor may be the best option. There is no point in taking great care to get your items to a venue in one piece, only to damage them when putting them on display.
5. Store your items carefully between sales
Stock storage is key to making your car boot or seasonal fairs a success. If your goods get wet or damaged they will be worthless, so it's important you take the necessary precautions. You may currently store your items in the home or a shed, but this can make your space feel cluttered and could also put them at risk of damp as well as making your home a target for burglars. It may be worth keeping your sale goods in a storage facility so that they are safe and out of the way until you need them. Most self-storage facilities are temperature-controlled and damp-free, as well as being alarmed and protected by CCTV. The majority will also provide free insurance to a certain level and may be able to help you arrange additional insurance if you have high-value items to sell. You may only need a small unit, or perhaps you have a vast array of goods to sell. Whichever way, self-storage can give you great peace of mind, knowing that your possessions will maintain their value. And as you sell your items, you can even opt to downsize your unit so you're not paying for space you don't need. You can choose to rent a unit for a short period or long-term, depending on how many sales or fairs you are planning to attend.
Affordable stock storage in the South West
Space Centre Self Storage offers a broad range of storage options and its experienced staff members are used to supporting professional car booters and antiques dealers. Our units are free from damp and totally secure, and we will advise you on the best type of unit for you and on how to pack and label your items effectively. As well as keeping your stock safe, this will make it easy to find the goods you need quickly and easy when the time comes. You may wish to use a drive-up unit so that you can load and unload your goods directly into your car or van. If you are based in the South West, give us a call today to find out more about our affordable stock storage options.
Image Copyright: martincp / 123RF Stock Photo