Moving house can be an exciting yet daunting experience. From finding a new place to settling into a different environment, there's a lot to manage during this transitional period. One aspect that often causes stress is the process of packing and storing your belongings. However, with the right approach, you can make your move stress-free and ensure that your possessions are well-organised and protected throughout the journey.
In this blog post, we will explore the top five tips for moving home and whether or not you should consider a moving company to make your move as smooth as possible.
5 Top Moving Tips To Make Moving House A Breeze
Before you start packing your belongings into old boxes from the supermarket, take a look at our 5 expert tips for moving below. We're sure they will help make your move less stressful and chaotic.
1. Before moving home make sure you declutter
The first step towards a stress-free move is decluttering your belongings. Take this opportunity to evaluate each item and decide whether it is truly essential in your new home. Not only will decluttering lighten your moving load, but it will also give you a fresh start in your new space.
Sort your belongings into categories, such as keep, donate, sell, or discard. Consider donating items in good condition to local charities such as The British Heart Foundation or The Salvation Army. You could also sell your items online to make some extra money. Clothing, shoes and accessories can be sold on Vinted and other items such as furniture on Facebook Marketplace. By reducing the number of items you need to pack and transport, you'll save time, money, and effort.
Recommended: Home Decluttering: Simplify Your Life with Self Storage
2. Choose sturdy packaging materials
When moving house, it's essential to invest in top-notch packing materials to safeguard your belongings during the transition. Items that are delicate or fragile, such as glassware, electronics, or artwork, demand additional attention and care. Utilise robust cardboard boxes of varying sizes to house different items appropriately. Reinforce the base of each box with packing tape to avert any potential collapse due to weight.
For individual wrapping of delicate items, opt for bubble wrap or packing paper, offering an extra safety layer. You might want to think about using specialised packing materials such as dish packs or wardrobe boxes for specific items. Remember, the use of dependable packing materials is key in ensuring all your possessions arrive at your new house in one piece.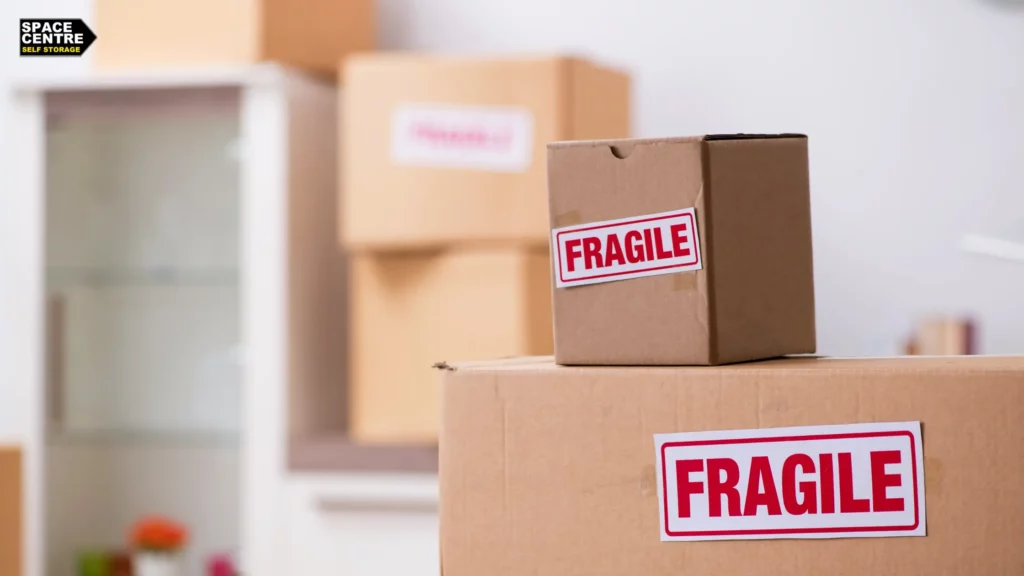 3. Organisation is essential when moving house
When moving house, maintaining a high level of organisation is key to avoiding chaos when unpacking in your new home. The secret to staying organised is ensuring you label each box clearly and create an inventory of all your belongings. You should label each box with its contents and also which room the items belong in. This simple step will assist both you and the movers in determining where each box should be located in your new home.
In addition, having a detailed inventory of your possessions will give you a comprehensive list to refer back to during the unpacking process. You can utilise tools such as a spreadsheet or a mobile app to create your inventory, noting down the items and their corresponding box numbers. This method of organisation will save you time and prevent frustration when searching for specific items after the move.
Recommended: Your Guide To Moving House Without Anxiety And Panic
4. Pack with space and safety in mind
Mastering the art of packing efficiently is crucial when moving house. This involves maximising available space and ensuring your belongings are secure. Adhering to the packing tips below will help you make the most of your space and reduce the risk of damage.
Disassemble larger items where possible; not only will this conserve space, but also make these items easier to manage.
Use packing peanuts to fill any empty spaces in your boxes to prevent items from moving during transit.
Ensure that each box has an even weight distribution, with heavier items at the bottom and lighter ones on top.
Fragile items need to be sufficiently cushioned to avoid breakage – blankets or towels can provide extra padding.
Be careful packing electronics when moving house, remove any detachable parts, secure cables, and use original packaging if it's available.
5. Utilising storage facilities when moving house
When moving home, you might face situations where there's a gap between your move-out and move-in dates, or perhaps your new home might not have enough space for all your belongings. In these scenarios, utilising storage facilities can offer a beneficial temporary solution. It's important to do your research and pick a reputable storage facility that caters to your needs. When selecting a storage facility during a house move, consider the following key factors:
Location: The facility should be in a location that allows easy access to your items.
Security: The facility should have strong security measures in place to safeguard your belongings.
Climate Control: Depending on what you're storing, climate-controlled units can protect your items from extreme temperatures and humidity. This is especially important for sensitive items like electronics, artwork, or antiques.
Contract Length: Be sure to understand the terms of the contract. Some facilities offer flexible rental periods, while others require a minimum commitment.
Hidden Costs: Be aware of any additional fees. Some facilities might appear affordable initially but could have extra costs for things such as access insurance, change fees or lock purchases.
By considering these aspects, you can find a reliable storage facility that provides the perfect temporary solution for your belongings when house moving.
Recommended: Self Storage Providers – Which One To Use
Why You Should Consider A Moving Company When Moving House
Utilising a professional moving company when moving home can be a great asset. These experts are trained to pack and transport items efficiently, which saves you time and prevents potential injuries from heavy lifting. They also ensure the safety of your belongings, especially fragile ones, reducing your stress levels during the move. Furthermore, a significant perk of hiring professionals is their insurance coverage, providing peace of mind that your items are protected.
Finding a reputable moving company requires some research. Look for companies with extensive experience and positive online reviews from previous customers. It's crucial to confirm that they're licensed and insured, which safeguards your belongings. Transparent pricing without hidden charges is another sign of a reliable company. Lastly, observe their customer service; a good company will be responsive and willing to answer all your questions, making your moving experience as smooth as possible.
Self Storage With Space Centre: Why Choose Us
If you are moving house and need either short-term or long-term storage solutions, Space Centre Self Storage is the perfect choice. We offer affordable, high-quality storage units in various sizes. Our facilities, situated in Bristol, Gloucester, Stroud, and Stonehouse, are well-maintained and prioritise accessibility and security, featuring 24/7 CCTV and gated access.
Because we value our customers, we do not require a deposit or force you to sign long-term contracts. Space Centre also provides free insurance coverage up to £3000, and we guarantee stable prices for the first 12 months, making us a reliable and cost-effective choice for your storage needs during a house move.
If you have any questions, please reach out to us via our website, or feel free to pop into one of our self storage facilities.