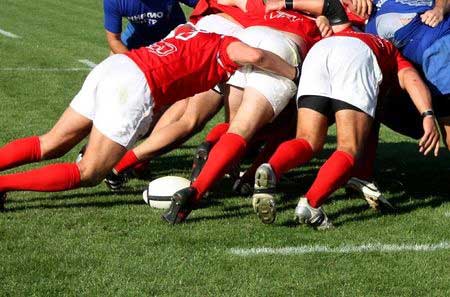 With only 50 days to the start of the Rugby World Cup, it's time to start making sure you've got everything in place. The first match kicks off on 18th September which means overseas visitors will be making their way to the UK soon.
Whether you're a retailer, market trader, hotel, restaurant or someone who will be enjoying the experience as a spectator, it's time to make sure you've got everything sorted to get the best from your experience.
Large retailers and hotel / restaurant chains will no doubt have experience in dealing with major events and increased demand, but for others in business this will be their first experience of maximising on a major national event. The fact that Gloucester is a match venue for the Rugby World Cup means that there may even be some people who have never been in business set to take the opportunity to make a little extra money by renting out their spare rooms.
In addition, people will not be watching rugby all the time. They will be looking for things to do and places to go between matches. If you're a business that can give overseas visitors a taste of Gloucestershire for a day, it's time to get creative!
We've put together some hints and tips to help you get organised.
Retailers & Traders
There will be increased demand for your products and a chance to sell more of them. You may perhaps increase your prices slightly to maximise your profits, but don't overdo it. At a recent Rugby Business Network event in Gloucester Rugby CEO Stephen Vaughan had this to say following his experience with London 2012
"One of the negatives that I unfortunately saw in London 2012 was people thinking they could make a million pounds in that month. You need to really think about that. People are here for a few weeks and you want them to come back. They are not daft. If you start putting up your prices they'll just go next door."
He told businesses "You need to get creative and start working out what's going to make you stand out in the crowd. Not everyone will want to come into or stay in the city. If you're rural, then market to that crowd"
Our top tips:
Order stock in plenty of time
Make sure you've got additional stock ordered and check the order and delivery deadlines. If it's Rugby World Merchandise, be sure to get it from approved suppliers. You can check if your source is official here.
Make sure you have storage
If you've ordered a lot of additional stock you may find you run out of space. Don't risk damaging your stock by trying to squash it into tight spaces or stacking it too high. This will only result in breakages, and ultimately goods that you won't be able to sell. A short term self storage unit will solve your stock storage problem for a small cost.
Get your pricing right
Make sure you give pricing enough thought and get it agreed early. Remember, you want to maximise on the opportunity but not set pricing at level that will make people think twice about buying.
Private Renters
There is a shortage of accommodation in and around Gloucester. Even providers like Air BnB can't plug the gap. This has led to people advertising their houses or spare rooms for rental. However, make sure you check that your home insurance etc. is not adversely impacted.
Our Top Tips:
Check your insurance
If you are being paid for allowing someone to stay in your home, there may be an impact on your home insurance policy. It's unlikely there will be damage, but should the worst happen, you need to make sure you're covered.
Find somewhere to keep your valuables
I'm quite sure there will be no problem, but nevertheless, you are opening up your home to a stranger and may feel more comfortable locking some things away. After all, accidents do happen. If you don't have a lockable cupboard at home consider a small unit at a self storage centre. If nothing else, it will give you peace of mind that the smaller things that are precious to you are safe from harm.
Prepare travel information
You will need to have information about travel and public transport available for your guests. Many major travel routes will be changed on match days and not all people staying in Gloucester will only be attending matches at Kingsholm. It's likely they'll be travelling to other match venues too. In addition, some help with tourist information about local attractions etc. will go a long way to making any guests stay easier.
Use a checklist
When getting things like additional keys cut and checking the state of the room or house on arrival and departure, it's useful to have a checklist. Make sure you list any marks or damage before the stay, and check it again on leaving. In addition, make sure you include a note to collect all keys back.
If you think you're going to need some help with storage in Bristol or Gloucester for the duration of the Rugby World Cup, get in touch. We've got sites in North Bristol, Stroud and Gloucester. We'll be happy to help and we do not tie clients into long term contracts.
If you're hosting visitors, friends or family during the Rugby World Cup, you'll find the following links useful
Visit England – Rugby World Cup
Visit England – RWC Gloucester specific
The City of Gloucester