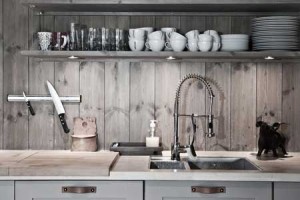 The most integral part of any house is the kitchen. It's the perfect place to entertain friends or simply spend time with the family whilst you prepare and / or consume your breakfast, lunch and dinner. However, whether you live in a high rise, an apartment or a large detached property with plenty of storage, there is always a need for extra storage space.
Whatever happens, don't be limited by the actual dimensions of your kitchen. And remember, not everything that ends up in your kitchen needs to be there.
Your crockery, pots and pans, tea towels and cleaning equipment can be stored elsewhere to create space. You might have a pantry which is currently used to house those useless bits and pieces that you won't throw away. If you de-clutter, you will establish more storage space for the items you really need.
However, if you want to keep everything on tap (no pun intended) you might want to consider the following ideas to create more storage space.

Surface Space
There's no such thing as too much surface space. Even if you start with plenty, appliances or kitchenware will eat up your work spaces faster than you can fry an egg. One solution is a pull-out table on wheels. It not only provides an extra preparation table or breakfast bar, but is easily tucked away when not needed.
What about countertop relief? Consider mounting appliances such as microwave ovens on the wall. They can sit on open shelves, or be hidden behind cabinet doors. Chopping boards that fit over sinks or the flat surface of an electric hob (when not in use) can also double as prep space. To stretch countertop areas even more, ruthlessly relocate everything except everyday-use appliances into cabinets. It will provide you with a bigger area in which to work.
Shelves and door-mounted racks
Your existing cupboards, walls and cabinet doors can be surprisingly useful as storage areas. Instead of trying to cram the next utensil into your overflowing drawer, install rails or hooks on the wall or under cupboards. You can avoid further clutter in your drawers by hanging up your cooking implements. Spice racks, in particular, add colour to a kitchen. Remember, they can also be mounted on the inside of most cabinet doors. For those with a high ceiling in the kitchen, make sure you use it. A custom-made rail for hanging wine glasses or mugs can make a stunning mid-air attraction and save you considerable storage space.
Kitchen Drawers
Over-stocked kitchen drawers can be a real nuisance when it comes to finding your favourite knife or serving spoon. However, extra-deep kitchen drawer options are perfect for kitchen pots, pans and lids. But whatever happens, don't keep collecting half sets of cutlery and jamming them in the drawer. Be selective and remember, you don't need 30 knives and forks. Half a dozen of each will suffice with the rest, maybe, stored in the pantry.
Kitchen islands
Kitchen islands offer great storage solutions that are easily accessible while you work and entertain in your kitchen. Extra storage shelving can be added into the kitchen island to store all of your cookbooks, and other frequently used items, for easy accessibility. You can also store your stools underneath so's not to cause any more traffic congestion issues!
De-cluttering
As well as being clever when it comes to storage space, you should remember that a spot of de-cluttering is always advisable when space becomes a little tight.

If you have any new ideas on how to create some extra storage space in your kitchen, why not share them with our readers in the comment box..
If you simply have too many ornaments, keepsakes and sentimental items in your kitchen or kitchen-diner, you may want to consider a small self storage unit at your local self storage centre. Here at Space Centre Self Storage we have units of all different sizes to cater for your every storage requirement. If you want some advice, we'll be happy to help. .