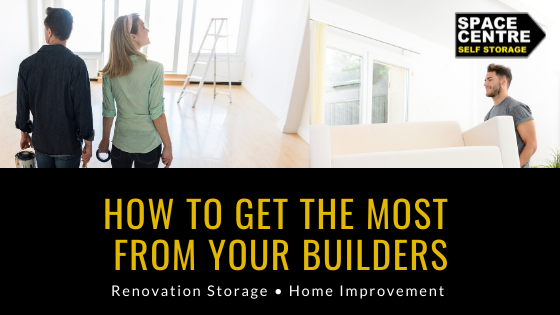 Major renovations or extensions can be expensive as you will more than likely need builders or tradesmen to do certain jobs. Not to mention finding the right spot for renovation storage. If it's a major home project, chances are you will have builders in your house for several weeks or months. So how do you get the most out of your builders and what role can renovation storage play?
Getting The Most From Your Builders
It's not uncommon to have concerns about hiring builders or developers as there is so much to consider. Not only is trust important but a big question mark is always around how long the work will take and the level of inconvenience it may cause.
You need to plan and make sure you are happy with the amount of labour it will take. Here are a few simple tips on getting the most from your builders and the best renovation storage solutions.
Check Builder's Insurance And Level Of Reliability
One of the first things you need to check is whether they have the appropriate public liability insurance. A common mistake many people make is not doing research beforehand to ensure the builders are reliable. While recommendations or referrals are good, it doesn't guarantee quality or trust.
You need to protect yourself and your belongings as anything can happen during the renovations. They could accidentally hit a gas or water pipe, for example. Ask the builder whether they have insurance as they should be able to provide a certificate.
Recommended: 'DIY Doctors: Public Liability'
Agree To Everything In Writing
Most home improvement or renovation projects are done without a written contract as many rely on the offer and acceptance. In other words, the builder writes to the client proposing the type of work at a given price. The client, in return, writes back where they accept the builder's quotation. While this is fine in most cases, it can get ugly when something goes wrong without a contract in place.
Make sure everything the builder is contracted to do is agreed upon and in writing before any work starts. It has to include everything you would like them to do, including supplying materials, safe removal and disposal of waste.
Put A Schedule In Place
Planning and creating a schedule is vital when it comes to construction or renovation projects. Make sure to set up the schedule at the beginning so you have a good idea of how long it might take. While nobody can confirm with absolute certainty, your builder should be able to give an accurate indication with detailed plans for each stage of the project.
This helps if something runs later than expected as you'll know where you are in the project and whether you need to allow for more time. Once you have a detailed list and the estimated duration, you will feel more relaxed about the progress of your project. If there's anything the builder needs you to do, make sure you keep track of what and when.
Recommended: 'How To Make Sure Your Renovation Project Is A Success'
Discuss Payment Options Beforehand
You shouldn't agree to pay the entire amount upfront as anything can happen, leaving you high and dry. Always keep approximately 10-20% of the final amount for contingency reasons and chat to your builder about staggered payments. Many builders don't mind as projects can be expensive and take a long time.
Naturally, you need to make an upfront payment so the builders can get started on the work. This could either cover building materials or wages but you should discuss this with them either way. Due to the nature of renovations, it is important to keep in mind extra costs along the way.
Issues could arise which may require additional or different materials. Staggered payments can also help plan the building costs and save more money should you need it.
Add 'Snagging' To The List
'Snagging' is not an official term and is also referred to as a 'punch list'. It often involves including a period into the agreement after the builders have finished allowing you to inspect the work. This is usually a fortnight to one month to help you identify any minor faults or things that may need repairs.
Some builders don't suggest this but you should insist on it as you get plenty of time to inspect their work. Besides, you have the right to make sure everything is within specification before making payment. It's best to keep about 5% aside for this and pay the final instalment if the work is satisfactory.
Related: 'How To Pay Your Builder'
Renovation Storage Tips During Construction
Before the project begins, remove everything from the room or the designated area. Where possible, remove the furniture, clothing, curtains, blinds, decorations and other household items. If you can't remove the furniture, at least cover it with clean plastic or cotton sheets. This will protect it from dust and debris, paint spots and also keep furniture in good condition.
You should also try to isolate the renovation area so you can keep the rest of your house clean. Make plans with the builder to keep the mess and debris from spreading throughout the house unnecessarily. This can include fixing plastic sheets over doors to seal off a room or heavier plastic tarps or flaps for extensive home remodelling.
Put your important things together in one place, away from the remodelling area. If your entryway is out of bounds during construction, find a safe, temporary spot for your cell phones, chargers, keys and other essentials.
Home Improvement And Renovation Storage
Along with moving house, at Space Centre Self Storage, a home renovation is one of the main reasons people choose short-term renovation storage. Whether you're building a conservatory, renovating the kitchen or a major home renovation, you need to be ready for anything.
While home improvements are associated with excitement and enthusiasm, there are downsides as well. The main issue you could face include drywall dust, sawdust and construction debris all over the place. Another consideration is the constant foot traffic of builders and everyone involved in the project.
Unless you want to spend extra money on cleaning, fixing or replacing dirty, broken or damaged goods, you should consider renovation storage.
Renovation Storage In Bristol, Stroud, Gloucester And Stonehouse
Space Centre Self Storage have self facilities in Bristol, Stroud, Gloucester and Stonehouse. Our units are clean, dry and secure where many are on the ground floor with drive-up access. We also offer free insurance for goods up to the value of £3000 where you can use our provider or your own.
Our staff are friendly, professional and trained to assist wherever they can should you need assistance. Follow our weekly blog or join us on Twitter and Facebook for more interesting articles on home renovations, decluttering, home staging and self storage advice among others.