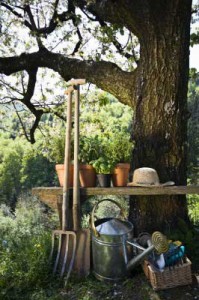 If you clean and then store your garden tools properly during the autumn and winter months, they will last you a great deal longer. Should you ignore such advice, you will almost certainly find yourself having to purchase new equipment, maybe on an annual basis.
But where should you store your garden tools?
Many homeowners and some self-employed gardeners will use their own garden shed or garage to store their garden tools. However, the more tools you collect, the more clutter you get.
Lucinda Dangerfield, co owner at Space Centre Self Storage has many clients who swear by the company's safe, damp free units. In terms of security and protection you simply can't go wrong. And there are no long-term contracts to worry about.
"We have worked with many keen gardeners and self employed gardeners, all of whom have seen the benefit of using our units as storage centres for their garden tools," said Lucinda.
"It's the best way of not only looking after your equipment, but creating more space in your shed or garage."
It all makes sense. When the summer has given way to autumn and you have cut your grass and trimmed the hedge for the last time that year, why would you want to clutter your shed or garage?
Lucinda said; "A lot of people use us during the autumn and winter months and then return to take home their tools ready for Spring. Some will keep those tools with us and just return the garden furniture to its rightful place on the patio!"
"There are no long term contracts and you can take your tools and or furniture home whenever you like. Some people, with older tools, store them with us before selling them on, second hand, over the winter. That provides them with some extra capital to buy new."
If you are planning to use a small unit to store your garden tools over the winter, here are some useful tips on how best to prepare your equipment ready for hibernation.
Scrub off any dirt that might have accumulated on your tools

Make sure you dry the head of the tool so's to avoid rusting
Lubricate the metal heads to help prevent rusting
Treat the wooden handles by sanding them down and maybe using a wax to protect them
Clean all the grass off your lawn mower and maybe sharpen the blades ready for Spring
If you didn't do this last season and your garden tools are looking a little worse for wear you may find the 2 articles below useful!
Spring clean your garden tools
Getting your tools ready for spring
Many professional gardeners build up a tremendous amount of valuable equipment over the years and also find themselves in search of space for storage.
Some are also reluctant to keep their tools in their van or pick up, overnight, due to the possibility of theft. However, hard you try to protect your vehicle, it's always susceptible to a break in.
Lucinda added; "With our units, a gardener will use his tools and equipment during the day and then bring them back to the unit for overnight storage. The following morning, he can make the short journey back to us, pack his van and get off to work. It works a treat and I know several who would never consider any other method."
If you have any ideas on how to best store garden tools and equipment or any tips for making them last longer, let us know by posting a comment below.
Should you wish to speak with us about storing your garden tools or furniture in the North Bristol and Gloucestershire areas of south west England, contact us.