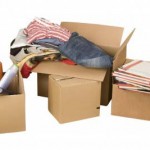 Improper lifting technique can lead to back, leg and arm pain. It can also cause both acute injury and serious chronic effects. Lifting the right way will help you to avoid back injury. When it comes to storing your heavy goods, it's vital that you take heed of the warning.
Many of our customers here at the Space Centre self-storage use our units to store heavy individual items or heavy box-loads of tools, ebay items or files and papers. As many of our clients will tell you, there is a right and a wrong way to shift these items from your home into storage and back again. The best way to prevent back injuries, in particular, is to develop habits that reduce the strain placed on the back. So, make sure you do it the right way.
Geoff Twinning, a Sports Physiotherapist and Director of Five Valleys Physiotherapy Clinic in Stroud said; "There are very few times where a simple lift will be the sole cause of back pain, unless extremely heavy or having to manoeuvre awkwardly. An apparently simple lift can simply be the straw that broke the camel back."
"Besides improving general spinal knowledge and self management strategies, lifting correctly is important. The robotic action is regularly prescribed but this is rarely functional in the work place."
Here are some top tips for safer lifting:
Keep the object close to your body, try not to reach.
Keep your spine straight whilst still bending from the hips
Lift by using your legs and not extending your back
Plan where you are to take the object from and to to avoid potential hazards!
It is your responsibility to assess what you are lifting and your own capability to do it
For weights over 25kg use any equipment available for lifting
This NHS advice page has further infromation, tips and advice on how to lift objects safely.
If you live in the North Bristol or Gloucestershire area, why not give us a call? We have units of all sizes and to suit your needs and will provide any help you require with packaging and storage.