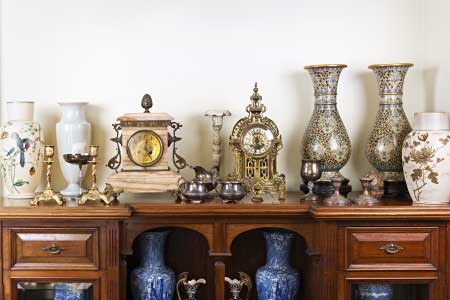 People have always collected things; art, antiques, collectables and memorabilia. Some, because they trade in those areas, buying and selling and hoping to make a profit along the way. Others collect for their own enjoyment because they like a particular artist, ceramic factory or even just a certain animal. There are people who collect as investment with the long term future in mind and as people worry about the performance of their pensions, this is becoming an option being chosen by more people.
Whatever the reason you're collecting, if you want to get the maximum financial benefit from your investment, short or long term, you need to make sure your collection stays in tip top condition. If on display, they need to be kept safe from harm and if packed away or stored, it needs to be done properly to avoid damage.
When on display, there are some differences depending on the collection, but generally there are a few rules that apply to everything.
Try and avoid placing in direct sunlight as it can cause fading or changes in colour
Try and use LED light bulb in your display lighting, it produces less UV rays than fluorescent lights and so reduces the chance of the impact on colours etc.
Avoid hanging on walls or displaying where damp may be present
For art, especially, avoid hanging where there are fluctuations in temperature, e.g. above a radiator or fireplace
Keep things out of harm's way. Make sure it can't be easily knocked over or damaged.
Don't overfill display cabinets or containers to avoid chips, scrapes and scratches.
When it comes to storing there is one key thing that applies to all collections – store in a damp free climate controlled place, i.e. somewhere the temperature is constant and there is no risk of damp. In most cases that rules out the attic, garage or basement if you have one. All these areas have great fluctuations in temperature and can be susceptible to damp. If you're serious about your collection you may well need to consider a dry, secure self storage unit.
In addition the tips below that are more specific by collection should be useful
Art
Wrap in bubble wrap or soft blankets and store vertically
If in a frame, store the correct way up to avoid any slippage in the frame
China / Pottery
Wrap carefully in bubble wrap (don't wrap too tightly)
Don't overfill boxes. It's better to fill gaps in a box with packaging to prevent movement than try and squeeze too much in and cause breakage
Vinyl Records
Store vertically – never lay them flat
Store the same sized records together – don't mix, 33s, 45s and 78s
Don't overfill shelving or cases. Records can be very heavy, but they damage very easily. A dropped case or collapsed shelf can result in you losing your collection.
Magazines / Books /Comics
Toys
Wrap and pack but don't overfill boxes. As with china, it's better to fill gaps in a box with packaging than to overfill and risk damage.
For collectible dolls, store in fabric bags or cloth before wrapping. Some plastic wraps can create a reaction and cause damage that can ruin a doll if stored long term
Furniture
Wrap / cover in blankets, giving extra protection to legs corners etc.
If disassembling (removing legs, handles etc.) store all screws and fixings in a bag. Seal the bag and keep it with the piece of furniture. You may even be able to store it inside, in a cupboard or drawer. If doing this make sure it can't roll around and cause damage to the inside.
If your collection has outgrown the spare room at home and you're considering a self storage unit, get in touch with your local centre. If you're in Bristol or Gloucestershire, we'll be happy to discuss your needs.
For all you collectors out there, I'm sure you'll have some specific advice or tips about displaying or storing collectables and memorabilia that other readers can benefit from. Why not share it here?