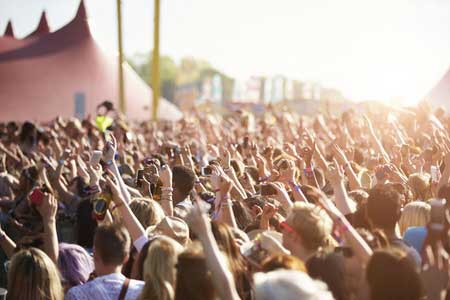 Festival season is upon us! There's the favourites like Glastonbury, T in the Park, Oakwell, Monmouth or White Cliffs. But there are also newer ones popping up across the country. If you're a music lover, the chances are you may well be heading off to one of this year's music festivals.
Will you be prepared? If you've been before and weren't one of those people who simply left everything behind at the end of the weekend, do you know where to find your tent, sleeping bags, ground mats, wellies, blankets and cooking equipment? Did you sort it all out put everything in temporary storage after last year's escapades in the mud or are they squashed into a small space in your garage or garden shed?
If you chose to keep them at home, maybe in a damp shed or cold garage, it's likely you'll have some damage or rotting to the material. Now is the time to check out your tent for holes and tears and to wash everything down before you load the car and set off for this year's event.
Festivals are fun but can be expensive if you have to keep replacing things every year. Storing at home is free, but it's really easy to be tempted to just scrunch everything into bags in the loft or garage, which means a higher chance of damage and the need for replacement. If you're a regular festival goer, a small temporary storage unit may be the way to go as it could save you money in the longer term.
Not only will it free up some valuable space at home, but once cleaned, your equipment can be kept under lock and key, in damp-free conditions, in readiness for 2016!
To help make sure you're prepared here's our checklist list of 10 essentials for a successful festival season.
Tickets and ID
Don't forget your tickets and always take ID with you. Many festivals will request ID before you go in. It's wise to check the festival terms and conditions beforehand.
Getting there
If you choose to drive and you don't have a SatNav, make sure you plan a proper route. Remember to check any festival travel advice, some roads and routes to sites get changed to accommodate the extra traffic. When you arrive, grab a map of the site and mark on it exactly where your tent is located and where your car is parked if you've brought one. You could even take a distinctive flag with you to hoist above your tent. It makes finding your tent easier
Tent, sleeping bag, pillow and a mat
Don't arrive with a brand new tent and then spend the best part of your first day trying to put it up. Practice before you leave so you can get your tent up quickly and easily – important with the unpredictable British weather! Make sure you keep your tent in good temporary storage during the winter months to avoid damage.
Waterproofs and Wellies
A must for British festivals. After all, you never know what's going to happen with the weather. Venues are sure to sell waterproofs and wellies, but, as ever, when there's a captive audience, they are likely to be expensive.
Towels
If you've got the room, bring two or three towels in case one doesn't dry in time. Some camping suppliers now sell ones that fold or roll up really small but are super absorbent.
Spare clothes
Take enough clothing for each day of the festival and a set for the journey home. There is nothing worse that sleeping in wet or dirty clothes and then waking up to the realisation that you have got to wear them for a second day. Worse still if you then have a long drive home in the same outfit!
Bin Liners
Take a bin liner or two to store your rubbish and your dirty washing too. Remember to tie up all your rubbish at the end of the festival and leave it at the designated points.
Toiletries
Space will be at a premium in your bags. If you are sharing a tent, it might be wise to save space by sharing some of the small things like toothpaste.
http://www.glastonburyfestivals.co.uk/information/advice/packing-list/
First Aid
You might laugh but British weather being what is is make sure you have sun screen and insect repellent. A bais first aid kit containing plasters, bandages, sterile wipes and the like is always handy.
Cooking equipment
If you are planning on cooking every day to avoid spending your money at expensive burger vans, the following equipment is recommended: a small stove, a pan, a kettle, a mug, a tin opener, cutlery and some gas is essential.
Many festival sites also have lists of things you can't bring in with you. Here's this year's Glastonbury list that you can use as a guide.
How do I go about finding temporary storage and what do I need to do with my kit before I store it ?
You need to make sure everything is clean and dry before you lock it up for good. As for finding temporary storage, it's simple. Go on line and search for your local self storage centre. If you live in the North Bristol or Gloucestershire areas of south west England, why not give us a call at Space Centre Self Storage and we can provide you with all the information you need about how to prepare and pack your stuff up for temporary storage.
Image Copyright: stockbroker / 123RF Stock Photo