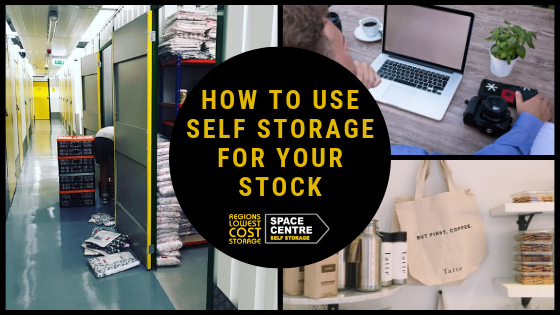 Any business that sells products needs to consider the best possible stock storage option. They need a clean, dry and safe place to store all of their stock. Whether it's an established online retailer, new e-commerce start-up or brick-and-mortar stores looking for more space, self storage could be the answer.
Normal storage units can really help ease some of the issues associated with a growing business. In fact, retail business owners, artisans, e-commerce brands and other entrepreneurs can greatly benefit. Considering that not everyone can afford warehouse space or even need it, self storage is the more practical and cost-effective solution.
Why Use Self Storage For Stock?
Whatever your reasons for renting a business storage unit, the benefits are overwhelming. Putting office furniture, equipment and surplus stock in self storage means everything is safe and in excellent condition.
It's the perfect solution for seasonal stock storage as you don't need to access these particular types of items frequently. Even more so, you can easily store bigger items that won't fit in a garage or spare room. Self storage also costs considerably less than retail or warehouse space which is great for the budget.
Most storage facilities are conveniently located near major roads which makes accessing your stock much easier. Storage units are typically in secure compounds with CCTV and each unit has an alarm and a smoke detector. At Space Centre Self Storage, you can increase or decrease your unit size as the seasons demand so you don't pay for empty space.
Planning For Stock Storage
Without an effective storage and management plan though, stock could get damaged, stolen or become obsolete over time. Due to the cost involved with stock storage, many companies try to hold the minimum amount while still meeting client demands.
The minimum stock you can hold depends on several factors including the time between placing an order with a supplier and receiving it. This is commonly referred to as the lead time. Using historical data, you can determine the maximum time it takes the supplier to deliver once you've placed an order. If, for example, the average delivery takes two weeks but sometimes three, your maximum lead time is three weeks.
Finding The Right Storage Unit
Depending on your business type, you should look for a facility in a central location. This applies especially to those who collect and drop off stock between the customer and the office, for example. If it's all about minimising cost and maximising profitability, it all starts with finding what works for you.
In terms of space, it all comes down to how you use the unit to its fullest potential. Fortunately, many facilities have a unique way of calculating how much space you need. It's not advisable to guess solely based on how much space your stock takes up at the office or garage. Once everything is packed and ready to transport, you'll have a better idea but we recommend give the experts a call or plan a visit to look at the units in person.
Packing Tips For Stock Storage
Packing a self storage unit with valuable stock items can be rather challenging. Besides the facility's rules and regulations, there are a few important tips on how to pack your storage unit:
Use additional shelving and tall racks to maximise the height of the unit
Make it easier for everyone by placing the more popular or latest items closer to the entrance
When packing, remember to put heavier items at the bottom to minimise collapses and possible injury
If you have loads of stock, invest in inventory management software for easy and accurate stock counts and balancing
Create a stock storage master list of every item so it's easier to find
Leave an aisle in the middle so you have better access to all of your stock
Don't forget to clearly label everything on multiple sides especially if you have multiple walkways
Stock Storage For E-Commerce
For online businesses, stock storage can become an issue but there are several interesting options. Drop shipping, for example, is a type of e-commerce where the retailer ships orders directly to a customer from the third party supplier. That makes the manufacturer or distributor responsible for shipping the product to the end-user. Here, they act as an agent between the distributor and customer without holding any inventory at all.
Amazon needs no introduction but do you know about 'Fulfillment by Amazon' (FBA)? It is actually a very popular choice for online retailers as Amazon practically handles everything. This includes shipping, product returns and customer service as well as having access to their massive client base.
Of course there is the matter of payment as Amazon takes a large percentage of of the profits in return for everything. It may seem risky but if you do well through Amazon, you could have everything you need to set it all up on your own website.
Stock Storage And Insurance
For anyone not familiar with stock insurance, it pays out the money to replace your stock if it is stolen, damaged or destroyed. As a with home or car insurance, the cost of the policy depends on the value and quantity of the stock you insure. Furthermore, the amount that the insurance company pays out is based on the stock or cost price of the item and not the retail price.
Insurance is not always provided as a standard option so upgrade your existing insurance, get a new policy, or get insured with the storage facility. At Space Centre Self Storage, we DO provide free insurance up to £3000 and DO NOT charge an upfront deposit.
If you are storing stock at home, be sure to check your policy as in some cases you need to take out additional insurance. Check the facility's terms and conditions if you're storing vehicles as you may need to empty the fuel tanks beforehand. Always return your unit in the condition you found it so you can get your deposit back.
Conclusion
More businesses are using self storage to keep their overheads to a minimum and not just home businesses. While people working from home can easily run out space, many larger organisations have also gone down this route. In fact, many businesses actually factor self storage into their budget.
Please get in touch if you need more information about our storage units and prices. Our friendly, professional and experienced staff are happy to answer any questions you may have. Check out our price and size guide to help you find the right storage unit for your requirements.