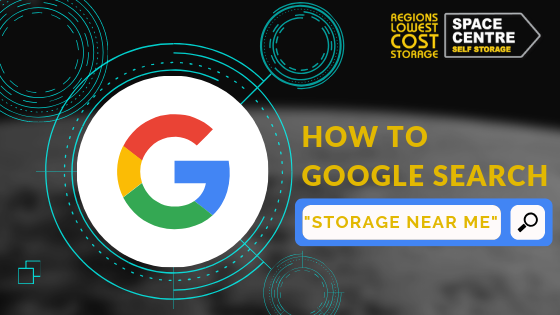 The self storage industry is continuously growing as more people (and businesses) want affordable storage space for household goods or business stock. Today, finding a storage facility has become easier thanks to Google search and using the term "storage near me".
Considering the sheer volume of people actively using the internet every day to find something, using "near me" or "near me now" search terms are essential. Whether you are searching for "storage near me" on your desktop, laptop or mobile device, Google will provide the answer based on where you are located.
Not too long ago, people included a postal code in their Google search but that has changed. Customers are now expecting more from the technology they are using to identify their location automatically and provide relevant suggestions.
The State Of 'Near Me' Searches
As of May 2019, there were more than 63 million internet users in the UK and many would have searched for places, products or services. The "near me" search is being used to find more than just a specific location as stated by Lisa Gevelber, VP of Marketing for the Americas:
Google "near me" searches are no longer just about place, but about time and things as well
One would commonly associate "near me" searches with things like "restaurants near me", "petrol stations near me" or "used car dealerships near me". However, it has been used for all types of searches from spices and cars to clothing among others.
According to data from Google, there has been a 600% increase in mobile searches for "wedding dresses near me" or "evening dresses near me". Another popular search with 200% growth is "car dealerships near me" (Source: Google Data, July 2015-2017).
Searching For 'Storage Near Me'
Using "storage near me" in Google searches is simple as long as you remember to set your web settings accordingly. This means you must enable the geo-location in your browser allowing you to find a storage unit or facility near you. If businesses in your immediate area, relevant to your search, have done their Search Engine Optimisation (SEO) homework, they should appear in the search results.
When it comes to self storage, it's more than just the location as operating hours are also important. That is where the search phrase "storage near me now" comes into play. People looking for a place close-by with opening times in mind use a combination of the following:
"storage near me now"
"restaurants near me open now"
"pharmacy near me open now"
"cheap hotels near me tonight"
"show houses near me today"
Space Centre Self Storage Operating Hours
We have secure storage facilities in Gloucester, Stroud and North Bristol with a wide range of units in various sizes. They are ideal for students, home and business storage with drive-up access for easy loading. Our specialities include Document Storage, Furniture Storage, Business Storage, and Household Storage.
While customers with our new security fob can access their outside storage units 24 hours a day, Space Centre Self Storage operating hours can be found here:
Why Choose Space Centre Self Storage?
Since 1995, Space Centre Self Storage facilities have provided affordable, reliable and quality storage units. We offer a wide range of sizes, internal or external, with rental contracts covering short and longer stays.
In addition, Space Centre Self Storage offers quality services including the following:
Clean, dry, well ventilated and well-lit storage units
Drive-up access
24-hour security (CCTV and alarms)
No deposit required
No long-term commitments
Free insurance (up to £3000)
Flexible to change your unit size at any time
Read this article for 'Top Reasons Why People Use Self Storage' covering everything from household storage, business storage and student storage among others.
Final Thoughts
If people are looking for something near their location, they have something specific in mind. When they use the search term "near me", it clearly shows user intent and businesses must adapt accordingly. Brands must understand how it impacts Search Engine Optimisation (SEO) and how people are searching for and finding them online. Give it a try and type into Google search, "storage near me" and see what comes up.
When you are ready to rent your very own storage unit, get in touch with our team as they'd happy to help and advise you. We can help you find the right unit for your requirements, whatever they may be. Check out our price and size guide for a better idea of what we have to offer.