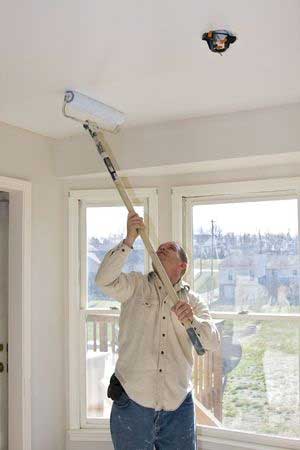 Many people will choose the summer months for a spot of internal or external DIY and decorating.
Whatever work you have planned – inside or out – have you thought of what happens to your belongings, tools and materials whilst the work is being undertaken?
We have all tried to decorate the inside of our house whilst protecting our furniture and belongings beneath a few dusty old sheets. It doesnt always work, does it?
And whilst damage is not a consideration when it comes to outside work, have you considered where you will store your timber, bricks, fencing, cement, mixer and tools until it's time to get the work done?
You might not have any room in your garage and we all know that leaving materials and tools outside is an open invitation to thieves.
Why not consider a self storage unit to help store your goods whilst you are decorating or renovating? It makes sense. Your belongings will be kept under lock and key and free from potential damage and your tools and materials will be safe behind closed doors too!
5 benefits of self storage when doing DIY
Peace of mind
Most self storage centres benefit from CCTV. Your goods will also be stored under lock and key, so there's no need to worry about theft. At most self storage centres, you will be the only person with a key. However, if you want even greater peace of mind, why not talk to your self storage manager about insurance and whether or not it comes with your rental agreement.
Protection
Self storage units are damp free (some are climate controlled), so, as long as you package your belongings correctly, there is no need to worry about damage.
No long term contracts or penalties
Most self storage centres will be flexible when it comes to renting a unit. You can extend your rental period without penalty and if you need a larger unit, mid rental, you can move out of your current self storage unit into a bigger area.
Easy access
There is no need to worry about access to your tools or materials whilst you store them with us. Your unit will be accessible, at all times, during opening hours. So, why not pick up your tools, paintbrushes, materials etc in the morning and then return them to us at the end of the day.
Support and assistance
The manager or owner of your self storage centre will always provide the necessary information on how to transport your goods, to and from your unit, and how to package them properly.
If you live in the North Bristol or Gloucestershire area of south west England and you are planning some major work at home over the summer months, get in touch, we'll be ahppy to help.