Are you finding that your space is cluttered and leaving you feeling claustrophobic? Got too much stuff and want to give minimalism a try? Self storage can help whether you don't want to get rid of certain things just yet or simply want to change it up by redecorating or downsizing.
Self storage is a great way to declutter your home and free up much-needed space by getting rid of items you no longer need or haven't used in some time. If you're interested in learning more about how self storage can help you declutter and simplify your life, read on!
What is Minimalism?
Minimalism is living with only the essentials and eliminating anything that disorganises your space or thoughts. Its purpose is to create a feeling of serenity within your home, allowing you to relax and focus on what matters most.
The minimalist lifestyle is about only having items that you need and use regularly. Essential items differ from person to person as everyone has different needs and they may not see the same item as essential. However, the general idea is to declutter and organise your belongings to only keep sentimental items or those you actually still use.
How to Start Your Minimalism Journey with the Help of Self Storage
You don't need to commit to minimalism to start living a more minimalist lifestyle as it's all about reducing the clutter. In this section, learn how to get started on living a clutter-free life with the help of self storage:
1. Assess Your Home
Walk around your home and decide which areas need decluttering or which areas you need to organise to create more storage space. Start with the most chaotic area first while you still have lots of energy. Remember, it may take you a few days or even weeks to declutter your home, so don't get despondent.
There are many methods of decluttering, so find the technique that works best for you and declutter regularly. You can either choose to go room by room or follow Marie Kondo's method and sort your belongings based on category, i.e. books, clothes, papers, komono (miscellaneous items), and sentimental items.
Although minimalism usually means living with less stuff, use your discretion when getting rid of things and only toss items that are no longer serving a purpose in your life.
2. Sort Your Items
Now that you have sorted all your items, the next step is to go through everything and place them into their respective categories of being either essential, non-essential or clutter. This will help you decide what to keep at home, what you need to get rid of and what can go into self storage.
If an item is essential, it means you use it regularly and has a specific purpose. Non-essential items are things you don't use regularly but still serve a purpose, such as seasonal decor or extra furniture. Clutter is anything that doesn't fall into either of those categories and is just taking up space. Some examples include old magazines, last year's newspaper or clothes you never wear.
3. Keep, Toss or Self Storage
Once you have sorted your items, it's time to decide what to do with them. Here are our top tips on disposing of unwanted items or storing items at home and in your self storage unit.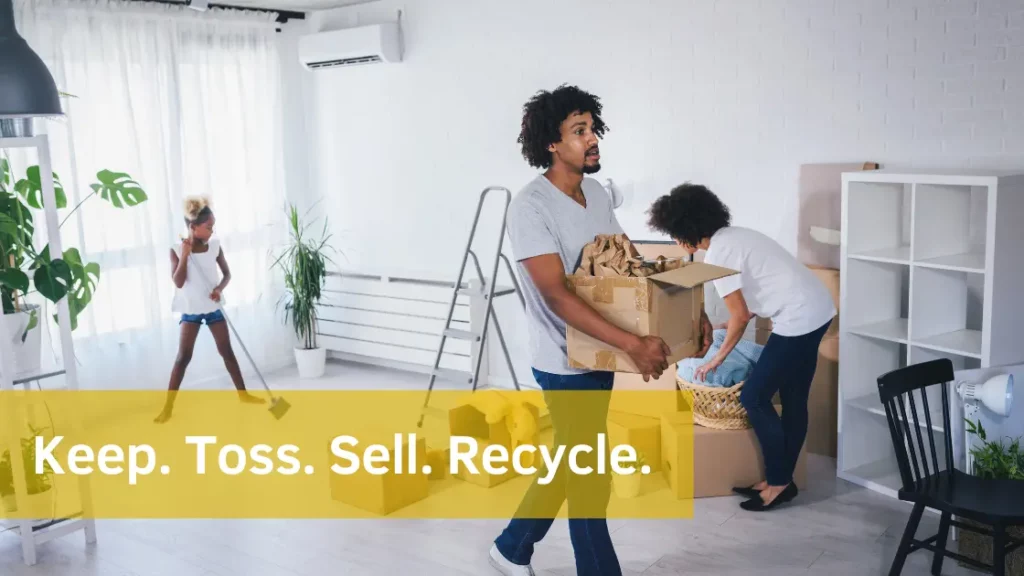 Keep at home
Essential items you plan to keep at home should be put away in an organised manner and ideally out of sight to create that polished minimalism aesthetic within your home. Ensure that all items in your home have a designated area, and get into the habit of returning items to their proper place when no longer in use.
Donate, throw away or recycle
Divide items that create clutter and you no longer need into three piles: donate, recycle and throw away. Ask family and friends if they could make use of any of your unwanted items before donating or throwing them away.
Donating items in the UK is easy, and many charities, such as the British Heart Foundation will gladly collect your unwanted items. You should recycle as many items as possible before sending the rest to the landfill. For a guide on how and what you can recycle in the UK, take a look at this link: "How to recycle".
Place non-essentials in self storage
Place non-essential and sentimental items you don't regularly use in a self storage unit. At Space Centre, our wide range of storage units is ideal for decluttering and short-term or long-term household storage, especially if there are some items you may need in the near future or you are undecided about a few things.
If you're considering whether or not to move your belongings into storage, it may be a good idea to try living without those items and test to see if you really need them. If you go a few months without even looking at certain items, it's time to pack them away. All of our storage facilities are clean, secure and in convenient locations in Bristol, Stroud, Cheltenham, Gloucester and Stonehouse.
Packing Your Self Storage Unit: Our Quick Fire Tips
Here are a few top tips to get you started:
Buy good quality boxes and clear plastic storage containers
Label boxes clearly with the room the items belong in and the contents of the box
Don't forget to label boxes as "FRAGILE" if it contains breakables
Pack heavy items at the bottom of boxes
Use packing peanuts or scrunched-up newspaper to prevent things from shifting in the box
Pack your storage unit sensibly and leave a centre aisle so it's easy to get in and out without the risk of injury
For an in-depth guide, please read this blog for more information: Top Tips For Packing Your Self Storage Unit.
Space Centre Self Storage: Why Choose Us?
If you're looking for an affordable, reliable, quality storage unit, look no further than Space Centre Self Storage. We have a wide range of sizes to choose from, both internal and external units, with rental contracts that can cover short or long stays. Our friendly and experienced team are here to help answer your questions, so if you need self storage tips or advice, please don't hesitate to contact us.