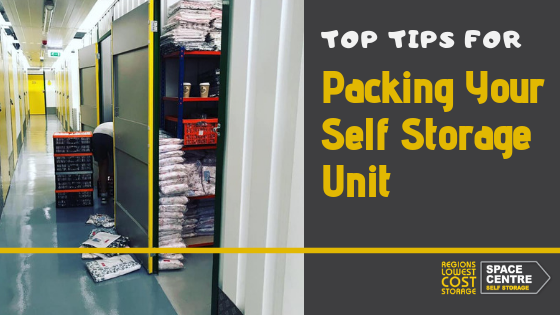 More people are choosing to rent a self storage unit and why not, it just makes sense. Most of us have too much junk cluttering our homes, garages, or sheds which makes a self storage unit the ideal solution. Not only are they great for households but many businesses have gone down this route as well.
By using self storage, you can safely store all of your belongings and access them at any time. For those who like to collect things, when the time is right, you can sell some of it on eBay, at a car boot sale or pass them on to friends or family.
Choosing The Right Self Storage Unit
While choosing the right storage unit is the easy part, people often think they need more space than they actually do. This tends to be where problems arise for household storage and commercial storage units. You should never base storage requirements on how much you can squeeze into a room or garage.
Traders and start-ups find it is more cost effective to set up shop in a self storage unit than it is in a home office. What's more, it also provides secure, dry and clear storage for their equipment or stock. Moving house or renovating is already stressful enough without having to worry about running out of storage space.
Many facilities offer a wide range of sizes but you still need to know which one is right for you. This is important as you shouldn't have to pay for space you don't need. Thankfully, Space Centre Self Storage has a simple solution in determining what unit you need. Our price and size guide will give you all the information you need to make an informed decision.
Related: 'How Do I Choose The Right Storage Unit?'
Decluttering, Organising and Packing Tips
Anyone who has recently moved or did some spring cleaning will agree that the hardest part by far is decluttering. Doing an effective cleanout requires time and planning, always doing one room at a time. Once you've established what you want to keep, it comes down to packing everything into suitable boxes and transporting them to your self storage unit.
General Packing Tips
We've covered this in some detail in the past but considering the importance thereof, here are a few essential packing tips.
Buying decent storage boxes is vital so don't try to save a few quid by using any old box lying around your home or office. You need stability which is not what cheap boxes offer as they can quickly easily collapse under any sort of pressure.
When storing any breakables or valuable antiques, we recommend using strong cardboard or plastic boxes. Don't forget to use plenty of bubble wrap, tissue paper or loose fill. While newspaper works for some things, be careful though as the ink can leave stains.
Never fill a box halfway as you need an even weight distribution for added safety while packing and in transit. Stacks of partly-filled or bulging cardboard boxes can easily tip over or collapse. For added peace of mind, use substantial tape to secure your boxes so boxes don't break open.
Read this article for more detailed information: 'Preparing For Self Storage'
How To Pack A Self Storage Unit
A poorly organised self storage unit can be a dangerous place in more ways than you may think. Boxes stacked incorrectly and too high could topple over resulting in damaged goods or even cause serious injuries. While finding a storage unit may be the easy part, packing it properly is a top priority starting with the basics.
Clearly Label And Mark Everything
As mentioned earlier, packing shouldn't be rushed so take your time and remember to label every box. You should ideally add a label on the top and at least on one of the sides. An easy trick is to use a unique number to indicate which room it came from along with a short description of the contents. We recommend using a black permanent marker.
You should also clearly mark boxes that contain fragile items with words like "FRAGILE", "GLASSWARE", "BREAKABLES" or "HANDLE WITH CARE". Another useful tip is to place a special mark on boxes you might need to access more frequently. The last thing you want to do is unpack the entire storage unit just to find a single box.
Keep A Detailed Inventory (Master List)
While some may feel this is unnecessary, we can guarantee that it's well worth the effort. It's simple really, all you do is write on a piece of paper the contents of each box and the corresponding number. This is particularly helpful when you want a specific item later on especially when some boxes are packed out of view.
Keep a clipboard near the entrance of your self storage unit with a full list of everything inside. You can even draw a map for larger units indicating the rough locations of goods. Remember to make a note if you put smaller items inside cupboards or a chest of drawers otherwise you'll never find it again.
Pack Heavy Items At The Bottom
This is certainly one of the most basic packing tips but you'd be surprised how many people don't do it. You should always pack large, bulky items first and ideally against the back wall so it's out of the way when you're looking for something specific.
You can use furniture items like desks or dining room tables to form a strong base for stacking items. Whatever you decide to do, cover the furniture with bubble wrap, a blanket or high-density plastic to prevent damage.
Disassemble What You Can
Save time and plenty of space by dismantling what you can before packing into your storage unit. Many furniture items can be taken apart like TV units, tables, chairs and sideboards. Be creative in your efforts and use drawers from cupboards to store smaller items inside. Just don't forget to put the corresponding nuts, bolts and other small components in a Ziploc bag and tape it to the item.
Leave An Aisle For Easy Access
Many people don't realise the importance of having easy access to all of their goods in a self storage unit. When packing your storage unit, leave a walkway down the middle wide enough to walk in. Not only does this make your unit look more organised but you can easily access items stored at the back. A brilliant storage tip is to pack boxes with labels facing towards the aisle so you can easily identify each one.
These are only the main storage tips as there are many more which we've briefly mentioned below:
Store sofas end-to-end and stack chairs upside down, seat-on-seat
Use pallets to keep boxes and other items off the floor
Use empty space inside wardrobes, chest of drawers, laundry baskets or even suitcases to store clothing, linen or pillows
Safely pack items with sharp edges to avoid accidents and injuries
Outside equipment should be cleaned prior to storage and lawnmower blades and other cutting tools should be lightly oiled to maintain optimum quality
Why Choose Space Centre Self Storage?
Since 1995, Space Centre Self Storage facilities have provided affordable, reliable and quality storage units. We offer a wide range of sizes, internal or external, with rental contracts covering short and longer stays.
'Our customers choose us because we offer quality storage at an affordable price with a flexible and hassle-free approach. Our clear pricing policy enables our customers to know the full costs of their storage. We don't increase our prices once people have moved in and offer a 12-month price guarantee. You can also store for exactly as long as you want to and swap unit size when your needs change.'
Please follow our weekly blog or join us on Twitter and Facebook for more interesting articles, helpful advice and storage tips. Contact us today for more information about our wide range of flexible storage solutions in Bristol, Gloucester, Stroud and soon-to-be Stonehouse.