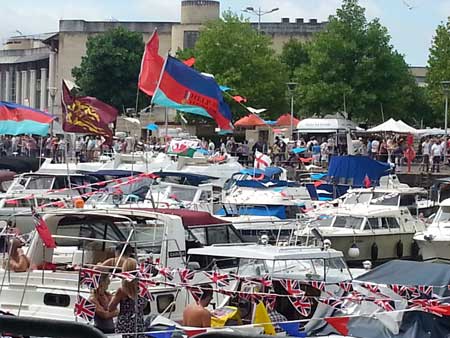 Picture the scene. Another lock successfully negotiated and a gentle wave beneath the boat as you meander your way through the countryside.
The sun continues to shine on the hull of your narrow boat and your decision to swap the only life you knew, for 12 months on the water, appears to have been the right one. Some folk will extend that year on the water into a lifetime.
They will sell their property, buy a canal boat and enjoy the calm and tranquility of Britain's waterways for the rest of their lives. What could be better? It all sounds quite simple and idyllic, doesnt it? It is. No garden maintenance or domestic decorating and no worries over fluctuating mortgage rates. It's a chance to get rid of the second car too!
Many of those people who have experienced life on Britain's waterways are sure to be at this weekend's Bristol Harbour Festival July 18-20.
However, it's a life choice that means organisation. Of course, the end result is worth the time and effort, but in between making your decision and casting off from the marina for the first time, there is plenty of work to do.Take your household goods for example. What happens to your antiques, artefacts and pieces of sentimental furniture you have collected down the years? What happens to your beds, three piece suite and garden furniture? What will you do with those books and files that have built up over the years? What are your storage solutions?Remember, even a wide-beam boat is only a fraction of the size of a house. So, hoarding the aforementioned items on board your new vessel, is out of the question.The choice is yours. Some people will simply sell up and rid themselves of the contents of their house. They might sell some goods on ebay, host a house clearance sale or simply advertise their belongings in the classified section of their local newspaper.Some, however, will be reluctant to follow such a course. After all, you might have second thoughts and decide within six months to return to civvy street.If you are reluctant to commit to a lifetime on the water, but feel that selling your home is the best course of action, a self storage unit is the perfect answer. It is also a useful area to have if you rent out your house whilst you are enjoying your boat. After all, there are certain items in the house that you will want to remove before your tenants move in.Contact your local storage centre and find out what kind of storage solutions they can offer. Whatever side you need, your belongings will be stored in a safe, secure, damp free unit and can be accessed at any time.Have you spent time on a house boat? If so let us know. Tell us the best parts and the not so good moments and tell us if you visited this weekend's Bristol Harbour Festival and what you liked most.