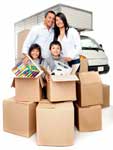 How do you achieve a successful house move? Research has shown that moving house is one of the most stressful life events. Not only is there the initial stress of viewing houses and having to show strangers around your own house, but there is the inevitable tension and anxiety of the build-up to the actual day of the move itself. The key to a successful house move is organisation and planning, so if you follow the tips below, your move will not only be smooth but hugely rewarding too.
1) Organisation
Create a 'To Do' list and keep any important information together in a file. As soon as you know you are moving, you should start preparing for the big day. But don't leave it too late. Have a clear out. You could sell any unwanted items on ebay or gumtree or even freecycle You could also clear out furniture that you don't need. Most councils will run a scheme where they will collect your unwanted furniture.
2) Choose the right removal company
If you decide to use a removal company, make sure you research them completely. Ensure all certifications they claim to have are current and ask to see references and feedback from previous moves. Any reputable removal firm will come out to your home and provide a free quote. Take this opportunity to meet the person and ask as many questions as you want. Equally the more you can tell them about your move, the smoother things will go on the day, making for a successful house move. With increasing fuel costs, try and choose a removal company with an office located within an hour of your beginning or end destination.
3) Don't leave packing to the last-minute
Packing is key to a successful house move, so put aside plenty of time. Whatever happens, do not leave it until the last minute. Take each room separately and start with books and CDs and other items you don't use that often. Make sure you label your boxes and of course, your electricals. If you have a hundred wires going into one device, use sticky coloured labels or number each part to match one end to the other. You should also have essential boxes in which you should pack the kettle, tea, coffee and milk. Make sure you know where your bed-clothes and duvet are. Keep remote controls, phones, mobile phone chargers etc in the same 'bits box' so you know for sure where they are. Keep valuables and important papers with you.
4) The day before the move
Disconnect major appliances and then finish packing. Create a Moving Pack which should include all your vital documents, Passport, driving licence, estate agent details, utility supplier details, Money. Keep this with you at all times. Walk through your house one last time to make sure everything is accounted for, make sure you have the keys to your new home, or have arranged to collect them. It is essential that you record all utility meter readings (gas, electricity, and water) and then, before leaving, check that all windows are secure and water, gas and electricity supplies are switched off.
5) The big move to your new home
Once you have the keys to your new home, make sure you are present when the removal crew arrives. Guide them around the house confirming what is to be moved where. Once you have done that, all you have to do is unpack. Finally, check that you have power, gas and water, telephone and internet. That's it – you're in – a successful house move! Have a cup of tea. Give your movers a nice tip or pat on the back and enjoy your new home.
Of course, if you are downsizing or need to rent before your new home is ready, then you will more than likely require storage. Why not contact us at Space Centre Self Storage where we have quality, affordable storage space for your every need.
At our branches in Stroud, Gloucester and Bristol, we have over 700 storage containers with customers travelling from as far as London to store with us. We are also one of the few companies who can provide temporary storage for shorter amounts of time.
Have you moved recently ? Was it a successful house move or did disaster strike? Let us know how it went or whether you have additional tips for our readers. Post your comments or questions below