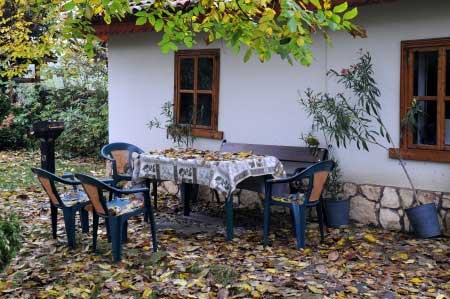 How many of us cut the lawn for the last time and wheel the mower into the shed or self storage unit without cleaning the blades or the excess grass?
How many of us have never once cleaned off the mess from our garden tools or furniture before housing them for winter?
And how many of us, simply leave our tools in the back-yard or in a damp shed where the elements can destroy them?
The answer to all three questions is the same. Most of us!
So, having owned up to our autumnal habits, what is the best method to ensure your tools are as sharp next summer as they have been this year. What's the best way to make sure your garden furniture looks as good as new in 2015?
First and foremost, you will need to find the necessary storage space. If you can find adequate storage space at home, maybe in the shed or garage, then make sure you use it.
If you don't have enough storage space for your garden tools and furniture, at your own property, why not consider a small self storage unit at your local self storage centre?
Once you have established where your belongings will be safely stored, you should turn your attention to how best to prepare them for their winter of rest.
Here are some useful tips on how to prepare your gardens tools, machinery and furniture for a winter in storage
Furniture
Make sure you clean off your furniture. Get rid of the mud, grass and any other muck that might have collected on the individual pieces during the summer months.
Dirt holds moisture far longer than something that is clean and it's the moisture that brings on the decay.
There are some great tips here about how to clean your furniture.
Lawnmowers
Having cut the lawns for the last time, get a hose, washing up liquid or car wash and a putty knife and make sure you clear every blade of grass and piece of debris from your lawnmower.
Once clean, it's time to degrease. Spray a degreaser on any oil stains and allow it to sit for about 15 minutes before you wipe it off with a clean cloth. Then just rinse with a hose and wipe it down dry.
You can also check the spark plug and replace if necessary. The same applies for the air filter, fuel filter and oil. You may be better off getting a professional to do this for you. If you have an electric mower, simply clean off the excess grass, clean with washing up liquid and then dry with a cloth. Don't put it away without drying first.
Tools
Clean your tools by wiping off any excess dirt, washing down and drying, thoroughly. Sharpening your tools before putting them in your designated storage space is also a decent idea. After all, over the summer, your hedge cutters etc. will have become worn and less efficient to use.
To prevent rust, use a piece of sandpaper and gently rub off any small patches of rust. Lightly spray the metal surface of any garden tools with WD40 to prevent them from gathering further rust. This is recommended for your hedge trimmers, spades, forks and trowels.
Have you made the mistake of not preparing your tools for winter storage? What's the worst thing you found when you opened up your shed the following spring?
If you live in the North Bristol or Gloucestershire areas of south west England and are struggling to find space to store your garden equipment, why not give us a call or look us up on the website to see if we can help you.
Image Copyright: vicspacewalker / 123RF Stock Photo