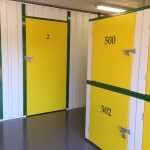 It has certainly been a busy time of late in Stroud where Space Centre Self Storage took the decision to expand the branch in a bid to bring it into line with extra demand.
We purchased the adjacent warehouse to our existing site which has allowed us to create over 150 additional internal storage units.
Having started in 1995 with just 20 units, our Stroud storage facility now has over 300 individual units, of all shapes and sizes and to suit every need. Space Centre Self Storage director Lucinda Dangerfield is delighted with the expansion project and said; "It took approximately six months to convert our new warehouse building into a modern storage facility. After the initial clearing of the space, we used Active Supply and Design www.askactive.com to commission the design and installation of the units.
"We chose the same style storage unit as we have at our Gloucester branch as these have worked well in the past and are of excellent quality."
"Over recent months our customers have asked us to offer a greater number of smaller sized storage units in Stroud. We have been able to incorporate these into the design. Now, we have new 10 square foot and 20 square foot units available."
The smaller units are ideal for student storage, de-cluttering your home or just for keeping business documents out of the way. Lucinda added; "The new warehouse facility has also allowed us to create a new reception area for our customers and we have CCTV and alarms installed throughout the site for peace of mind."
Each storage unit is entirely individual and similar to having your own secure room to store your goods in. They are clean and secure and locked with your own padlock so only you have access.
"We do not offer storage in wooden crates that are stacked in warehouses, therefore you are able to access your unit anytime you like within our opening hours," said Lucinda. "We do not require any notice."
All of the units at our Stroud branch are on the ground floor, so there are no stairs to climb! The external units even allow you to park your vehicle directly outside, making loading and unloading that much quicker and easier.
Located close to the town centre, the Stroud branch of Space Centre self storage is easy to get to, so no long car journeys are needed for you to access your belongings. Being so close to Stroud we are also ideal for local businesses looking for additional space. For low cost secure storage find us on Chestnut Lane, just off the Cainscross Road

Otherwise, why not look us up at our website or catch up with us on LinkedIn.