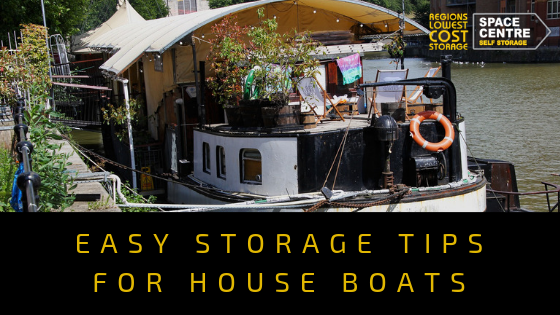 If there's one thing living on a house boat will teach you is to be super organised. Considering the limited space, you quickly learn what you need and how to maximize every part of the boat. There may be many boat storage tips but streamlining the interior to work for you is an ongoing process.
It's quite obvious that living in the confined space of a houseboat is far from the comforts of a house. While there is usually boat hull storage, small cupboards in each bedroom and some boats even have a storage locker on the back, it's still not a house. Here are some of the best storage tips to maximise the limited space on your boat.
Storage Tips For Boaters
Turning a boat into a home is not a simple task mainly because the space is so small. Boat owners are always looking for better and more aesthetically pleasing ways to organise and store their belongings.

Owning a houseboat should be about enjoying life on the river and not messing about with the interior. Living on a boat almost becomes an automatic decluttering and organising project. At the end of the day, it's all about clutter-free living and these storage tips should put a smile on your face.
Get Rid Of Items You Don't Need
The first thing you need to do is get rid of everything you no longer need. While this may seem extreme, it is necessary for a more organised life aboard your boat. Go through all of your belongings and mentally divide them into five different categories – keep, donate, sell, toss or store. Simply contact local charities to see what they need or visit a car boot sale and make extra money in the process.
For anything you'd like to keep for whatever reason, you should consider self storage. At Space Centre Self Storage we have units of all sizes to provide you with the necessary peace of mind while enjoying house boat living. According to Co-director, Lucinda Dangerfield: "There are many people who fancy a change of lifestyle and who swap their house, bungalow, cottage or flat for a narrow boat. In Gloucestershire, we see it all the time."
Baskets, crates, bins and boxes
If you went on any boat right now you will likely see a wide variety of baskets and storage containers. Baskets are brilliant as they come in all different shapes and sizes while adding a certain visual appeal. In terms of crates, boxes or bins, many boaters choose wooden ones over plastic since they look better and blend in well with the interior. Fabric or cloth baskets are very popular as they are more flexible and can fit into difficult areas.
Wall Storage Solutions
It's true that many regard wall space exclusively for home décor but in a boat, everything is about function. The limited storage space on boats means that functional décor is the better bet. Use hanging organisers to maximize wall space and storage of nearly anything including linen, toiletries and clothing.
On a slightly smaller scale, one of our favourite storage tips is installing small wall racks. These can be used for extra storage space for spices, bottles and other kitchen utensils. On the face of it, you could see it as a small pantry but on your wall. For boats with more wall space near the galley, you can even put your plates and cups on display in such a rack.
Add Hooks To Maximise Wasted Space
Not only are hooks useful at home or the garage but they are essential for boat storage. Hooks are perfect to hang wet towels and bathing suits, hats, pet leashes, keys and even supplies you need to easily access.
In addition to hooks for wall space, you can add single hooks anywhere you find a spot that could be turned into storage. This includes the side of a cabinet or piece of furniture. Hooks on the wall and inside cupboard doors are great for storing pots, pans and bags among others. Over door hangers are great too if you don't want to put screws into your doors.
Add Cabinet Space With Shelves
Many boats come with galley cabinets with quite a bit of vertical space which is great if you want to store tall items. That may not be the case for every boat owner as the top of these cabinets often have empty space. The solution is to put an additional shelf inside the cabinet to maximize space for some of your galley accessories.
Consider Seating Storage
One thing that is extremely beneficial on boats is multi-purpose furniture like under seat storage. Most boats should combine sitting and storage to maximise the wasted space between the seat and platform. However, it is difficult to add this type of storage unless it's built-in so if you're looking for a new boat, we recommend finding one with seating storage. If that's not possible, you could purchase a few storage ottomans as they give you additional seating and storage.
Built-in Stair Drawers
Speaking of multi-purposed 'furniture', stairs with drawers are incredibly practical. We've seen this trend all over and it's not just for houses but one of many creative boat storage tips. Whether you add stairs with pull-out drawers or ones that open from the top, this additional space is genius. Not only does it help when you're low on space but it's also completely out of sight, leaving you with a clutter-free boat.
What About A Charging Station?
If there's anything that makes clutter worse it has to be the charging cables from electronic devices. Today, we have a several devices that need charging but they take up valuable space while making the place look messy. You can confine phones, tablets and laptops to one area of the counter or put them inside a drawer.
While we've mentioned a few organising and storage tips for boaters, there are many more. Just take a look at this interesting article featuring amazing ideas on where to put all your stuff. Do you own or live on a boat and have tips for anyone thinking about swopping their house for a boat? Is there something essential that no-one warned you about when you made the leap?
Follow our weekly blog or join us on Twitter and Facebook for more interesting articles, helpful tips and storage tips. Contact us today for more information about our wide range of flexible storage solutions in Bristol, Gloucester, Stroud and soon-to-be Stonehouse.