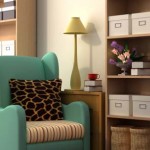 So what is Clutter? The dictionary definition could hardly be more precise. 'A disordered heap or mass of objects, a state of disorder'. Does that sound familiar? If so, maybe it's time to bring a semblance of tidiness to your home and do some de-cluttering, especially if you are about to move house.
There are many benefits to letting go of old stuff. Not only will you make space, but if you are about to move house, De-cluttering will make matters a lot easier for you or your removals company. And don't forget, selling unwanted items can also bring in cash which could help pay for your removal expenses. Here are some top tips to help you on your way.
Starting off
However, daunting the task might seem, the key is not to be overwhelmed. Set aside a specific date to start and set yourself a time limit. Remember, you don't have to finish the whole house in one day. Make sure you have plenty of bin liners or plastic bags and or boxes and attack one area as a time. If you have a number of large unwanted items, you might even consider a skip. If so, do you need a permit and lighting? Most of us, won't have to go that far and will dispose of the unwanted items ourselves. If that's the case, it would be helpful to find out the location of your local rubbish tip and what hours they open. You could make inquiries about the cost of a small van to transport items to the charity shop or saleroom.
Should it stay or should it go?
If it doesn't fit, then throw it out. Did you know that studies show that we wear 20% of our clothing 80% of the time. Why not clear that straining cupboard or wardrobe and give it to a charity shop. Oxfam run a scheme with some removal firms whereby you ask the removal company to supply you with OxBox stickers. Unwanted items can then be boxed and easily identified ahead of the move. The removal company will collect the goods for the charity (usually on moving day) and take them back to their warehouse, where the charity picks up the goods and distributes them to their shops. www.oxfam.org.uk
Recycling
Your local council website will give you a list all the companies that recycle. rethinkrubbish.com is a really good site, working in partnership with a range of organisations to provide you with useful information on how to recycle your rubbish. Most councils will take away your larger household items such as cookers, fridges or furniture. This is normally a free collection service for bulk items. Each household can call on this service twice a year, with up to five items per collection. This however will vary from council to council. Recycle-more.co.uk is a useful website to find information on hints and tips for managing your household rubbish.
Selling items
If you fancy a few extra coins to help with your move, you could turn the de-cluttering of your unwanted items into cash at a car boot sale, on ebay or in the local newspaper.
If you've been de-cluttering, let us know how it went or any pitfalls that you experienced along the way. What did you do with the items, sell them, store them? Here at the Space Centre we can also provide you with temporary storage space to help with your move.