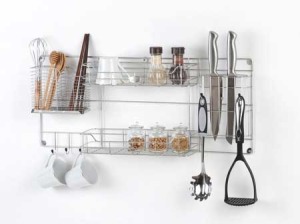 Do you spend much of your time on the look out for innovative solutions to your storage issues? Many people are finding that they can't afford to move to bigger properties and so are having to be more innovative with their increased storage needs.
If that sounds like you, why not sit down and take a look at the following tips? Your home is full of untouched areas that could house the odd box or bag.
If you're buying new furniture, think about getting pieces of furniture that will help provide storage solutions. For example, an all in one bed or a bed with drawers.
There are some interesting ideas in here. Some may not be quite so practical in their current view (like the stairway storage) but with a tweak could be useful (imagine if the drawers pulled out to the side and not the front).
Here are some tips for finding storage solutions at home.
Under the stairs
Many people ignore the area beneath their stairs. In some cases it can be used to install a downstairs toilet, or maybe, a place to hang your coats. If you have a completely empty space beneath your stairs, why not look at filling the space with a storage box or toy-box. Not only can you use the drawers to store belongings that have been cluttering your house, but you could use the top of the box for stacking box files or books.
Beds with storage
Many families will resist pushing games and toys beneath the bed. After all, it's an untidy way of solving your storage issues. However, have you thought about a bed with drawers? Many retailers sell beds with drawers these days. It makes life so much easier. You can store, tidily, your child's games and books and access them far more easily with drawers. No more reaching to the back of the bed to find something.
Storage trays
If you don't want to spend money on a new bed with built in storage then why not try a tray? A large storage box/tray or even two, can be housed neatly beneath your child's bed and will offer the same tidy solution. You can slide the trays in and out and with complete ease, locate whichever game or toy your child wants to play with.
Shelves
Not all storage solutions are obvious. Sometimes, it takes a bit of deep thinking to find an area that can be utilised for storage. However, the most obvious of storage solutions, is a shelf! All of those books, artefacts and ornaments that have been cluttering the floors of your house, can be stored on a custom built shelf. It will create space elsewhere and keep things tidy.
Hanging Shoe Bag
The hanging shoe bag has a lot more potential than for just hanging shoes. You can use it in the laundry room or bathroom for keeping those bottles of cleaning supplies organised. Not only will it hide those ugly bottles but will make the whole room far cleaner and make access easier too.
In bedrooms it can be used for storing belts, scarves, hats and even bags. Shoe bags can be used for more than shoes!
Galvanized Buckets
A galvanized bucket is one of those storage solutions that is very much in vogue. People love using these buckets. The style fits with a number of decors from rustic to country and, of course it's a great option for adding in some storage with a cute look. You can use it in the bathroom for your hand towels or in the living room, to store your magazines and newspapers.
Overhead storage
Have you considered hooks for your pots and pans. Attach the hooks to a beam – if you have one – and hang your kitchen pots and utensils. This will free up a great deal of storage space in your floor cupboards. Peg boards too are another way of saving space. Every pot, pan, lid and tool can have its own place on the wall.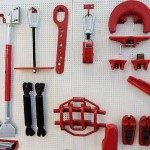 Peg boards also work well in a garage. If you are having a hard time fitting your cars in the garage around the tools and hoses, get yourself some peg board. Hang up all those tools that take up valuable floor space.
If you've tried all of these and still find you don't have enough space, then it may be time for separating and storing some of your more seasonal belongings elsewhere. A small unit at a self storage centre need not cost the earth and will keep your belongings safe when they're not being used.
Do you have any of your own creative storage ideas? Did you come up with something that all your friends copied? Let us know and share those ideas!