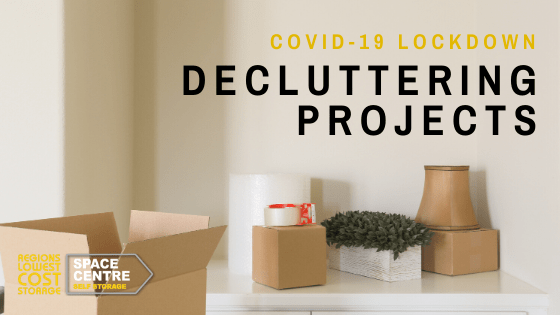 With the COVID-19 lockdown firmly in place, you now have time to sort through your cupboards at home and clear the clutter. It may not be the ideal circumstances but it does present an opportunity to tackle decluttering projects you've been putting off for too long.
Everything starts with being prepared and planning in terms of what to keep, throw away, sell or donate. Here are a few simple decluttering tips to help organise your home during the COVID-19 lockdown.
How To Get Started On Decluttering Projects
There are most likely things in every nook and cranny you no longer need so the first thing you should do is put together a decluttering and clear-out plan. Jumping right in without a plan could create more mess than you initially started with.
Before you start, walk around your home and make notes of all the areas that appear cluttered. This includes hidden spots like the inside of cupboards and bedside table drawers. Put in place a priority action plan to include specific areas or items to declutter. For example, decide what is more important at the time; paperwork, toys, toiletries or clothes.
Decide On A Time
Starting any decluttering project is often challenging as things always look more chaotic. Put your fears behind you and make a decision on when you will start and how long you'll spend in each room or area. Many people start first thing in the morning as they are more energised and we recommend putting aside 4 to 6 hours. For best results, divide the time into shorter blocks otherwise you may spend all your time in one room.
You should ideally work on solutions with long term benefits rather than shoving things into other cupboards or random boxes. Empty your cupboards so you can see exactly what is currently stored in there. Group items according to a theme and then decide whether the storage space is being used effectively.
Make Sure You Have Bags And Boxes
Before you buy funky or rustic storage boxes, declutter your home first. If you don't, you will end up filling new storage containers with junk you really should have thrown out. When possible, use quality durable boxes that can be closed and sealed for added protection. This is especially important when storing things in the garage, shed or self storage.
Many outlets supply affordable storage solutions like woven baskets, Perspex containers or durable and sealable plastic containers. However, don't overspend on storage boxes or containers and make sure what you purchase is within budget and fit-for-purpose.
You can also rely on budget storage ideas, especially during the COVID-19 lockdown as you may not be able to source the relevant boxes. Some ideas include plastic baskets, old (but sturdy) shoe boxes and jam jars.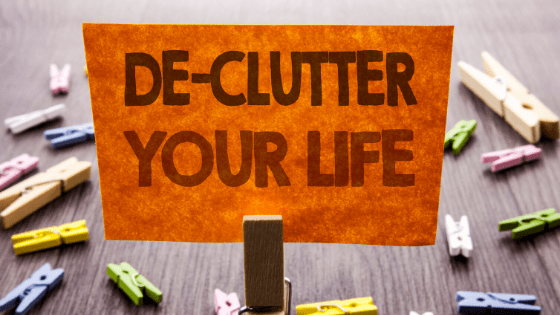 Keep The Kids Busy During The COVID-19 Lockdown
While the kids are at home during the COVID-19 lockdown, it doesn't only have to be 'school' work all day. Get them to join in by sorting through their own things and make it a family affair. Find out which toys they no longer play with and put those aside for storage, donations or to sell. You'll be surprised just how much stuff your kids have accumulated!
Another fun decluttering mission that involves the kids is to try on all their clothes. Some will really love that as it gives you the chance to see what still fits or looks good. At the same time, they get to play dress-up and forget momentarily about the lockdown! If something doesn't fit or they don't want it anymore, pass it on to a friend or donate it to charity.
Recommended: 'Things To Do During The Lockdown'
Use The Five-Pile Decluttering System
There are several ways to organise your belongings but dividing everything into different piles remains essential during this process. While some only have three or four piles, we prefer talking about the five-pile system as it applies across the board.
The Give-away pile includes items that will go to friends and family
Donations pile is anything that you no longer want but could still be useful to Goodwill or The Salvation Army
Throw away pile is everything you don't want and mostly refer to goods with little to no value
The Keep pile should be managed carefully as there's no room for sentimentality over items you haven't seen or used in a long time.
For sale pile may be optional but it's certainly worth looking into as you could make some extra money through a car boot sale
Packing Tips When Decluttering
It's important to make neat piles or store items properly in bags or boxes whether it's going to the loft, spare room or garage. Wait until the COVID-19 lockdown is over before heading over to a self storage facility, rubbish tip or charity shop. Here are some basic tips on how to pack boxes for short-term or long-term storage.
Label each pile clearly
Label boxes with the room it came from and the contents
Only use sturdy, clean and dry boxes fit-for-purpose
Use smaller boxes for heavy items like books and dishes
Use larger boxes for lighter items such as bedding, blankets and linen
Don't overload your boxes or they could break and damage the contents
Wrap fragile items and mark them clearly
Recommended: 'Professional Packing Tips'
Dealing With Sentimental Clutter
It's not always easy to throw out sentimental items but you have to start somewhere. You don't necessarily have to keep it at home as some things could go to a family member but what if they don't have space or the items gets lost or damaged?
If you've divided everything into piles and still can't let go of certain items, it may be worth considering a self storage unit. Instead of holding up your decluttering operation waiting for divine intervention, you can rent a self unit long-term of short-term.
Using Self Storage During COVID-19 Lockdown
Space Centre Self Storage has facilities in Bristol, Stroud, Gloucester and Stonehouse ideal for short or long-term storage. While we are open during the COVID-19 lockdown, it is on a part-time basis. You still have access to your storage unit but if you need any assistance, it's best to give us a call first.
With no clear end in sight for the lockdown, we support the NHS and British government that people stay at home as much as possible. We can make a difference but it has to be a collective effort. Find all the latest coronavirus updates on the UK government website.
While you're at home, we'll continue creating interesting articles and keep an eye on our blog, Twitter and Facebook for more information about how to clear out and store things in your garage.