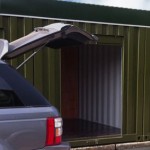 If you have a small home-based business it might be that your storage requirements can't be met by your current location. Maybe your garage is already filled to capacity. Perhaps you rent a small office where storage space is all but non-existent. You might be a self-employed plumber, carpenter, electrician or mechanic with a large amount of tools and supplies that they don't use on a daily basis, but require easy access to.
The answer to your storage problem could be to use a secure, self-storage centre. After all, a conveniently located unit can give you the extra space you need and easy access to your equipment or merchandise. It's certainly something to consider. Millions of small businesses worldwide choose commercial and business storage to help in the daily running of their business.
So, having decided to go down the route of safe storage, there are of course a few questions you need to ask. Do I have to pay a deposit? Do I have to sign a long-term lease? Am I locked into the square footage I have rented? Do they do a credit check on my business and me? Does it take me weeks to negotiate additional space? Are there business rates to pay on commercial and business storage?
If you are based in the North Bristol or Gloucestershire area and require commercial and business storage, come to us at the Space Centre www.spacecentreselfstorage.co.uk where the answer to all of these questions is 'No'
Space Centre Self Storage director Mark Dangerfield believes that having the right storage can enable a business to function correctly and stay organised, especially if your business is growing rapidly. "We pride ourselves in being able to provide you with a safe and secure storage environment offering you a variety of storage units to store all your business files and products in.
"Our commercial storage units are clean, dry and secure. Whether you need furniture storage or storage for your products, documents or deliveries, Space Centre self-storage will keep them secure. Furthermore, we allow you to store almost anything as long as it is not flammable, perishable or illegal."
For information on our prices, sizes of container, extra insurance or any special requests, don't hesitate to contact us.