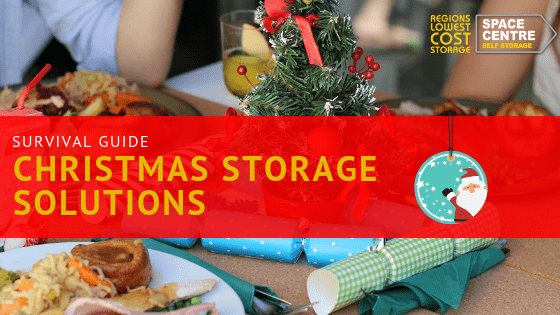 It's almost Christmas and preparing for the silly season can be daunting, especially if you are playing host this year. From finding clever storage solutions for presents and clearing out the spare room, to organising all the extra kitchen clutter in preparation for the big family meal.
Chances are that you managed just fine last year but now there seems to be more stuff in the house! Your kitchen looks cluttered, the spare room is filled with old clothes, linen, toys and a home gym that never gets used. Before you break into an anxious sweat, take a deep breath and focus on one thing at a time.
We've compiled a handy survival guide to help you organise better this Christmas with creative storage solutions and decluttering tips.
Kitchen Storage Solutions
First on the list is organising your kitchen so you don't have to rummage through cupboards and drawers to find the old roasting dish. While there are many kitchen items that only get used at Christmas, storing them neatly helps a great deal. Don't just pack everything on top of a cupboard, find a dedicated spot for all your Christmas utensils and dishes.
Every year people plan to rearrange their kitchens but in reality, those good intentions get lost a day after Christmas. Sometimes we simply don't have time to organise everything but these handy storage solutions will certainly help you get started.
Pack your most essential utensils and equipment in an easily accessible spot
Use drawer dividers and trays to neatly organise cutlery and utensils making everything visible and easy to reach
Keep you heavy cooking pots close to the cooker and fill them with smaller pots and pans to save space
Use wall hanging rails, wire shelves or door mounted baskets to clear even more clutter from your drawers and cupboards
Store your carrier bags in one spot. Use a storage container or pack them into one bag and hang it behind the door or inside a cupboard
Utilise awkward spaces and corner cupboards by using slide-out racks on runners and carousel inserts
Don't forget to declutter your fridge and freezer. Remove any half-empty containers or bags, consolidate and repack into plastic containers saving you loads of space. If you no longer need it, get rid of it. A great way to save time and space is to prepare vegetables beforehand. Peel, slice and dice or cut and pack everything into airtight containers. This enables you to spend more quality time with family and friends instead of preparing everything while trying to socialise.
Preparing Your Home For Christmas Visitors
If you have friends or relatives spending a few nights, you may want to declutter and organise the spare room. Avoid worrying about breakages or accidents by looking at your house from a young child or an elderly person's perspective. Check for any tripping hazards like toys, bags, trailing wires or cables. Remember to safely pack away any valuable crockery or other breakables on higher shelves or in a lockable cabinet.
Preparing the guest room is a different challenge altogether, especially if it's been used to store all your junk. Things like old furniture, bags, clothes, boxes and toys need a new spot to make space for your guests. This also applies to other parts of your house as extra furniture could clutter the dining room or entertainment area. A really simple and affordable solution is renting a temporary self storage unit.
Here are a few simple quick-fire tips to make your guests feel right at home:
Make space for their suitcases and instead of using the floor or desk, invest in a folding rack or a multi-purpose bench
Clear sufficient hanging space so guests will feel more at home instead of living out of their suitcases
Make sure the room has a clock and a toiletry basket with all the essentials. Don't forget to display fresh towels on the bed or the towel rack
If you have a fold-out bed, make sure it still works and is comfortable enough
Add a small bedside lamp if you only have a ceiling light. This enables easy bedtime reading and guests can navigate their way to an unfamiliar bathroom
Provide an extra blanket or a warm throw
Storage Solutions For Christmas Presents
Leaving the best for last, we tackle the challenge of finding innovative storage solutions for Christmas presents. If you have little ones, you know how excited they get and will stop at nothing to find their hidden gifts. A simple and smart plan is to hide presents in a different spot each year. If you used your wardrobe last year, perhaps the attic or a kitchen drawer may be a better option this year.
While not ideal, some people use their cars as temporary storage solutions but this only really works for smaller items. Nothing stops your loved ones from grabbing the keys and going treasure hunting. More often than not, they leave your car in a bigger mess than it was before.
Below are a few more storage solutions for Christmas presents of all shapes and sizes:
Use lockable cupboards, drawers or suitcases
Pack gifts high and far back on the shelves and under clothes or linen
Use the spare room or your home office as long as it can lock
Put gifts in a random box in the garage disguised as all the other boxes
Store smaller gifts in a toolbox under the workbench
Hide gifts in purposely mislabeled storage boxes or bins. Call it "Text Books", "Tax Documents" or "Miscellaneous"
Need Help Wrapping Christmas Presents?
While some are better at wrapping presents than others, there are presents that might prove challenging for almost anyone. Things like rugby balls and even stuffed toys are notoriously difficult. For that reason, we decided to include a video showing how to wrap awkwardly shaped gifts.
Space Centre Self Storage is a local, family-owned and operated business with facilities in Bristol, Stroud and Gloucester. Out storage units are available in various sizes with incredibly competitive prices and we don't tie you to long-term contracts. You can rent a temporary storage unit just over Christmas and even move into a smaller or larger unit without paying any penalties.
Keep an eye on our blog posts and social media for more interesting articles on storage solutions, home improvement, DIY projects, decluttering tips and more. Get in touch if you need a storage unit for household goods, furniture, business documents or tools.