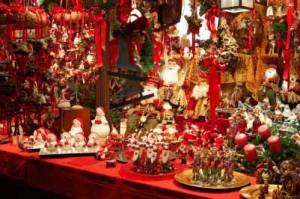 I couldn't help but notice how the adverts for Christmas had already started. Five months and counting. Parents are thinking about stocking up on cards and wrapping paper and even the odd present gets bought. But what about the retailers who need to buy their Christmas stock in preparation for the festive rush?
If you're a shop owner or market trader looking to take advantage of the summer prices, you will need somewhere to store your Christmas stock for the next 20 weeks.
Most retail outlets have limited storage or at least not enough to store the vast amounts of potential presents required to make some extra money this Christmas. Certain small shops and market traders might use their own garden shed or garage to help house their goods.
However, for the bigger business buying in bulk, your outbuildings and shop premises are likely to be far too small. If that's the case, why not consider secure storage ?
It makes perfect sense to rid yourself of the potential clutter that new stock can bring. And if you stock your goods properly and tidily, Christmas can continue to be a period of immense satisfaction and contentment. Nothing to worry about and hopefully a bountiful time too.
If you are in the North Bristol, Cheltenham, Stroud or Gloucester area, Space Centre self storage have units of all sizes that will meet your storage requirements. There are no long term contracts to sign and we provide secure quality units at affordable prices in accessible locations.
Why not contact us through the website to discuss your storage requirements ?
Co director Lucinda Dangerfield said; "Here at Space Centre self storage we provide units of all sizes, suitable for retailers looking for extra storage in the build up to Christmas.
We not only understand the need to stock up well ahead of the Christmas period, but the fact that many retailers simply don't have the necessary space to house the additional Christmas stock."
If you have any questions about storing your goods with us, why not post your comment in the box below or contact us via the website to get a free quote.