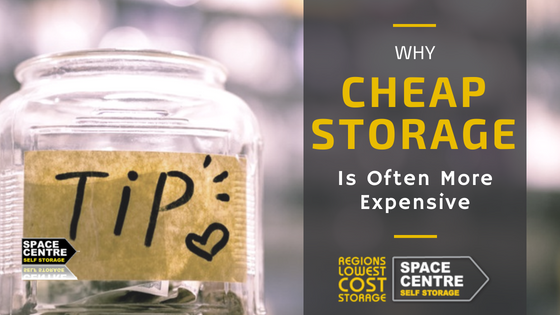 Moving or downsizing is already a stressful process so why make it worse using a less than reputable storage provider? Cheap storage can often cost more than your budget allows especially when you don't know what to look out for.
There are many factors to consider and important questions to ask before deciding on a seemingly cheap storage facility. While many local storage facilities offer special deals, do you really know what it includes? Truth is, many offers seem legitimate but it's imperative that you read the fine print. Some specials may not save you any money at all.
With more than 20 years in the self storage business, we can honestly say that many people rent their units for longer than originally planned. This is especially true if they use self storage when moving, building, decluttering or renovating. Knowing what standard running costs they will incur is essential at a time when finances are likely already limited.
How To Avoid A Cheap Storage Rip-off
With so many self storage facilities around these days, there really is no need to stand for bad customer service. To avoid being ripped off, always do some online research first and check the company's reputation. If you know someone who stored with them before, ask their opinion or alternatively, look online for reviews or complaints.
Where possible, try and find out more about company's financial situation or ownership status. If they've been in trouble recently or if they are affiliated with other 'shady' businesses, chances are that this one will be no different.
Things To Consider With Cheap Storage Offers
Before we go into more detail on a few essential points, we've listed several questions you should ask the facility.
Do they provide basic or comprehensive insurance and how much?
Does the facility keep a spare set of keys or do you have the only one to access your unit?
Are the units dry, cleaned and well-maintained?
Will your goods be safe and free from any form of damage?
Is there limited access which could result in additional access charges? This especially applies if you're running a business.
How far away is it and will you spend a lot of time on the road and in traffic? This directly relates to fuel costs and whether the cheap storage deal is worth the time and money.
Do they provide expert advice on choosing the right storage unit for your needs? This is important as you don't want to pay for space you don't need.
What are their minimum contract tie-ins and are they open to rate changes?
When it comes to cheap self storage, there's not always a catch but facilities often omit some of the finer details. With all that in mind, what should you look out for when considering a cheap storage deal?
Storage Insurance
Regardless of storage facility, you may discover that your insurance provider needs you to fulfil certain responsibilities for security. In some cases, you must use a specific type of padlock to securely lock the storage unit door. At the same time, your insurance policy might stipulate how to store goods. This could include only using durable plastic boxes with sealable lids instead of cardboard.
Remember, not all standard home contents insurance will cover your goods while in transit or storage. While we do offer free insurance, it is only to the value of £3000. If you are storing your entire house contents, a vehicle or valuable antiques, we recommend additional cover.
Deposits and Cancellation Fees
While not all facilities charge a security deposit, some do. If there is a charge, make sure you understand the terms under which they will return your deposit. In the event that you don't need the unit for as long you originally planned, will they charged you for cancelling early? The same applies to moving your goods into a smaller or larger unit. At Space Centre Self Storage, we don't charge a deposit or cancellation fee. You are also free to change your storage unit at no additional cost if an appropriate unit is available.
Is There A Minimum Storage Period?
Half price or free offers sound great, especially when you might need a unit for the stipulated time on the offer. However, the small print could state something entirely different. Sometimes there is a minimum time period you have to take which exceeds the cheap storage offer which could result in additional charges. Our prices are guaranteed and fixed for 12 months from sign-up so our customers always know what they are paying. Some facilities don't guarantee prices and often increase them during a contract.
24 Hour Secure Storage Access
An important aspect of self storage is security and unlimited access to your belongings. Some facilities don't have 24 hour accessibility and charge their customers for 'out-of-hours' access. Our Stroud storage facility now has 24 hour access at no extra cost and it will soon be available in Bristol as well.
In addition, we have 24 hour CCTV and alarms while providing you with a padlock and the only key for added peace of mind. Be sure to keep it safe or make a copy and give it to someone in case you misplace it.
Storage Unit Quality
Once you've given the contract and pricing terms a good look, now it's time to check the condition of your unit and the facility. There really is no point in getting cheap storage if your unit is dirty, damp and not up to standard. The money you save on the unit will eventually go to replace your items because of damage you could have avoided.
Common Self Storage Mistakes
It's important to do all the necessary checks to ensure the safety of your valuables and for extra peace of mind. In closing, we'd like to offer you some additional insight into a few self storage mistakes many people make. They could cost you far more, leaving you with a hefty insurance bill, damaged goods or a stressful experience.
Neglect to take out insurance
Ignore the warnings about not storing perishable food items
Using newspaper to wrap goods instead of bubble wrap, sheets or ink-free paper
Forget to label boxes
Packing and storing last minute and in a rush
Only focusing on price
At Space Centre Self Storage, our units are clean, dry and secure. We offer quality storage at an affordable price with a flexible and hassle free approach. Our clear pricing policy enables our customers to know exactly what they are paying and we don't increase our prices once people move in. The rates are guaranteed and fixed for 12 months and we don't tie you to a long-term contract.
If you need storage in Bristol, Gloucester or Stroud, please get in touch with us and reserve your unit today. Our staff are friendly, professional and trained to help you find the perfect size storage unit for your needs.