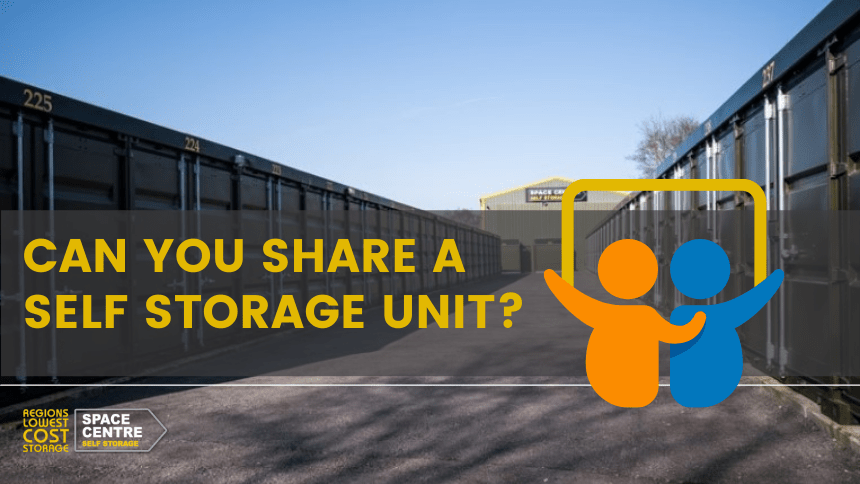 People often ask this question but the answer depends as not all storage facilities follow the same rules. Many companies don't allow sharing of self storage units as you are the sole person named on the agreement. However, considering you are the only key holder, the choice is ultimately yours.
If you are upfront and tell the storage facility that you will be giving access to someone else, they might ask you to add this person's information to the agreement. There are practical reasons for having more than one key, but you need to know and trust the people concerned. It is, after all, your name on the tenancy agreement should anything go wrong.
Why Storage Facilities Prefer One Person As A Tenant
There's a good reason why storage facilities typically only allow one person to sign a tenancy agreement. For starters, it's easier to deal with only one person per storage unit, especially with regards to payment.
For example, if the rent is late, they will know who the responsible party is and can contact them accordingly. It becomes even more important if the rent is so late that they have to start the process of cancelling the contract and possibly selling the contents of the storage unit.
Another reason is failed relationships whether it's business or personal. If a couple, friends or business partners share a storage unit and things go wrong, who takes ownership?
Why Share Self Storage Units
People use self storage units for various reasons including moving home, downsizing, retirement, family bereavement, getting married or business. Whilst there are risks in sharing self storage units, there are instances where it makes a lot of sense. By sharing a storage unit, you also split the cost which can help in the long term.
Family Bereavement
When facing the stressful and emotional time of a family bereavement, sharing a storage unit may be easier if more than one family member has a key. Dividing a loved one's estate is already a difficult process but giving multiple people access can help ease the burden somewhat. When it involves taking things in and out of self storage units, everyone in the family can do their bit in their own time.
Marriage Or Long-Term Relationships
It's also logical for a married couple or those in a long-term relationship to both have a key. Of course, there is always the risk of break-ups and divorce but it's typically lower than that of friends sharing, especially if it's not a responsible or trustworthy person.
Moving House And Sharing Self Storage Units
We don't have to tell you the anxiety associated with moving home which is why families, especially those with children, have shared access. If you're married with children and you are moving, you and your spouse can share a self storage unit to keep your belongings safe short-term or long-term.
In this scenario, it would be silly to rent self storage units for each of you as it would double the cost. Once again, there is a possibility of a contentious break-up leaving the person not on the contract locked out of the unit but it is far less likely.
Recommended: Tips For Packing Your Storage Unit
Business Owners Sharing Self Storage Units
If you're a small business or trader with employees, equipment or stock, giving multiple people access is more logical. This is especially handy if you use the storage unit as a distribution centre of sorts where staff can drop off or collect equipment, documents or stock.
However, it might be a good idea to put in place a process when giving employees access. For example, you can ask them to use sign-in sheets inside your unit indicating what they've taken out or packed inside with a date and time.
At Space Centre Self Storage, we have paid for fobs providing access outside of normal operating hours. Remember to factor in the additional costs when considering giving access to multiple employees if they need out of hours access whether the job took longer than expected or due to an emergency. It's still better than leaving things in the back of the van.
Tips For Sharing Self Storage Units
Thinking about sharing your storage unit to help pay the rent or give the extra space to a friend? Whilst there are certainly some benefits such as shared costs and an extra pair of hands when moving stuff, you also need to tread carefully as things can easily go wrong. If you've found a good self storage deal and want to share it with someone, keep these tips in mind.
Choose Carefully Who You Store With
Trusting the person you choose to store with is of the utmost importance as liability is a serious concern. Remember, if you sign the storage agreement, you are responsible for all aspects of the rental. That includes making payments on time and making sure you and your friend/partner abide by the rules in terms of hazardous or illegal materials. If you put anything in self storage units that aren't allowed, you will pay the price. The same applies to storage insurance which should be non-negotiable to avoid loss from damage or theft.
Sign A Written Agreement For Splitting The Cost
Regardless of how close you might be as friends or business partners, setting up a signed written agreement is vital. Aside from preserving your friendship, one of the best reasons to do this is to prevent misunderstandings later.
If you are both using a fair portion of the storage unit, you could set up a 50/50 share or smaller if they only use a tiny bit of space. Make sure to include the following information in the agreement:
Details about the storage unit such as the address and unit number
The total cost of renting a self storage unit along with the exact contribution from each party
The due date and how the rent will be paid (cash, check, online payment or split at the front desk
Information about what can be stored, how much space each person is allowed and any agreements about access hours and storage conditions
Add some details about how you will resolve disputes as well as the potential consequences of breaching the contract
Equally Splitting The Space In Self Storage Units
One way to split the space in your storage unit is by putting a line of painter's tape down the middle. This will roughly divide the unit in half with each person keeping their belonging on one side. As simple as this may be, it's not very effective as you might be wasting valuable space.
A potentially better option is to use different colours to mark your items. Simply put red or blue tape on the boxes to indicate who owns it and then pack everything as efficiently as possible. This not only helps keep things organised but you will be able to maximise on space. If you have your own method that works, make sure to include it in the written agreement.
Final Thoughts On Sharing Self Storage Units
Sharing self storage units can be a really good way to save money and ease the burden of packing and moving things around. However, it can also become stressful and turn into a serious problem if you don't have the right partner. Even the best partnerships or relationships can go wrong but with a clear set of boundaries and a written agreement in place, you minimise the risk.
Whatever the reason for splitting the unit, we recommend that you always be cautious. Whilst nothing is risk-free, you can cover yourself and your storage partner to the best of your ability. For more information and pricing of our self storage units, please give us a call or get in touch via the website.