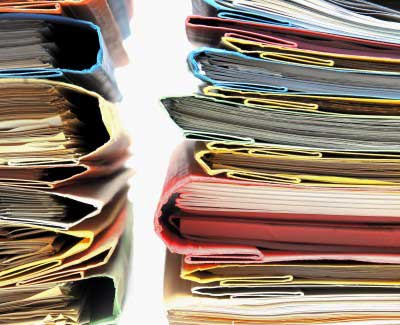 Storage of your documents is a vital part of any business. You might have survived the double dip recession and find yourself developing at a rate of knots. Your focus is understandably on the invoices and paperwork you're filling out now.
However, don't forget about your past records, files, bank statements, invoices and VAT returns. These are hugely important to you and your business.
You never know when the Inland Revenue, a customer, client or even your own finance manager might need to consult a document from years gone by.
Safe keeping of documents will also help you when it comes to paying the right amount of tax, avoiding penalties, seeing exactly what you owe others and what is owed to you. So it's essential that your records are kept safe, dry and secure, as well as easily accessible.
If the inland revenue ask to see your records from a particular time period, you need to know exactly where they are. Hopefully you'll never encounter any sort of legal action, but if you do, and you can't provide the evidence required it can cause you all sorts of problems.
As a general rule of thumb, documents should be kept for 6 years. So, adequate business document storage space is important and logical filing and labelling is essential. If you've got space to store all your historical documents on site that's great, but many businesses don't have that luxury. Fitting in an extra filing cabinet is not an option – there's simply no more space!
You can, of course, scan all your documents and keep them electronically on hard drives or disks to reduce space – very few records now need to be kept in paper version. As long as you can produce a copy from any electronic records, that's fine. But realistically, while many of us consider this, how many actually do it? You've either got to pay someone to go through all your records for the last 6 years or so, or make time to do it yourself. It's highly likely it will end up in an archive box.
That's where good dry, secure self storage facilities come in. Most providers will have units of varying sizes so you can increase and decrease space as your requirements change. However, remember, you still need to file and stack properly. Label the box contents clearly on the outside and don't overfill them or stack them too high, you may have to come in and retrieve something at short notice. Also, make an inventory that's kept at your business premises, so you know exactly what is being kept where.
In addition you may have to notify HMRC that some of your records are being held off site.
To help you work out how much business document storage space you need , here's a quick check list of business records you must keep
Tax and financial records
There are many company records you need to keep for tax purposes, the most obvious being accounts and bank statements. But in addition, you will need to keep receipts relating to expenses, national insurance documents, VAT paperwork, pensions and any share option records. If you want a full list visit the government site here.
Health and safety records
All businesses, except those with less than five employees, must keep accident records to record any injury at work. In addition, if your industry requires health surveillance checks then these records need to be kept for 40 years, so you need to think seriously about how and where these will be kept.
The Health and Safety Executive (HSE) can provide you with more information on the records you need to comply with health and safety laws.
Employee records
There are many records that must be kept where employees are concerned. These include employees' personal details, what they earn and any documents relating to wages, salary and National Insurance. In addition, training documents, appraisals, holiday and sickness records are recommended for retention. The length of time will depend on each type of document. For instance pay, tax and national insurance records will need to be kept in line with overuling company tax requirements, whereas more general information such as sickness records, staff appraisals etc will vary and must comply with the Data Protection Act.
If your business is based in the North Bristol or Gloucestershire area of south west England, and you're beginning to struggle to find business document storage space, get in touch to see how we can help.