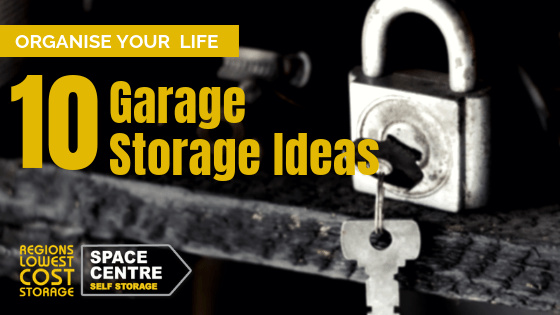 Many of you would probably agree that garages are mostly used as a dumping ground for all the extra stuff. It's a bit like the loft really where you frequently store things supposedly short-term but that never happens. Before you know it, there are ever increasing piles of junk all over the floor and very little space to move, not to mention park your car!
Before you even consider garage storage solutions, decluttering is the first step. You can have the best ideas to store but why waste time and effort on things that you should rather get rid of? Your garage is likely filled with old boxes, bags, shoes and other bits and bobs that don't belong. Be ruthless when sorting through everything and don't store unwanted items just for the sake of it. For a few additional decluttering tips, take a look at "Decluttering the professional way."
Our Top Ten Garage Storage Solutions
Here are some useful garage storage solutions to get that clutter off the floor and transform your garage into a more user-friendly place without costing the earth.
1. Shelving
A garage without shelves is just asking for clutter as they are essential to maximise the space in your garage. Shelves are ideal for paint cans, tools, petrol cans or anything else that would otherwise end up on the floor. Make sure you use strong material and appropriate supporting brackets so it doesn't break under the weight. Remember to position the shelves at the correct height and not too close to the garage door either.
2. Wire Baskets
Some of the hardest things to store include bags of charcoal or fertiliser and especially toys such as balls. They tend to roll off the shelves or tip and spill all over the place. Wire baskets can solve that problem as you can hang them on hooks and remove it to easily store and retrieve your tools or toys. Wire baskets are one of our favourite garage storage solutions along with hooks and stackable storage bins.
3. Hooks and Brackets
From bicycle storage to garden toys and sports equipment, hooks are super effective and very simple to install. You don't need any of those expensive, specialised variations as the simple screw-in hooks are all you need. With some creative thinking, you can strategically place hooks or brackets, either on your plywood, against the wall or from the ceiling. Big "ladder" hooks or brackets, for example, can hold several tools with long handles (including ladders) while "ceiling hooks" for bikes also work wonders on walls.
4. Stackable Storage Bins
We speak about stackable storage bins at length and for very good reason. They are quite possibly one of the best garage storage solutions to properly separate and organise your stuff. The only downside is that they are often stacked to the rafters and against the wall so easy access is out of the question.
There is a relatively simple solution and that your very own DIY easy-to-build storage towers. It is a stylish and ingenious way to provide easy access to your bins without breaking your back moving boxes about. You could use different colour bins for specific items or use big labels to clearly indicate the content. Additionally, you could even utilise the sides of the wooden frame for wall-mounted accessories such as fishing rods, tennis rackets or hooks for other lightweight equipment.
5. Pegboards and Rubbish Bins
Pegboards aren't new but they've certainly made their way up the list of popular garage storage solutions. They are particularly useful if you have loads of garden tools, like including rakes, spades and pitch forks among others. A pegboard consists of small holes which allows you to select specific areas for each hook or basket. This ensures that you have ample room for each item which means you can remove clutter from your garage while organising it.
If you are one of the lucky ones with enough floor space, you could consider a sturdy rubbish bin for your garden tools. They are also incredibly useful for storing sporting equipment such as skateboards, balls, bats and gloves.
6. The 3 C's – Car Care Cabinet
For those who love washing, waxing and polishing their cars, this is another fantastic storage idea. Instead of using a plastic bag or keeping car care products in the house, organise your car lubricants, fluids and other items in a simple shelf or cabinet. While you could purchase something of the kind, why not try making a DIY cabinet combined with a worktable? Here are some great pointers from the Family Handy Man website.
7. Ceiling Tracks As Garage Storage Solutions
As mentioned earlier, plastic storage bins are durable, affordable and extremely versatile. Combine that with ceiling tracks and you will save a ton of space. The garage ceiling is a perfect spot for light and medium weight seasonal items such as holiday decorations, Halloween costumes and camping gear.
The process is relatively simple starting off with screwing 2×2 beams into the ceiling using 3.5-inch screws spaced every 2 ft. Use the storage bins as a guide for spacing the 2×2 beams. The lips on the bins should just touch the 2x2s when sliding them into place. Now, make sure that you center and screw the 1×4 pieces of wood to the 2x2s with 2-inch screws.
8. Adding Garage Cabinets
Considering that the garage is an extension of the home, people have come up with some fascinating garage storage solutions. Installing cabinets in your garage as you would in a kitchen can add tremendous value to your home. Not only that, it also provides so much additional storage space that you won't know what to do with.
In a similar way you would choose one or several kitchen cabinets, you can custom make your garage cabinets to suit your needs. In many cases people have implemented this idea for a laundry room, closet or basement.
9. Organise Like A Pro
When it comes to saving space, you can't do much without an effective organising exercise. Start with the small stuff and use clear plastic containers to store screws or nails. Clear containers also make it easier to distinguish what's inside but nothing works better than labelling and making an inventory. This is especially useful if you have loads of stuff in your garage but it also works incredibly well in self storage. While some may feel that a list is too much, it helps a great deal trying to find something later.
10. Renting A Self Storage Unit
If your garage is still a mess, self storage may be the best solution for you. They are especially useful for storing seasonal goods, bikes and equipment that you might only need during the holidays. Some storage facilities offer drive-up access which makes loading and offloading heavier/bigger items much easier. You can choose short, medium or long-term contracts but always read the fine print and ask the right questions. If you're new to self storage, take a look at this article for some additional storage advice and information.
Space Centre Self Storage is a local, family-owned and operated business. We have self storage units in a variety of sizes at very competitive prices and we don't tie people to long-term contracts. Please get in touch if you need a storage unit for your equipment, tools, furniture or anything else that you can't seem to part with. Our friendly and experienced staff are ready to assist in any way they can.
If you recently decluttered and have more interesting garage storage solutions, please share with us. You can comment below or find us on social media.