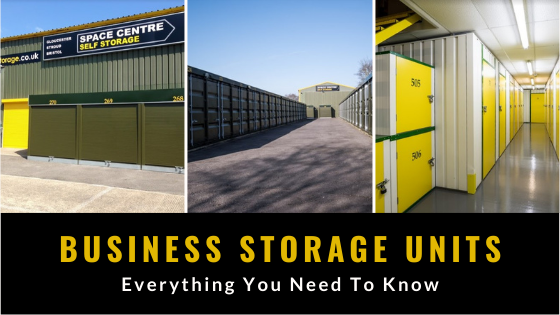 Business storage is an increasingly popular choice for various types of enterprises, including eCommerce brands, tradespeople, market traders and bigger companies who need exhibition storage. Whether you run a home business, a start-up, small or medium enterprise, business storage has several benefits and this article covers the most important.
Not all businesses have extra storage at the office or warehouse and that means space is often an issue. This is particularly the case when storing extra equipment, furniture, tools or products. Some companies may be able to afford bigger premises but others can't but there is a better (and more affordable) solution and that is renting a business storage unit.
Who Can Use A Business Storage Unit?
Many types of businesses use self storage and for various reasons. Whilst some store equipment or tools, others want a central location for extra stock so they can pop in on the way to a customer instead of driving back-and-forth to the office. Let's take a closer look at how a few different companies can use a business storage unit.
Tradesmen Storage
When it comes to landscaping, plumbing, painting or construction, in particular, not many contractors have an office but they still need a secure space to store their tools and equipment. This includes things like wood, metal beams, cement, ladders, spades, scrapers, paint, compressors and generators among other supplies. It's all about fast and effective time management between job sites and for that, a business storage unit is ideal.
Retail and e-Commerce (eBay) Businesses
Even before Covid-19 came into being, there were a growing number of eCommerce businesses and this trend will only continue. More shops are going online from jewellery, furniture, pottery and clothing to books, toys and crafts. These online shops must now find a secure place to store their inventory as keeping business stock at home, in the garage or shed is not ideal. Business storage units can help keep products safe between production, storage and dispatch streamlining the entire process.
Market Traders
For market traders, business storage is particularly beneficial for seasonal items. Whether you're buying stuff in bulk to get a better deal or stock planning for next year, a self storage unit can help keep things clean, dry and safe while enabling you to increase profit margins.
If you correctly stored stock from last season, it should be in great condition to go back on the shelves. Experienced market traders know how to achieve this but if you're new to summer or winter markets and fairs, here is a helpful guide with some essential tips.
Exhibition Storage
With Covid-19 still a global health concern, live exhibitions and expos are turning into digital events. However, if your business used to attend these events regularly, chances are you already have your own exhibition stands and equipment. That means finding a safe place to store everything that goes along with it, including tables, chairs, banners, podiums, sound equipment and promotional products.
We do not recommend storing business stock or equipment at home, in the garage or shed. Anything can happen with stacking things too high or squeezing everything into all sorts of spaces. It can result in damage which means expensive repair or replacement bills. Here are some valuable tips on how to pack your storage unit.
Theatre Storage
Once again, Covid-19 has put a stop to most public events and, sadly, that includes music festivals and shows at your favourite theatre. If you are a production company looking to keep your props and costumes safe, a business storage unit can really help whether it's short-term or long-term.
If you are storing expensive and fragile equipment like stage lights or sound equipment, always use bubble wrap or blankets. You can also use padding material on items with sharp edges so it doesn't damage other goods in transit or when packing your storage unit.
Benefits Of Business Storage
It doesn't matter the type of industry you're in or what you'd like to store, a business storage unit can be extremely beneficial. Whether you work from home or a corporate office, here are a few of the main reasons why people turn to self storage facilities:
Your business is more mobile as you can run it from almost anywhere with a central, low-cost distribution or holding centre
Reduced logistics cost and you can set up to collect goods on-demand
Substantial savings compared to renting bigger warehouse or office space
Lower overheads which means you can spend more money on marketing, staffing or training
Decluttered office or home office space
Flexible rates, terms & conditions and a short notice period
Ease of access means better time management and productivity
Recommended Article: 'Can I Run A Business From A Self Storage Unit?'
Final Thoughts
Whatever your business type or storage requirements, take note of what you're putting away so you can select the right storage unit. Besides, why pay for space you don't actually need? Our Price and Size Guide will not only help you choose the right unit but it also indicates the type of van you might need.
When packing your business storage unit, remember to use the right boxes and make sure you label each one correctly. To avoid damage and possible injury, pack light items on top of heavy ones and securely fasten everything in transit and when placed in storage.
Please get in touch if you need advice or more information about business storage as our friendly staff will be happy to help. We have conveniently located facilities near major access roads in Stroud, Bristol, Gloucester and Stonehouse where each unit has an alarm, smoke detector and CCTV.