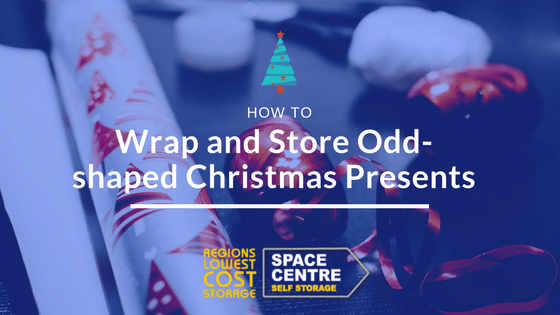 In an ideal world, everything we buy should be easy to wrap and store but some gifts are shaped awkwardly. If you have a big family or just like buying loads of presents, where do you keep everything? And let's face it, some kids will stop at nothing to find their presents so you need to come up with creative storage ideas. This is especially the case when it's a bicycle, a scooter or a piece of furniture. Not only do you need superhuman wrapping skills, you also need good storage ideas other than the garage or shed.
We all know how exciting Christmas can be and the eagerness to open presents which is exactly why they need to be stored far away. Out of sight, out of mind as they say but sometimes it is easier said than done.
Storage Ideas for Christmas Presents
One clever trick is to change your hiding spot every year. If you used your closet last year, perhaps the attic this year or your underwear drawer as not many kids would want to go in there.
You could also use your car as temporary storage but only for smaller items and it's certainly not ideal. Your loved ones can easily hatch a plan to get the keys and go treasure hunting. If you have a few last minute items on the shopping list and you have no other option, keep it in your car but hide it under the seat, boot or cubbyhole. Make sure no-one borrows your car either just in case they go all Sherlock Holmes on you.
Below are a few more pointers on what you could do around the house this Christmas.
Use lockable cupboards, drawers or suitcases
Pack gifts high and far back on the shelves and under clothes or linen
Use the spare room or your home office as long as it can lock
Put gifts in a random box in the garage disguised as all the other boxes
Store smaller gifts in a toolbox under the workbench
Hide gifts in purposely mislabeled storage boxes or bins ("College Text Books" or "Tax Documents")
Too Big For The Cupboard?
We've covered some great storage ideas for smaller gifts but what about bigger odd-shaped presents? You could ask a friend but they might need their own space and what if something happens to your gifts while stored there? Replacing it will be expensive and challenging as you need to hopefully find the same item at the same price before Christmas morning. If the kids visit one another at the house, they will also snoop around undeterred without your watchful eye.
One of the most practical and affordable storage ideas to avoid all the challenges is renting a self storage unit. Your gifts will be kept dry and safe with no curious minds about and no matter how clever they think they are, no-one will find their presents. This is the ideal solution for bikes, canoes, surfboards, television sets, furniture and other larger items.
Tips and Tricks on Wrapping Awkwardly-Shaped Christmas Gifts
Some presents are easier to wrap while others prove a challenge even for seasoned wrappers. Jewellery, books, clothes and gaming consoles, like Playstation or Xbox, tend to be a simpler exercise. Consoles are usually sold in square or rectangular boxes so even amateurs should manage.
Things like rugby balls and even stuffed toys can be more difficult than you realise. To help you get it just right we've included a useful 'how-to' video which works for almost any awkward shaped gift.
Jewellery is mostly presented in a special gift box of their own but get creative instead. Use a shoebox layered with tissue paper, wrapped with ribbon and a bow to add further intrigue. Once they find the actual gift underneath all the junk, it would be hard to contain their excitement. Same applies to clothes, books and other smaller items but what about a bike or paddle ski?
Wrapping an odd-shaped Christmas present doesn't have to be difficult. Simply adding a bow to the bike or surfboard is more than enough. It's the way the gift is presented or revealed that makes the difference. Don't leave it under the Christmas tree for everyone to see but instead, bring it in after all the other presents and watch their reaction. It's priceless to the say the least.
We'd love to hear your clever storage ideas for hiding small or large presents. Perhaps you can help all our readers avoid unnecessary stress this Christmas. Get in touch if you need temporary storage while you're away for the holidays or if you're looking for a safe spot for all your gifts.