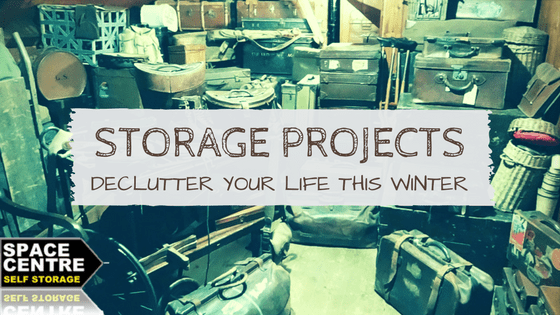 Winter is really beginning to set in. The clocks have already been turned back, the weather is gloomy and we find ourselves tucked up in front of the fire on those cold winter evenings. Now you have no excuse; it's a good time for those little winter storage projects you've been putting off.
Not only can you do a DIY 'fix-a-thon', you can also clear out the closets and declutter all over the house. Don't try and do it all in one day though, give yourself sufficient time and tackle every project one step at a time. Take on too much and, just like most New Year's resolutions, you'll lose interest and move on to binge watch Netflix instead.
Winter Storage Projects
Winter is definitely the season for storage woes. All the extra winter coats, boots and general house clutter just seem to pile up without reprieve. It's too cold to really go outside and let's be honest, who wants to do chores when we can get all cozy and snuggled up? Are you really going to spend your weekends and every morning clearing out junk from the garage or loft? Unless you're desperate for space, I bet your answer is a resounding no.
We've listed a few small organisation and storage projects you can do during winter that don't involve frostbite.
Storage Tips to Declutter Your Entryway
Not everyone has the space for a storage closet or a mudroom but this area is often overlooked. If your hallway is big enough, add wall-mounted shelves and turn it into a home library. Hanging a few hooks make this space ideal for keys, coats, scarves and hats.
Re-purposed, fashionable furniture can also achieve a stylish and storage-savvy look. A small side table with drawers can be the perfect fit beside the front door. What about a hallway storage bench? Not only is it used for sitting, use under-the-seat storage for toys, shoes, dog leads, linen or towels.
Bedroom Organisation and Storage Projects
Besides kitchen clutter, bedroom closets and bedside tables are fast becoming the next best junk storage option. You need to take a step back and really sort out your wardrobe. If you haven't worn something in years, get rid of it or donate it to charity but don't keep it for the sake of keeping it.
There is a simple solution though – besides always cleaning up – and that is under the bed storage organisers. Don't throw away those old drawers, instead give them a good varnish or a lick of paint and start organising. Decide what the main items are you wish to store under the bed. This can be extra blankets, towels, duvets or you could decide on a seasonal clothing approach. Use the storage space under the bed in winter for all your summer clothes and vice versa.
Turn digital storage into print and print into art
Technology truly is amazing as our smartphone cameras are always clicking away selfies, foodie photos or family fun days. Fortunately, our phones don't take up too much space but the same can't be said for photo albums or digital prints lying around the house. You could digitize everything but who doesn't like looking at old photographs above the fireplace or on the staircase; rekindling and reminiscing about the 'good old days?'
Take some time and spend a quiet Friday evening in front of the fire and go through your photo albums. Choose the most memorable and treasured photographs that you would like to turn into a beautiful and modern decorative item. Find a single colour frame and use it for all the photos or pictures you want to use. Draw a line on the wall and continue to hang the frames above or below. To add some extra flavor, play around with black and white photographs; sometimes they can look incredible.
DIY Kitchen and Bathroom Remodeling
Small changes sometimes make the biggest difference, especially in the kitchen and bathroom. Redoing your kitchen doesn't have to be expensive. You could simply strip, stain or paint kitchen cabinets and add new door handles for a modern, refreshed look. Another way is to replace an old appliance with a newer energy saving model. This can be a fridge, dishwasher or over-hob.
It's always good to save a penny here and there and one way to do that is on your water bill. Replace your showerhead with a modern 'water-saving' unit so you still get a proper shower but you're also saving water and money. It's a win-win situation just like replacing the old boring sink. Just make sure you know the height and personal requirements before replacing it.
If you do feel the need to have a big clear out, a self storage unit can really help. You can pack everything into one big space and go through it all without having to clutter the house. Divide your things into 3 categories; the 'keep' items go back home as you identify them and separate the rest into 'rubbish' or 'recycle/donate' piles.
Give us a call if you need help choosing the right storage unit for you. We have facilities in Stroud, Bristol and Gloucester with 24 hour security, drive-up access and flexible terms.