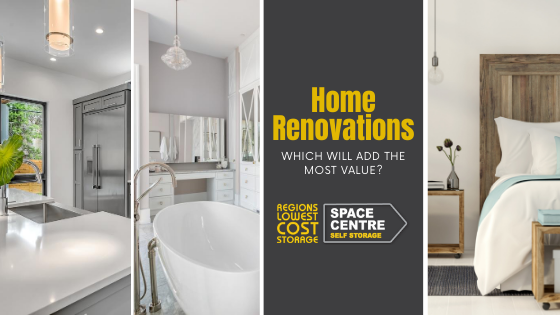 Are you looking to create extra space at home? Are you thinking of spending some of the money you saved during lockdown on home renovations? Let's face it, not being able to go out to bars, restaurants or even on holiday means many of us have a little bit extra to work with.
Even if you are not planning on selling any time soon, it's good to know which home improvements could help you in the long run. Don't forget to consider renovation storage as it can really help keep your home improvement projects more organised.
In this article we take a closer look at what you should be doing to add value to your property and how renovation storage can make a significant difference.
Kitchen Makeover
Ask any estate agent which rooms are the most important and almost all of them will agree it's the kitchen and bathroom. A modern kitchen is one of the best ways to add value as it's the heart of any home. It can be as simple as a new coat of paint on the kitchen cabinets or an entirely new kitchen design.
If you are adding a new kitchen, make sure you get the full value from the renovation. This means the amount you spend on a kitchen should be proportionate to the value of your home. Will you really benefit from a kitchen costing £20,000 on a house worth £100,000?
Consider using luxury materials like quartz or marble counter tops as they are extremely durable, stylish and easy to maintain. You should also use modern, energy-efficient and built-in appliances as stated by Country Living.
Updated Bathroom
A bathroom should be a place where you can relax in some form of luxury and comfort, similar to a spa-like experience. You don't even need a new bathroom suite as a different shower with new taps, shower head and new tiles can make a massive impact.
However, doing a massive bathroom renovation is also beneficial especially if you want to change the layout entirely. But even the fanciest bathrooms must still tick all the right boxes in terms of practicality, maintenance and style. To ensure you get the most value:
Invest in a shower and bath as this will appeal to more people over a longer period of time
Ensure that you have a powerful shower
Consider underfloor heating as many people are moving away from radiators
Change The Flooring
Very few floors will last a lifetime but even if it's still in good condition, the style is likely outdated. The best part about updating your floor is that it can change the look of a room entirely. It also doesn't have to be expensive as there are many DIY solutions for those on a budget.
Get the most value by making sure the floor type fits the purpose of the room so an entrance hall or entryway should be durable and easy to maintain. You should also revive old floorboards as it's a relatively simple way to add value to your home without breaking the bank.
Another consideration is natural stone as it improves with age, much like a fine wine. Limestone is the perfect example as it improves the look while adding a touch of character without trying too hard.
Add A Coat Of Paint
Few things are worse than damaged walls, ugly ceilings and outdated colour schemes as these can seriously devalue your home. Simply re-plastering a room and adding a fresh coat of paint can bring a house back to life which is particularly important when selling your home.
Use light-reflecting paints and mirrors for updating small spaces as it can make the room appear bigger. With ever-changing trends, try to keep the decor as neutral as possible so it's not offensive to anyone's belief or culture. It will also help brighten up rooms and allow buyers to visualise your home as a blank canvas for their own preferences.
An alternative to the above point is to stay on top of trends and opt for a specific modern style. A buyer may lack imagination and by adding something stylish, you could help close the deal but it can be a risky venture.
Create More Storage Space
With today's busy lifestyles, not to mention Covid-19 making everyone reassess working structures, extra space at home is incredibly important. However, not everyone has the room to create more space but there are many clever ways to utilise and maximise existing spaces.
If you have built-in storage, buyers don't have to spend extra money buying bulky cupboards or chest of drawers. In many spaces, built-in storage can improve certain areas within the home like alcoves. They may not provide additional floor or living space but can be transformed into cupboards and wardrobes.
By thinking outside the box, even the smallest properties can have more storage space than you bargained for. Some examples include a simple storage bench in the entrance hall or mudroom and pull out drawers under the stairs.
Convert Your Garage Into A Loft
Converting your garage into a living space makes perfect sense especially if you don't use it to park your car. If there is enough room and secure parking outside, it is a viable option but always consider the impact if you are likely to sell. Parking in the UK is already an issue and a house without on-site or close-street parking makes it difficult to sell.
First check that your garage is suitable for a conversion and whether you need planning permission. The work involved in a garage conversion is often classed as "permitted development" which means you don't need planning permission. However, it's best to always check with your local planning authority before starting any major home renovations.
Other Home Improvements To Consider
Whilst there is an exhaustive list of home improvements that can add value to your property, we only discussed our top six. For reference purposes, we've listed a few more below but if you like a more detailed overview, have a look at this article from Home Building.
Fix structural defects
Improve overall energy efficiency
Add double or triple glazing
Invest in Smart Home technology
Go off the grid or save on energy bills with solar panels
Add window shutters (the only window dressing that will add property value)
Create off-road parking or a driveway
Install a log burner
Add a conservatory
Build an En-suite bathroom
Update the interior
How Does Renovation Storage Help?
There is so much to consider when doing home improvements and that includes renovation storage and how to protect your furniture, floors and other valuables. Anything can happen so you need to be prepared as nobody wants to replace furniture that you weren't planning on.
If you are in the process of renovating, think about how and where you will store your goods. What are you going to do with all the extra furniture, glassware, electronics and clothes? For those who don't have a spare room or a big garage, renting a short-term self storage unit is the best solution.
Recommended: 'Using Self Storage During Renovations'
Easy Tips For Safe Renovation Storage
Whether you are storing things at home, the garage or in self storage, make sure you protect everything properly. Remember to cover furniture and don't drag items across the floor. Avoid packing shelves too high and leaving breakables on the floor. Use proper storage boxes and label them accordingly so you know the contents of each one.
When it comes to renovation storage, packing your belongings properly is of the utmost importance and these tips will help.
Create an inventory list of everything going into self storage
Clean the storage unit and all your belongings before placing anything inside
Use the right boxes, packing peanuts, packing tape, bubble wrap and furniture covers etc.
Keep items you may need access to close to the entrance
Always leave an aisle down the middle to reach items at the back
Disassemble what you can to save space
Conclusion
If you can only afford to update one room, you should focus on the kitchen. Your second option is the bathroom followed by fixing up a few small things around the house, adding a fresh coat of paint and improving kerb appeal.
When there's not enough room at home to keep your belonging safe, renovation storage is your best bet. If you're looking for short or long term storage solutions when renovating, contact Space Centre Self Storage. You can find us in Bristol, Stroud, Gloucester and Stonehouse with a large selection of units in all sizes.
We offer FREE storage insurance up to £3000 without any upfront deposit and you can use our provider or your own. All of our units are purpose-built for renovation storage, household storage, business storage, student storage and even vehicle storage.