Moving house is a huge task. It can be exciting, but it's also often stressful and overwhelming. One of the most important but often overlooked parts of moving is what to do with your packing supplies when you're done. In this blog post, we'll give you some ideas on what to do with packing materials so that they don't go to waste.
If you haven't moved yet, take a look at our blog on things to think about when moving for some valuable tips and tricks. Let's get started.
Three Things You Can Do With Your Packing Supplies After Moving House
If you're planning on moving again soon, then it makes sense to keep your packing supplies. This way, you won't have to buy new materials when the time comes. Simply put them into storage and forget about everything until you need them again. But, if you aren't planning on moving anytime soon, then you might be wondering what to do with all of those packing materials. Here are three ideas.
1. Selling Packing Supplies
Packing supplies are a necessary evil when it comes to moving house. Boxes, packing paper, bubble wrap – it all adds up, and it can be tough to find a use for it once you've unpacked everything at your new place. However, there is no need to simply throw away your unwanted packing materials. There are plenty of ways to sell them and recoup some of the money you spent in the first place.
The simplest way to sell packing materials is to list them on Facebook or local selling platforms. You can also try contacting local businesses that might be interested in buying them in bulk. If you have particularly sturdy boxes, you could even advertise them as storage boxes. Whatever route you decide to take, selling your packing supplies is a great way to make a little extra money and declutter your home at the same time.
2. Gift Packing Supplies To Someone Who Is Moving House
There are many people who are moving who may need packing materials but cannot afford to buy them new. By giving them your gently used supplies, you can help to ease their moving process. Not only will you be helping to reduce waste, but you will also be making someone's move a little bit easier. So, the next time you are done with your packing supplies, think about giving them to someone who could use them. It's a win-win for everyone!
3. Upcycle/Recycle Packing Supplies After Moving
Packing supplies can be recycled and reused, saving you money and helping to protect the environment. Here's how you can upcycle or recycle common packing products:
Cardboard boxes are easily recyclable so take your broken, damaged cardboard boxes to your local recycling centre. They are also great for creating storage solutions for your new home or storing items in your self-storage unit. You can also use them for DIY projects to protect your floor when painting or let your kids use them for fun craft projects.
After moving house, check to see what your packing peanuts are made out of. Packing peanuts are usually made of styrofoam, but many companies are switching to starch-based packing peanuts.
Styrofoam:
Contact your moving companies and ask if they will take back styrofoam packing peanuts for reuse. You can also contact your local recycling centre to see if they accept styrofoam.
Starch-based:
These packing peanuts are compostable and dissolve in warm water, so you can simply throw them on your compost heap.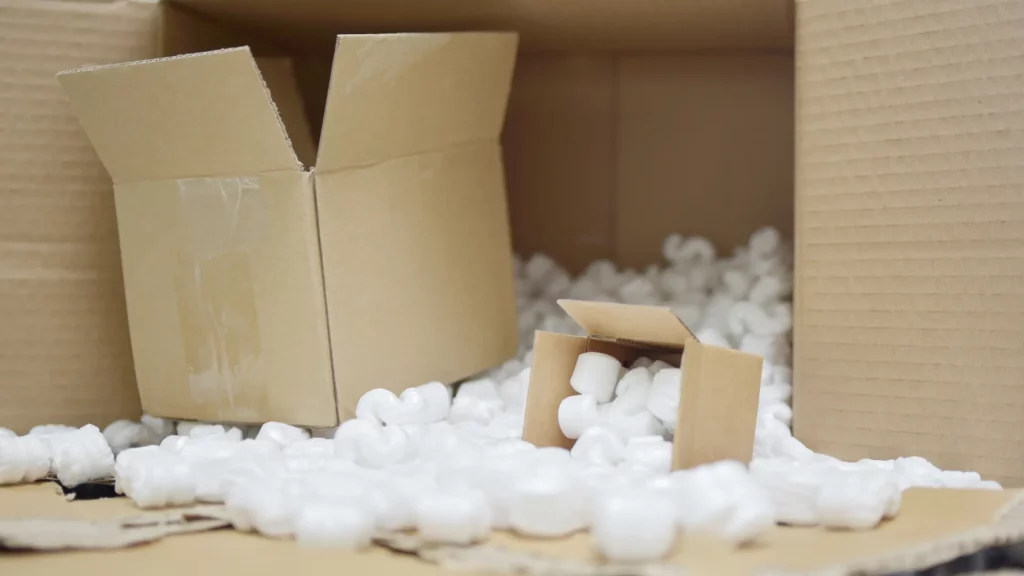 After moving house, you'll have a lot of packing paper left over. But don't just throw it away – packing paper is recyclable, and there are also plenty of ways to upcycle it.
If you're feeling crafty, there are all sorts of things you can make with packing paper. You could make your own wrapping paper, notepads, or even art projects. And if you're moving with kids, they'll love getting creative with their old packing paper too.
There are plenty of ways to upcycle and recycle bubble wrap, so it doesn't have to go to waste. One way to upcycle bubble wrap is to use it as padding for storage boxes. This will help to protect the belongings that you want to store after moving house from bumps and scratches.
You can also use bubble wrap to line shelves and drawers. This will prevent delicate items from moving around and breaking. Take a look at our blog on storing fragile objects for some useful tips for delicate belongings.
If you have children, they'll love popping the bubbles in bubble wrap, so why not use it as a play mat? They can lie on it, jump on it, and make as much noise as they want! Bubble wrap is recyclable so when you are finished with your bubble wrap, simply take it to your local recycling centre.
Now that you know what to do with your used packing supplies after you're done moving house, what will you do with all the items you don't need or create clutter in your new home?
Moving house? Need a self-storage unit?
You've finished moving house and realise there isn't enough storage space in your home or garage for all your belongings. What should you do?
If this sounds familiar, you may consider renting a self-storage unit. At Space Centre Self Storage, we have a wide range of storage units to suit your needs. Whether you're looking for long-term or short-term storage, we have the perfect solution for you.
Take a look at the benefits of self-storage units, and you'll be amazed you didn't consider one sooner! For more information, feel free to contact our friendly consultants for all of your storage-related queries.
Good luck moving house, and we look forward to hearing from you!