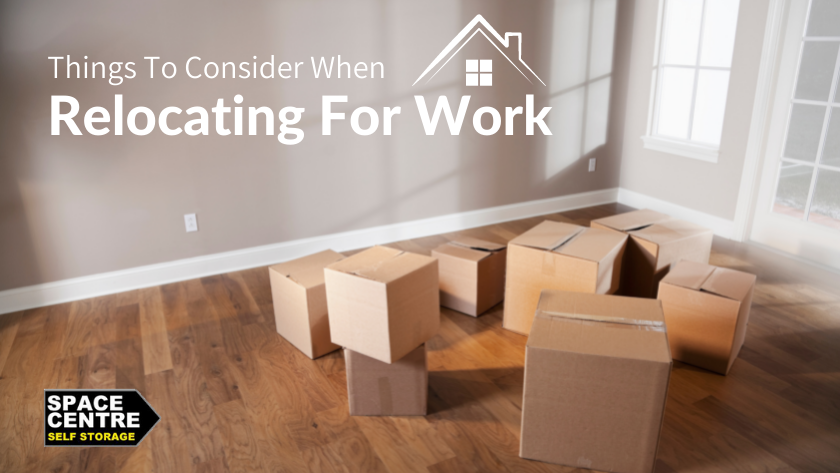 Relocating for work can be a stressful time as there is so much to consider. This includes buying or renting the right property, finding the best removals company and keeping your belongings safe and organised. In this guide, we share some expert advice on how to relocate for work and some handy self storage tips.
What To Consider When Relocating For Work
Starting a new job is already stressful and moving to a new city or country makes it even worse. From looking at the best properties to rent or buy, finding a school for the kids to packing everything and finding your feet in a new environment. The moving logistics alone would be enough to stress anyone out but the right game plan can help.
Some employers may offer a relocation package or some relocation benefits to help make the transition easier. It's important to ask and negotiate this part before starting the packing and moving process. Remember, you also still need to focus on selling your current home and tying up any loose ends; not to mention explore your new city.
To make sure everything gets done and ensure your move is as stress-free as possible, here are a few things you need to do.
Find Out About Relocation Benefits
When moving for an employer, check with your benefits coordinator about relocation services and costs. Many large companies have relationships with relocation companies that provide special financial benefits. This can include covering moving expenses, closing costs and even offer a buyout option if you can't sell your home before your move-out date. Before accepting any job offer in a new city or country, find out about relocation benefits first.
Research The New Area
When you know you are moving for work, start looking at community information within commuting distance of your new workplace. Research transport accessibility, housing expenses and the cost of living before signing a lease or mortgage. Whilst getting a bump in salary is certainly amazing, it won't go very far if the new area costs significantly more than your old one.
Plan a few preview trips if possible as it will help you get more comfortable in the new environment. Do some comparison shopping and check your commute to work as it may be better at certain times and from different areas.
For single professionals, a flat in the city centre might be a good option but some people prefer a residential community. This is even more applicable if you have children as researching the school system is always a critical step in the process.
Create A Moving Budget
Whether or not the new company helps with relocation, setting a moving budget ensures a safe and happy process for you and your family. Include the costs of repairing certain areas at your old home to make it more marketable and moving costs.
For example, moving to the next city or town is far more affordable than moving across the country or abroad. It's in your best interest to compare transport rates from at least three different companies before making a decision. Last, but not least is finding a home or flat within your cost range along with all other associated expenses.
Finding The Best Removals Company
Finding a good removals company is of the utmost importance when relocating for work, especially when moving abroad or across the country. Make sure you find a reputable, insured moving company with experience helping people who are moving for work. Have a look at Which.co.uk.
Not all moving companies offer the same services options so there could be some additional costs. This includes packing services, packing boxes and large-item fees. There's also a self storage charge if the moving van or lorry has to wait a day while you close the deal on a property.
Remember, you are trusting these people with everything in your home so do your research, make sure you understand the process and choose wisely. Ask a few companies to send a representative for a quote, and then request a written contract before you move.
Recommended: 'How To Find The Right Moving Company'
Set A Moving Date When Relocating For Work
It's often best to move to your new location as soon as possible as it just makes things so much easier. Depending on the distance, some companies might provide you with a small window between leaving your current position and starting a new job. This is the ideal time to secure a new home or flat, visit schools in the area and build a network.
Another important consideration is the current season and how it might affect your moving schedule. For example, moving in winter is almost always far more challenging as the weather can seriously hinder the moving process. When relocating for work, we highly recommend deciding on a specific moving date and try to stick with it.
Why Self Storage Is Helpful When Relocating For Work
Whether you are relocating for work, moving to a new place or just clearing out some space, self storage facilities can be quite helpful. You can pack your items into secure units as close as possible to your new home short-term or long-term. It helps keep things safe and organised so you can clear out your old home in confidence without adding unnecessary clutter at your new place.
Self storage facilities can be especially useful if you have large furniture items that won't fit into your new home without taking up a good chunk of space. They can also help if you need a place to store items that don't belong in the new property. At Space Centre, our flexible terms allow you to store your belongings long-term or short-term with FREE storage insurance up to £3000.
Relocating For Work With Space Centre Self Storage
Whatever the reason for moving, Space Centre Self Storage can help. We have decades of experience with professional and friendly staff ready to be of service whether you are simply decluttering or relocating for work.
Our facilities are conveniently located in Stroud, Gloucester, Stonehouse and Bristol with units of all sizes. Some are on the ground floor with drive-up access to make loading and unloading a breeze. For added convenience, here is our easy-to-use price and size guide to help you find the right storage unit.
For added peace of mind, our self storage units are clean, dry and in secure compounds with alarms, CCTV and smoke detectors. Please give us a call or get in touch via LinkedIn, Facebook or Twitter if you need more information. We'd be happy to answer any questions you may have.