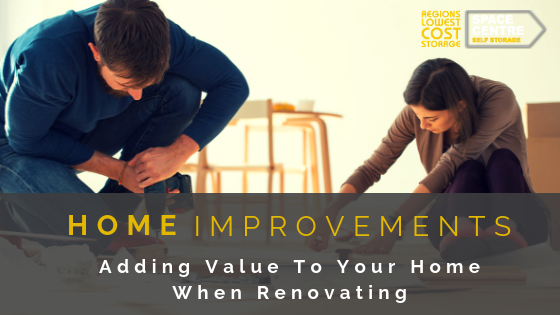 End of the year is approaching and many people are either thinking about home improvements, selling or extending. Considering the current state of the UK housing market, unless you have to move, perhaps you could renovate your existing home instead to keep costs down.
If you are moving, what can you do to add value and improve saleability and is it worth the effort? There is no point in spending tons of money if you are not going to recover it. At the same time, what should you do to add value to your house if you want to stay?
To move up a rung (or two) in the property ladder, you need to know how to maximise the value of your current property. Potential buyers will almost certainly be more interested if your property is well-maintained and feature a few valuable home improvements. If you want to turn a good profit selling your house, these handy tips on home improvements could prove particularly valuable.
Value-adding Home Improvements
While large projects such as a loft or garage conversion may reap the rewards, it takes time and money. Besides, you'll be pleasantly surprised what a difference smaller renovations can make. It's all about finding your niche and doing renovations that make sense, not just for the sake of doing something. Remember, there is always a ceiling price as in some areas, there's only so much a specific type of house will reach. Sometimes, no matter what you do, the selling price you can get will only be that much.
Cellar Conversions
Cellars have become something of a novelty as there aren't many modern properties with a cellar. Houses with cellars in the UK are generally the very old ones and often only in larger houses. These particular properties are mostly 'listed' which means they are registered as having historical value. For that reason, you need planning permission to do any alterations. 'Listed' properties also have more restrictions about the type of materials you can use and the finished look among others.
Converting an existing cellar into a living area or even for extra storage space can boost a property's value considerably. Always keep the building cost per square foot less than the price per square foot of your area. Cellar conversions are one of the least complex home improvements as it qualifies as a 'change of use'. This means you don't need planning permission.
Open Plan Home Improvements
Open plan alternations can save you on extension costs by knocking down the wall between your kitchen and living room. It can be a DIY job although we always recommend calling in the professionals as it might be a load bearing wall. If that is the case, taking it down on your own is extremely dangerous and not recommended.
An alternative to knocking down an internal wall is adding an extension to the rear or the side. It may be costly and time-consuming but it will give you the space you want while adding potential value to your property.
While there is an increasing desire for open plan living, it's not for everyone in the UK. Many people still prefer to shut the door to the kitchen. Once again, it boils down to your niche or the market. If you are renovating to sell, think about the people you want to attract, especially if your house is older and more traditional. Remember that not everyone likes to see the heart of these types of homes ripped out.
Garage Conversions
Converting a garage into a living space makes sense especially if you don't use the garage to park your car. Provided there is sufficient and secure parking space outside, it becomes a really viable option. Always consider the impact if you are likely to sell. Parking is already problematic in the UK and a house without on-site or close-street parking makes it difficult to sell.
Whatever you decide, first check that your garage is suitable for a conversion and whether you need planning permission. The work involved in a garage conversion is often classed as permitted development which means you don't need planning permission. However, it's best to always check with your local planning authority before starting major home improvements.
Adding a Conservatory
If you are fortunate enough to have sizeable savings and feel that it's time for a change, why not add a conservatory to your home? It's not only a cheaper option than a full extension but if you get the right one at the right price, it can add significant value to your property. Take care when adding a conservatory as some home improvements can be disastrous.
Make sure that you choose well as the cheapest often does not equal quality. There are also different materials you can use for the frame. The material you use will directly affect the ability of the conservatory as uPVC, timber and aluminium frames have different qualities. Do your research properly and when in doubt, ask the experts for advice.
An important tip is to choose a conservatory that matches the rest of the property as close as possible. You also need to apply for the correct planning permission. The best way to make sure any new building projects comply is to contact your local council. They will be able to provide you with the guidelines for your area.
Painting and Decorating
You probably don't need us to tell you that neutral palette will have the broadest appeal to buyers.
We probably don't need to tell you that a fresh coat of paint or papering the walls (if you must) is one of the most cost-effective ways to add value to your property. While most posts will mention 'freshening up' when moving, none provide much guidance about colours. The common theme is to keep things neutral but it doesn't mean paint everything cream or white.
The secret when selling your home is to strike a colour balance. It must be neutral enough for people to visualise their furniture but not so bland that the place looks sterile and unloved. A bit of colour is fine but if you are selling, don't go too far and paint the bathroom bright pink!
Create More Storage Space
With storage space being limited in many homes, if you can add a bit more it will be a real selling point. On the opposite side, lack insufficient storage can really put buyers off and decrease your property's value. Try to maximise all the space you can find to either build shelves or fit doors to create cupboards. Carefully studying the layout of your house can reveal some interesting ideas for extra storage space.
A few things to look out for include:
concealed corners in corridors
dead space beside the chimney or at the end of corridors
space in the eaves and under the stairs
extra space in the cellar or attic that you can upgrade
space beneath the bath tub, alongside cisterns and above sinks
unused space for wall mounted cabinets or cupboards
Self Storage and Home Improvements
There is so much to consider when renovating or selling your home that renting a self storage unit may just be your saving grace. Whether you're doing home improvements or in the process of moving, you need a safe place for all your belongings. Think about how and where you'll store everything like the extra furniture, glassware, electronics and clothes. If you don't have space at home or at a friend, renting a temporary self storage unit is possibly the easiest and most affordable solution.
Finding the right household storage unit can be challenging but at Space Centre Self Storage, our staff are always ready to help you every step of the way. Get in touch if you'd like to know more about our different types of storage units, prices and policies. You can also visit any of our branches or take the virtual tour of Gloucester and Stroud.