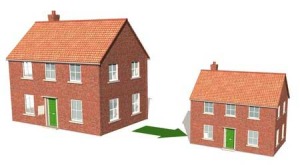 No matter how hard we try, it seems that at some point in our lives we all have too much stuff and nowhere to store it. Household storage, student belongings, paperwork or business needs mean that the use of temporary self storage is on the increase. We take a look at some of the typical reasons why people are turning to storage solutions outside the home to help solve their problems.
Children growing up and leaving home (and not coming back!), efforts to reduce outgoings and sometimes, poor health results in people downsizing their homes. But it's not always quite so easy to part with some of those things that aren't going to fit in to the new property and you don't always want the decision about whether to keep something or get rid of it to be a rushed one. If you've lived in a property for many years, the chances are there will be many items with attached memories and sentimental value, as well as those of financial value. It's not so easy to simply walk around deciding what stays and what goes. Sometimes people need time. That time may be to allow some breathing space to make that all important decision, or it may simply be that things need to be stored for a period of time before they can be passed on to someone else. Keeping furniture to be handed on to children is the prime example here, especially if those children have already started the process of buying or renting their own home. You can't take the items with you, but whoever will be receiving it isn't in a position to receive it quite yet. Temporary storage is ideal in these circumstances.
Students. Here we have 2 angles, that of the student and that of the parents. Students come back and forward for 3 or 4 years; sometimes even longer. Do they really want or need to pack up all their belongings every summer and bring them home? The trouble is that most landlords insist that student properties are vacated over the summer months and that means, if you leave your belongings, they are in an empty unattended house for 3 or 4 months in some cases. It's much easier to take the essential things home that you are going to use (lap top etc.) and store the rest locally to your accommodation.
Parents, when children leave for university, there is a tendency to take the opportunity to have a bit of a clear out. You don't get rid of their things or change the room drastically, but suddenly you have a room that's empty for most of the year and it's tempting to take the opportunity to turn it back into a grown up spare room clear of clutter. The thing is, what happens when your child finishes university and comes back home along with all their belongings, which, by the way, will have doubled during their time away? Suddenly you find there's no space for everything. If they are home for good, you'll need to sort something out, but if they're only home temporarily before moving away for work or going travelling then a temporary storage unit is the answer. You can use the time to work out what they will be taking and what need to be found a new home. Oh, and did you know that in our time of the 'Boomerang Generation' they are likely to come back and live at home a few times before they leave for good ?
There are increasing numbers of people setting up online businesses or working from home, who sometimes need additional storage facilities for stock, tools or paperwork, particularly if there are seasonal fluctuations in work or stock. Temporary storage units can be rented to hold the additional items much more cheaply than hiring premises on short term leases. The use of self storage is so cost effective for businesses that as they grow, many decide to carry on with long term self storage rather than take on the costs of premises.
One of the saddest and possibly hardest reasons for temporary self storage is when there is a death in the family. The grief and sadness often leaves people feeling at a total loss as to what to do with their loved ones belongings. Often, there is a need to sell a property to release funds, but nowhere to put the household goods from within that property. This is definitely one area where some time is needed. Use of a self storage unit means that family can go through everything effectively, in their own time and when they feel up to it and not rush into a house clearance that they will regret further down the line, potentially losing things of great value to them, whether financial or sentimental.
Space Centre Self Storage has storage facilities in Gloucester, Stroud and Bristol and each site has a variety of unit sizes. In business for more than 20 years the management and staff know pretty much all there is to know about storing things and are happy to help and advise you to ensure your storage needs are met.
Our customers choose us because we offer quality storage at an affordable price with a flexible and hassle free approach. Our clear pricing policy enables our customers to know the full costs of their storage. We don't increase our prices once people have moved in and you can also store for exactly as long as you want to and change unit size when your needs change.