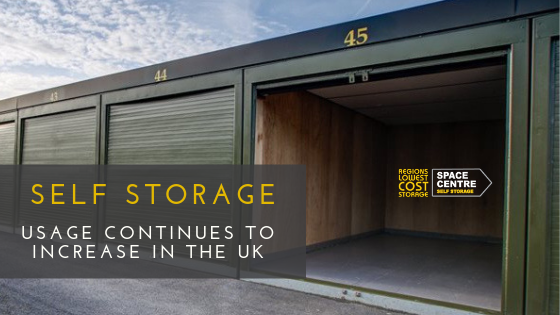 Statistics indicate that the UK self storage industry is continuing on its upward curve as more people are turning to storage facilities. Demand for storage is higher than ever where the UK leads Europe with 47% of the total number of facilities. Small businesses use self storage as an extension to the office which helps reduce overheads and adds convenience. This has only added to the overall value of storage facilities as their purpose and use continues to expand.
In terms of households, some people use storage units as a means to keep extra furniture or collectables and others use it for financial documents, tools or equipment among others. Regardless of who you are or what you do, self storage can play a crucial role whether you are decluttering your home, office, doing renovations or in the process of moving.
Self Storage And The Housing Market
It's no secret that the self storage industry is closely linked to the wider economy covering several macro-economic factors. This includes disposable income, inflation and the state of the housing market. The UK residential property market is currently in a period of sustained transactional inactivity which can be attributed to political uncertainty, fewer investors and the change in attitudes towards housing.
Considering the exorbitant property prices, many people are downsizing. While that helps reduce the monthly rent or bond repayments, it also means less space to store everything. Storage units can help as it is the most affordable, convenient and practical solution with many Brits in total agreement.
Storage In The UK
2017 saw the addition of 2.4 million square feet of storage space as 70 new stores opened across the UK. 29 of these new facilities had more than 150 units when they opened. Many storage facilities are based in London and the South East of England where the supply is actually twice the UK average per capita.
It is no coincidence then that the property rental prices in these areas are also higher. The same applies to Scotland as the majority of storage facilities are across the Central Belt in Edinburgh and Glasgow (also with high property prices).
Self Storage For Business
While storage units were mostly used to keep excess household goods, times have changed and business storage has grown significantly. Businesses now account for 42% of the 44.6 million square feet of storage space in the UK. That means only one in five of all units are for domestic and e-tailers (source: Self Storage Association).
Many businesses use storage facilities for various purposes, from document or stock storage to simply using it as a delivery address. This works exceptionally well considering that there is always someone at the storage facility to accept deliveries.
Bearing that in mind, there are also more people starting online businesses and working remotely, e-tailers or otherwise. Some may need additional space for stock, tools or paperwork, particularly if there are seasonal fluctuations in stock. People can rent temporary storage units at a much lower cost than other premises on a short term lease.
Storage Facts And Figures
According to statistics from the Self Storage Association (SSA), there are some particularly interesting facts. We've highlighted a few points as stated in the 2018 SSA UK Annual Industry Report:
The UK has 48% of the European self storage market
Only 46% of the public have a good awareness of storage units
Divorced or separated people are more than twice as likely to use self storage than other people
71% of self storage customers are 40 – 69 years old
The total amount of space used by customers increased by 8.8% in 2017
Almost a third of customers have kept their unit for over 3 years
68% of customers travel 20 minutes or less to their unit
Only 32% of people knew only they could access their goods in storage and not the staff on-premises
Who Can Use Self Storage?
Nearly anyone can use storage units and for a whole host of purposes. Some use storage facilities as they may be outgrowing their current space while others want to store memorable or valuable items long term. Whatever the reason, more people are using storage facilities for extra space at a minimal premium compared to other options.
Here are the 12 most common reasons why people use storage units:
Running out space at home
Moving to a smaller property
Renovations and home improvements
Starting a family
Storing tools and equipment (electricians, plumbers, painters, decorators)
Garden furniture and machines
Students taking a gap year
Students on their summer break
Working away on a long-term contract
Home businesses
People going through a bereavement
Meeting The Increasing Demand
We understand first-hand the rising demand for self storage and the importance of meeting customer requirements. While our existing facilities are doing well, we decided to increase our market share to provide customers with more storage space.
Currently, our facilities in Bristol, Stroud and Gloucester provide excellent coverage but the expansion of Stroud will give customers even more options. We've added 10,000 sq. ft. and there will be a number of differently sized units available similar to the original Stroud facility. In addition to more capacity at Space Centre Self Storage Stroud, we have answered our customers' requests for longer access hours.
Another project underway is Space Centre Self Storage Stonehouse. It is centrally located opposite the Stonehouse Court Hotel and next to the main road leading out to the motorway. Considering the access and location, tradespeople looking to store tools and equipment will benefit greatly from our Stonehouse facility. We will keep you updated on any developments with this site.
What Does The Future Hold?
With the growing interest in storage units, the industry in Europe could expand even further with viable investment opportunities. The constantly improving returns and consistent performance over the last few years have created a stronger demand for investment.
Many operators have already started offering additional services including goods disposal, extended opening hours, shelving inside the units, Wi-Fi and better lighting. Some have decided to become more convenient and sleek in appearance and practicality with a modern design, climate control, security and on-site packaging supplies.
Why People Choose Space Centre Self Storage
Since 1995, Space Centre Self Storage facilities have provided affordable, reliable and quality storage units. We offer a wide range of sizes, internal or external, with short or long-term rental contracts.
Clean, dry, well ventilated and well-lit storage units
Drive-up access
24-hour security (CCTV and alarms)
No deposit required
No long-term commitments
Free insurance
Flexible to change unit size at any time
Our prices are guaranteed to remain the same for at least 12 months if not longer once you move in. When you are ready to rent a storage unit, get in touch with our facilities in Bristol, Gloucester, Stroud and soon, Stonehouse as well.