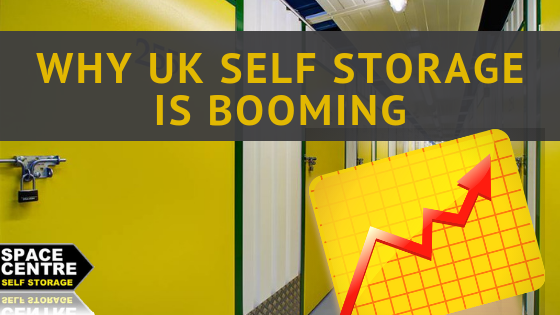 Looking at the flourishing self storage industry in the UK, it becomes clear that more people rely on storage facilities. The fact that people generally use self storage at critical stages of their lives makes all the difference. This can include anything from moving, downsizing, starting a family, kids going off to Uni or starting a business.
Whether we like to admit it or not, most of us simply have too much stuff but not enough space. Storage at most homes and small businesses is limited so people have to make alternative arrangements. Contrary to what some may believe, self storage is possibly the safest, easiest, most affordable and flexible solution.
Factors Contributing To The Growth Of Self Storage
Self storage is an incredible asset based on a fairly simple model of providing flexible storage options to those in need. As it requires physical space, this sector is very difficult to disrupt making it even more attractive for investors and customers alike. So what exactly has contributed to the growing success in the self storage sector? Let's take a look.
Increased Demand For Space
Many people regard self storage as a short-term solution to an immediate need while others consider it a part of their daily lives. In the past, houses had loads of space including basements, lofts or spare rooms for all the odds and ends. However, demand for property has increased tremendously and many houses have now been converted to add more rooms.
While lack of space is certainly a contributing factor to the increasing popularity of self-storage, there is more to it than that. It also involves how much we own and the growing demands of modern day living. Life can be challenging at the best of times but there are three particularly stressful situations many of us go through that often require self-storage. These include moving house, divorce and the unfortunate passing of loved ones.
Changing Social Dynamics
According to an SSA survey, moving home accounts for 39% of personal customers across the industry. Divorced couples are more than twice as likely to use self-storage compared to other people. Adding to that, social dynamics have also played a major role.
In the past, people would buy a bed or a fridge when they got married and would keep everything until their partner passed away. Modern social dynamics are different where partnerships or relationships now change much more frequently which results in more flexible family arrangements. People now own several of the same items and this is where the need for additional storage comes in. Some may decide on a temporary unit just until they can sell or donate the goods or relocate to new premises with more space.
While most first-time self storage customers take their unit for a short-term requirement (two to six months), many decide to continue their contracts more long-term. The misconception that self storage is for people who like to hoard things is ancient history. There may be a handful of people who still use self storage for hoarding but the majority use it during times of transformation in their lives whether personal or commercial.
Self Storage And Business
Where self storage was once most used for storing excess household goods, it is a different beast for business customers. In fact, businesses now account for 42% of the 44.6 million square feet of storage space in the UK. That means only one in five of all units are for domestic and e-tailers (source: Self Storage Association).
Many types of businesses can use self-storage and for several purposes. Some rent a small unit just for document storage while others store extra stock in larger units. Sometimes, businesses even use their self storage unit as a delivery address. This works wonders as there is always someone at the storage facility able to accept deliveries. Just make sure to make prior arrangements with the staff.
One such example is a pest control company with 10 service technicians across the region. Their technicians work from home and keep some of the essential stock and equipment in their own vans. The company decides that, in order to optimise their operations, they could rent a mid-sized storage unit. Making arrangements with the storage facility, their staff would take deliveries for the company. It would ultimately serve as the company supply room where technicians could replenish their stock weekly.
Don't you think this is such a smart way of using self storage? It just makes sense as it's more affordable, easily accessible and the technicians can carry on working without having to travel to the office or warehouse to fetch more stock. Today's modern technology like smartphones, tablets and laptops make remote work even more possible. More businesses could benefit from such an arrangement.
Self Storage And Start-ups
Speaking of business, the recent increase in start-ups has also contributed to the self storage boom. According to government statistics, there were 3.5 million British businesses in 2000 and as of 2017, there are 5.7 million. Many companies actually rent office space from certain self storage providers. For many start-ups, the greatest benefits of storage facilities are affordability and flexibility.
Renting a normal office space is costly and often requires an annual lease. This is challenging for some start-ups with smaller budgets and those that require flexibility. Self-storage is super flexible in terms of downsizing and upscaling or moving out. Generally, businesses are only required to provide the facility with a one or two weeks' notice.
While pricing and flexibility make headlines, security is also a major advantage. Reputable storage facilities offer only the best units that are dry, airtight and incredibly safe. Most of them have controlled access, 24-hour security and CCTV. In addition to all of that, not even the facility staff have access to your storage unit. How's that for safety and extra peace of mind?
If you're new to self storage, take a look at this article for fantastic storage advice and information. It will help you understand how everything works and what to look out for when finding a suitable storage facility.
Space Centre Self Storage is a local, family-owned and operated business. We have self storage units in a variety of sizes at very competitive prices and we don't tie people to long-term contracts. Please get in touch if you need a storage unit for your equipment, tools, furniture or anything else that you can't seem to part with. Our friendly and experienced staff are ready to assist in any way they can.