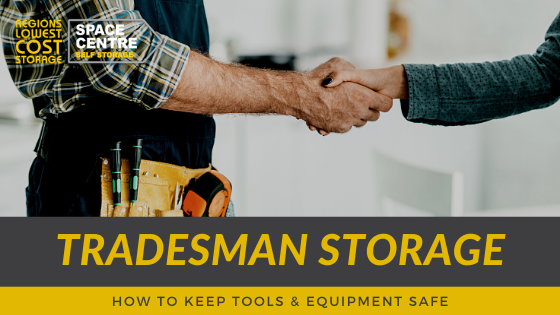 A big challenge for sole traders and some small businesses in the trades is the question around space. For anyone looking to keep expensive tools and equipment safe, tradesman storage should be your first choice.
If you're a carpenter, electrician or plumber, why spend a fortune on business premises which will mostly be used for storing tools? At the same time, you shouldn't keep work tools at home, in the van or garage. It could easily lead to damage or theft which is simply an avoidable and unnecessary expense.
The Basics Of Tradesman Storage
Tradesmen typically have expensive tools and equipment but also stock items such as electrical parts or fittings. If you're self-employed, you probably have far more than you can safely store in the car. With customers demanding work to be done quickly, it's important to keep stock of certain items.
Space always seems a challenge and along with the risk of theft or damage, do the sensible thing and rent a small storage unit. It's only a small monthly charge that gives you peace of mind knowing your stock, equipment and tools are safe.
Benefits Of Using Tradesman Storage
Plumbers, electricians and builders all need specific tools, equipment and parts, such as pipes, fittings and other items. Having your own storage unit filled with the stock you most often need can make your job much easier. Here are some of the main benefits of tradesman storage:
It offers 24-hour security
You can store more items, stock or equipment than at home or in the car
It helps avoid running out of parts and unable to finish a job
Limits back-and-forth trips to DIY stores and merchants to find what you are looking for
Employees can get access to your self storage unit so they can get stock whenever they need to
Units with drive-up access make storing heavy or bulky items much easier
Collect or drop off stock and equipment between jobs, before or after work
Recommended: 'How To Pack Your Storage Units'
What Business Can I Run From A Self Storage Unit?
Besides tradespeople like plumbers, builders and electricians, there are other businesses that you run from a storage unit. However, you need to do thorough research as not all facilities are set up for this or even allow it. Here are a few businesses that are often allowed to operate from a storage unit with prior consent.
eCommerce Store – Run the business from home but keep all your products in self storage
Repair Centre – If you're hands-on and able to fix things, a storage unit can be a work area and a place for storing tools
Secondhand Shop – Some storage facilities allow 'retail-type' businesses to operate as it's a simple case of installing a few shelves for the secondhand goods and a cash register at the door
Photo/Video Studio – With a stunning backdrop, the right equipment and a good sound engineer, you've essentially set up your own production centre
Flexible, Convenient And Affordable Tradesman Storage
Tradesman storage is all about convenience and offering business continuity which is why we offer flexible, tailor-made storage solutions. Our units are clean, dry and secure with 24/7 access to your outside storage unit.
Our facilities are conveniently located near major motorways making it even easier to access. Plus, we offer free insurance up to the value of £3,000 using our provider or your own. Visit Insurastore for more information as they specialise in self storage insurance.
If you work in any of the following industries, we can help with your tradesman storage needs:
Plumbers, electricians and builders
Bathroom fitters
Boiler and gas fitters
Events companies
Cleaning companies
Landscape Gardeners
Recommended: 'Self Storage Providers – Which On To Use'
Final Thoughts
Tradesman storage is ideal if you run your own small business as renting premises can be expensive and mostly requires long term contracts. Our locations in Bristol, Gloucester, Stroud and Stonehouse are fully secured with 24/7 surveillance and storage access.
If you want a quality, affordable and reliable facility, Space Centre Self Storage is open for access 24 hours a day. Our storage facilities are located in Bristol, Stroud, Gloucester and Stonehouse with several on the ground floor offering easy drive-up access.
Get in touch with our friendly, professional and trained staff who will assist in any way they can and read our weekly blog for all the latest industry news and updates.