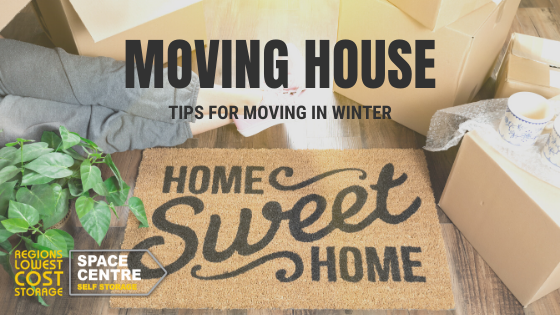 Are you moving house this winter? Everyone who has moved knows how challenging it is can be but even more so during winter. There are other things to consider compared to the summer months but fortunately, Space Centre Self Storage has you covered. These essential tips will help make your move as seamless and stress-free as possible.
Choose How You Move Wisely
For some, moving house yourself may seem plausible especially in summer or spring but for winter, you really need to think it through. Finding someone to help move during winter can be difficult, not to mention the challenges adverse weather conditions add.
When moving house in winter, we recommend that you use a professional moving company like Burke & Wills as they will have the necessary experience to handle anything Mother Nature throws their way. A moving company will know how to properly pack items for maximum protection and handling larger vehicles on slippery roads.
Recommended: 'How To Choose A Reputable Moving Company'
Start Moving House Early
Unlike summer, the winter sun sets as early as 4.30 pm so it's best to start the day as early as possible. The last thing you want is to pack and carry boxes in the dark. It's imperative that you make sure the lights are working including outside fixtures to light pathways or the driveway. Be prepared by keeping spare bulbs and torches handy.
Seeing as you start early, some of you may think you'll save time by packing the van the night before but unless it's parked in a secure location, we do not recommend it. Besides the risk of theft, remember that overnight temperatures in the truck can easily go below freezing. With that in mind, make sure to keep any liquids, plants or anything else that won't survive such low temperatures in the house until you are ready to move.
Keep Pathways And Driveways Clear
In winter, there may still be ice or frost on the pathways especially early mornings. Keep some sand or salt in your vehicle and make sure you use it at the new and old house to avoid slipping when carrying boxes. An even worse scenario is if one of the moving company's staff get injured as this will really slow things down.
If you are moving everything yourself, make sure that your car is winter-ready. Visit your nearest service centre and do the essential winter safety check and ensure you have enough fuel, de-icer and an ice scraper. Pack a snow shovel just in case, especially if there is a chance of snow.
Protect Your Carpets And Floors
Moving house in winter means dealing with a lot of rain and often snow as well. Bear in mind you may have to move items in the rain so wet feet in your old and new home is a real possibility. Another consideration is salt or sand on the pathways which could also inadvertently end up in the house.
Use offcuts of carpet, cardboard boxes or plastic sheeting to protect floors and carpets. If you can, make sure to secure it to the floor as this will further reduce the risk of slipping or tripping. Also, place a doormat at all entrances and a keep selection of old towels that can be used to dry off people and boxes.
If it is raining, plan ahead by asking the removals van or truck to park as close to the front as possible. You could place traffic cones or another type of sign to ensure they use the demarcated space when they arrive. Find out if there are any parking restrictions and whether you need to arrange parking permits.
Keep The Heat On
While it's easy to keep the heat on at your old house, make the necessary arrangements to take over the power supplies at the new place. To make it easier for you and the movers, ask the previous owners to leave the heating on low when they leave. This is especially important if they are moving out a day or two before you move in, or if it's a long way from your old house.
Use The Appropriate Packing Materials
Supermarket boxes may be OK in summer but not so much when moving house in winter as cardboard boxes aren't suited for wet weather. In winter, you will have to buy sturdy boxes that won't fall apart when you stack or pack them.
Don't be afraid to use extra tape as it doesn't stick all that well when it gets wet. You could also invest in a tape gun which makes sealing boxes much easier and faster. It also has the added benefit of not trying to find the end of the tape or misplacing the pair of scissors.
If the rain or snow is pelting down, you'll have to use plastic sheets, blankets and protective coverings for your belongings. The good news is that if you are using a removals company, they will have everything you need.
Top Tip:
Avoid using boxes without lids or those you can't seal and consider plastic boxes on wheels. For larger items such as sofas, armchairs, beds and mattresses, get heavy-duty polythene covers as these will keep everything dry while offering maximum protection.
Dress Warm
You should always wear clothes that are comfortable and easy to move around in but keep in mind the cold and wet weather. Layering up is certainly recommended as you also have to deal with temperature fluctuations between the house, car and the outside. Your shoes should also be comfortable and ideally with anti-slip soles.
Pack An Essentials Box
When moving house, it's always good to have some essentials close at hand. These are items that you don't pack with everything else and can include the following:
Food and beverage items (cool drinks, coffee, tea, sugar, milk, pastries, pot noodles)
Kettle, crockery and cutlery
Small emergency or first aid kit
Sharp knife and scissors
Change of clothing and towels
Portable tool kit
Phone chargers
Chronic medication
Then, make sure your essentials box is either packed in your car or in a dedicated space at home. This will ensure it doesn't get packed by accident and that you can easily find it to prepare drinks or snacks.
Moving House And Self Storage
Moving house is a difficult process regardless of the season but during winter you need all the help you can get. Space Centre Self Storage is here to take the stress out of moving by providing you with tips on moving, packing, decluttering and home improvement along with quality and affordable storage units.
Follow our blog to stay up to date and check out our price and size guide. If you're looking for affordable storage units in Bristol, Gloucester or Stroud, get in touch with our friendly, experienced staff for more information.