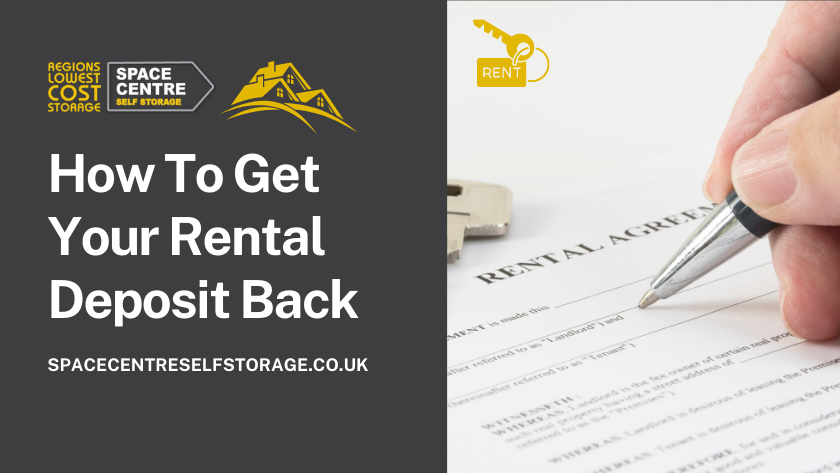 When moving out of rented accommodation, there's always a concern around the FAQ of "how do I get my rental deposit back?" There seem to be many loopholes allowing landlords and letting agents hang on to your deposit when you leave a property but it doesn't have to be such a minefield. In this article we share some valuable advice on rental deposits, moving tips and how self storage units can help keep things organised and stress-free.
How Do Rental Deposits Work?
When renting a property in the UK, you are expected to pay a deposit which is usually one or two months rent. However, there is no law limiting the amount that landlords can request and they have put the money into a tenancy deposit scheme (TDP) rather than their bank account.
The landlord or letting agent has to deposit your money into a scheme within 30 days of receiving it. They can choose from three government-backed deposit schemes; the Deposit Protection Service, MyDeposits or The Dispute Service.
Why Landlords Refuse To Return A Deposit
It may not seem like much to them but that money may be essential to you. To get your rental deposit back in full, it's important to know some of the key reasons why landlords choose to keep deposits in the first place.
Not properly maintaining the property and not keeping it clean
Direct damage to the property and/or its contents
The last rental payment being due after the tenancy agreement ends
Indirect damage due to lack of maintenance or carelessness
Most of these things are mostly avoidable and if you follow the rules and tenancy agreement stipulations, there shouldn't be any reason for the landlord to withhold your rental security deposit. Here are a few things you can do to minimise the risk of losing your deposit.
What To Do Before Moving In
Before you move in, make sure the letting agent is signed up to a professional body. Some examples include the Association of Residential Letting Agents or the National Association of Estate Agents. If they don't belong to a trade body, get a copy of the letter from the property owner stating they are happy with the condition of the property.
When you move in, read your lease carefully and understand everything inside. Leases are not set in stone and often allow for changes if you are unhappy with something but you need to do this upfront. Most landlords provide a checklist of rooms and ask you to detail the condition of each one. If they don't, make sure you create one and take note of existing damage including photographs.
How To Get Your Rental Deposit Back
Giving your landlord no reason to keep your deposit is the easiest and fastest way of getting your money back. It may sound challenging but if you know what you're doing, and don't leave things for the last minute, you shouldn't have any problems. Whilst living there, make sure you do the following:
Try to be clean and tidy throughout, especially if you have a pet
Remove stains on upholstery or carpets before they set
If you break something, let the landlord know as soon as possible and take pictures before and after fixing it
If something breaks from normal wear and tear, the landlord may repair it (depending on the terms of your lease). If they are, but you fix it yourself, take a picture before and after, add it to your notes, including the cost and send the bill to the landlord immediately
Before leaving the property, get the landlord to inspect the property with you and have them sign an agreement that you have left the property in fair condition.
Can I Challenge A Deduction On My Rental Deposit?
Whenever there are deposit deductions, the landlord must let a tenant know in advance and provide independent written estimates. If you believe a quote is unfair or over-inflated, get one done on your own if you think you will gain something even with the associated fee.
Contact the landlord directly if necessary as you are entitled to know their contact information. Also, the letting agent has a legal duty to provide the name and address of your landlord within 21 days if you ask in writing.
If you've lived at a property for more than three years with little to no renovations or home improvements, a landlord can't expect the place to be in the same condition. In this instance, it will come down to some level of negotiation and any reasonable landlord will take it seriously.
Recommended: 'Rental Deposits, Disputes and More'
Keep Things Organised With Self Storage Units
To ensure you get your deposit back, follow all the rules and make your life easier with self storage units. Not only are they inexpensive but the renting process is also quick and easy. It offers a clean, dry and secure space to keep your belongings whether moving from one rented property to another or buying your own. This is particularly handy when there's a gap between moving out and in.
At Space Centre, we have various self storage units available on the ground floor with drive-up access o first-floor units. Our facilities have 24-hour CCTV, 7-day access to external self storage units and insurance up to the value of £3000. You can find us in Stroud, Gloucester, Stonehouse and Bristol so give us a call if you need more information or a quote.