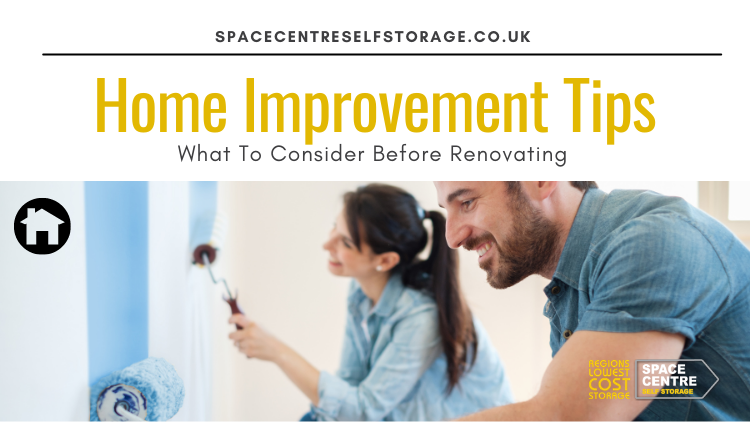 Are you remodelling your home or just doing a few small home improvements? Whatever you are planning, there is a lot to consider including loans, finding the right contractor, time management and renovation storage. The process can be daunting but to help you along, here are some important tips on how to get started and some of the major pitfalls you should avoid.
Decide Why You Are Renovating
Before you do anything, you need to ask yourself whether it matters if the renovations add value or not. If you never plan on moving house, the type of changes you make may not matter but it's a different story if you doing it to increase property value. In this case, make sure you don't overspend on something that won't give you the necessary return. Have a look at these home improvements that typically add the most value.
Measured Surveys And Planning Permission
Depending on the scale of the project, you may need permission from the local authority's planning and building regulation's department. If you're doing minor changes such as new windows and doors or painting, you don't have too much to worry about but it's best to talk to the council first when making changes to the physical building.
Also, when buying a building with the intention of remodelling, it's important to get a measured survey as it will highlight any major issues. This includes requirements for a new roof or problems like damp or structural movement and whether you need an asbestos report.
Whilst most structural problems will have a solution, some could cost much more than expected but by finding issues early on can help you plan accordingly. Remember, certain structural problems such as subsidence, could affect your insurance options and the resale value.
Make Sure You Have Renovation Insurance
As soon as you've signed all the contracts and documentation, you are responsible for everything on the site. For that reason, you should never go without adequate renovation insurance as this will cover you in the event of flooding, theft or fire to the property. Renovation insurance should include the following:
public and employer's liability
cover for building materials and works
cover for tools, temporary buildings and the existing structure
personal accident cover and legal expenses
Depending on the project, costs range from £500-1,500 so it's a small price to pay considering the alternative. Tools or equipment being stolen or someone getting injured onsite will cost a lot more without the appropriate cover. Besides, when using a mortgage to finance the project, some lenders may not release any funds without your warranty and proof of renovation insurance.
Look Out For Subsidence
Not all cracks are panic-worthy as many are as a result of thermal movement and minor historic settlement. Whether you are renovating your own home or a new building, if you notice any cracks that concern you, consult a building surveyor as early as possible. They will be able to assess damage from cracks and highlight any areas that may need further investigation.
Considering it's almost impossible to get building insurance when subsidence has been identified, it is a serious issue. This means you will have to pay for the treatment and only then can you get insurance which will be at a higher premium. Another option is to get the seller to make a claim against their insurers which will allow work to be carried out under their policy.
Beware Of Rot And Damp
Damp is often easy to spot but not always and some issues are more expensive to fix than others. Whilst watermarks on floors and walls being tell-tale signs, it's not always that simple. Causes of damp range from leaking gutters and blocked drains to poorly constructed finishes such as cement renders, concrete floors and injected damp-proof courses.
When looking for damp, make sure you keep an eye out for rot which is a fungus that can destroy timber. It can appear in areas with bad ventilation and is often found in the roof space or under floorboards, especially in old houses. Make sure there is no cotton wool-type masses or a strong musty smell when lifting the carpet. Removing rot is doable but it can cost more than £1,000.
Manage The Project And Contractors Properly
Considering the sheer amount of work and time it takes to complete a big remodelling project, you want a trustworthy and reliable team of tradespeople. Trust is always an important consideration but a big issue is how long the work will take and the level of inconvenience it may cause.
Put a plan in place and make sure you are happy with the amount of labour it will take. Here are a few simple tips on getting the most from your builders followed by some renovation storage ideas.
Check whether the builder or contractor has the appropriate public liability insurance
Make sure everything they are contracted to do is agreed upon and in writing before any work starts
Put a schedule in place to keep everyone organised so tradespeople don't overlap
Discuss payment options beforehand and don't pay the entire amount upfront
Add 'Snagging' to the list
Consider Renovation Storage For Home Improvements
With so much to consider when remodelling or doing home improvements, you need a safe place to keep your furniture and other valuables. Anything can happen so you need to be prepared and avoid the risk of replacing broken or damaged furniture and renovation storage can help.
Whether you are planning a big remodel or small home improvement project, think about how and where you will store your goods. If you don't have a spare room or a big garage, renovation storage is the ideal solution as you can rent a unit for a few months or years.
Why Choose Space Centre For Renovation Storage?
Renovation storage is one of the most popular options at our facilities and for good reason. To make it more convenient and accessible for everyone, Space Centre offers short term or long term contracts without having to fork out a big deposit.
We offer FREE storage insurance up to £3000 and you can use our provider or your own. Our facilities are conveniently located near major roads where many units have drive-up access. You are also the only person with a key to your storage which makes access that much more secure.
Are you based in the Bristol, Stroud, Gloucester and Stonehouse areas and considering remodelling? Contact Space Centre Self Storage today and find out exactly how easy and affordable renovation storage really is.