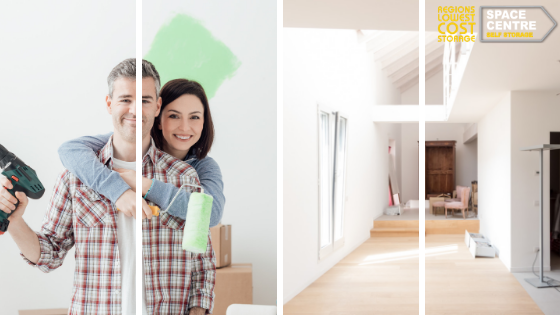 Space is often an issue especially when the kids are still around and you make-do with what you have. However, what happens when your 20-something moves out whether they're going to uni or a place of their own? This is the perfect time to clear out and a temporary storage unit may come in very handy.
The options seem endless now as you have extra space to play with so what are you going to do? Are you thinking of converting bedrooms into dressing rooms or a snug reading room? Maybe you have your sights set on a sewing room, gym or a man cave.
You may want to store precious memories like photos and old school work but it should be done properly to avoid damage. Temporary storage and long-term storage are ideal when doing remodeling as you'll need somewhere safe to store the contents.
Exciting Home Renovations For Empty Nesters
While the temptation is always there to keep things as they were, it's best to make a change. A big part of the process is dealing with all the emotions by moving forward so why not take this opportunity to transform the spare room?
If you are unsure what to do with your kid's bedroom once they move out, here are bunch of really cool ideas to help you get started.
A Stunning Guestroom For Visitors
Just because your kids have moved out doesn't mean they won't visit so a guestroom is always a great option. You can turn their old bedroom into a more grown-up version with a bigger bed, new cupboards and maybe a fresh coat of paint. Replace old posters with paintings, photos or other artwork for a beautiful finish.
If there is still nice furniture, you can leave that along with books and a few odds and ends but clear everything else. You could even add an ensuite bathroom if there is space and money in the budget. Updating the room makes it more suitable for friends and family but your grown-up children will still feel at home when they visit during the holidays.
Turn It Into An Arts And Craft Room
If you're into arts and crafts or enjoy a particular hobby, imagine a dedicated room just for your needs. It can be your little relaxing nook to paint, knit, do pottery or just be by yourself. For all those artists out there, you can kit out this room exactly as you need it without worrying about messing paint on the floors, walls or furniture.
Dedicated Reading Room, Workspace Or Home Office
For many of us, having a quiet spot to read our favourite novel is all we need but you could also turn that into a home office. If you've been working on the kitchen counter or dining room table, now is the perfect time to create a home office.
Reading rooms don't need much more than a comfy sofa and a few odds and ends so you can easily combine it with a home office. All you do is add a desk, comfortable office chair, WIFI connection and additional shelving for books, files or documents.
Related article: 'What Are The Pro's and Con's Of Running A Home Business?'
Making A Man-Cave
Everyone needs their own slice of heaven and while many women would prefer a reading room, craft room or walk-in cupboards, men would prefer a man cave. If you think about it, so many activities from the living room can be moved to a man cave which can open up the living area.
A man cave doesn't need to be anything 'fancy' as long as it has a few key features. Some of the more popular additions include a mini refrigerator, a reclining armchair or relaxed seating, a decent sound and gaming system and perhaps a Foosball table, dart board or a pool table. This sounds like a recipe for the perfect man cave for dad and a great entertainment area for both parents.
Your Very Own Home Gym
While there are many people who like going to the gym, others prefer doing it at home. What better way to utilise the extra space than a home gym to promote your own health and fitness? Some of the equipment might be a little expensive but over time, it could make up what you would have spent on a gym membership.
Take heed from the experts at professional gyms and make your home fitness centre interesting. Add a TV to catch up on Game of Thrones or Doctor while burning calories on the treadmill or exercise bike. You can even add full length mirrors and floor mats for yoga sessions. Don't forget to install the appropriate systems for working out in winter and summer to ensure total comfort.
Temporary Storage Tips During Home Renovations
When it comes to home renovations, you need a safe place to store the furniture and personal belongings. It's all about being organised during the process and finding a suitable temporary storage unit. If you have enough space at home to store everything while remodelling, just remember to pack it properly and follow these expert tips. Much of the same applies to keeping your belongings in long term storage:
Wipe, dust or clean everything before putting into temporary storage
Always cover furniture and other large items with clean plastic or cotton sheets
Use blankets, bubble wrap or special packing paper when storing household items, collectibles or antiques
Use the correct type of boxes, storage containers and other packing materials
Dismantle furniture to save space and keep the screws, nuts and bolts together
If any special tools are required for disassembly or assembly, make sure you include it as well
Don't stack heavy items on top of smaller ones
How To Properly Store Old Photos
Family photos tell a story of several generations and form an important part of growing up and growing older. You should always create a digital back-up of your photos but keeping them in their original state is so much more special.
You should always use a well-ventilated area as circulating air fights mould growth and other damaging organic substances. Storage temperature should not exceed 23°C (75 degrees Fahrenheit) as it can interfere with the chemicals and lead to discoloration. Remember, light can also cause photographs to fade so be sure to store them in a cool, dry and dark place.
Simple Storage Tips For Photos
Whether you are storing photos at home or in a temporary storage unit, you should follow these important tips:
Organise and pack your photos or artwork in envelopes or boxes to preserve their condition
Use a water-resistant container with a lid to seal properly
You could use envelopes or file folders as your dividers and a plastic tote or file box to hold them
Use a shoe box as it's still very practical but remember that it is not water-resistant
When using boxes, keep photos flat
Only use photo albums with acid-free sleeves or sheet protectors
Avoid using adhesive as they can adversely affect the quality of printed photos
Read this article for more detailed instructions on storing photos and preserving those precious memories at home or in long term storage.
Conclusion
If you are in the process of renovating your home and need a temporary storage unit for your furniture, clothing, collectibles, photos and more, get in touch with our branches in North Bristol, Gloucester and Stroud. We have a large variety of units available in all sizes, clean, dry and secure with 24 hour CCTV.
Not sure what size unit you need? Give us a call as we've been in the removals and storage business for many years and our staff will be happy to help and advise you. Check out our price and size guide to help you find the right storage unit for your requirements.